Ulta Pulta
High-pitch talk
Jaspal Bhatti

A sattebaaz was extremely happy, "I made a fortune out of the Ferozeshah Kotla cricket match." The other person asked, "Have you gone insane? That match was cancelled because of the dangerous pitch." "That was what I betted on. I made the bet on cancellation and not over winning or losing."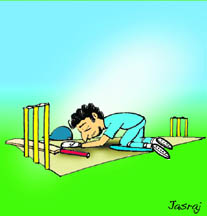 I always used to think that the purpose of the discussion about the pitch in the cricket commentary was just to while away time before the captains come in for toss.
I also thought that all the talk about pitch was basically a tool for the losing team to shift the blame after the loss. "Arre pitch ne marva diya varna hum jeet jate."
Later, I was told the cricket pitches are prepared scientifically so as to control the bounce and turn of the ball. Majority of our children donít have proper playground facilities and only get to play on roads full of pits or in uneven fields. They cannot understand the slowness and fastness of the pitch.
If the investigations bear out the fact that the Ferozeshah Kotla pitch was really dangerous then the venue can face a ban up to two years. The next job of the DDCA would be to dig up the pitch entirely and to lay it again meticulously. The digging-up part could be entrusted to Bajrang Dal who has expertise in the job. For filling, covering, and levelling up with beating and stamping, the former DGP of Haryana Police, SPS Rathore would be the best bet.