M A I N N E W S
Mulayam: Won't accept Amar's resignation
Subhrangshu Gupta
Tribune News Service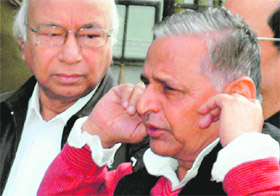 SP chief Mulayam Singh Yadav at a press conference in Kolkata on Sunday. — PTI

Kolkata, January 10
Samajwadi Party leader Mulayam Singh Yadav said today that he would not accept Amar Singh's resignation and would rather persuade him to take it back. Yadav, in the city to visit ailing veteran CPM leader Jyoti Basu, said, "We were good friends and still remain so. I am not accepting his resignation. I'll talk to him and resolve the issue. I am sure Singh will remain in the party and continue to hold the post."
Singh had resigned from the party posts last week following differences of opinions with the SP leadership. He is currently in Dubai holidaying with his family. Subsequently, actor Sanjay Dutt sent in his resignation while two other party MPs - Jaya Bachchan and Jayaprada - also announced their decisions to quit.
Amar Singh is the oldest member of the party and has been close to the Yadav. On his initiative, several prominent personalities joined and enriched the party, a fact party supremo Mulayam and others had acknowledged. But after the recent elections in UP and some other states, sharp differences of opinion cropped up between Amar Singh and Yadav, leading to Singh's resignation.
After visiting Basu, Mulayam said, "Basuji's condition is still critical. I pray to god for his quick recovery." Yadav said it was a great loss to the nation that Jyoti Basu was not made the Prime Minister "which we all in the Opposition wanted in 1996". " It is unfortunate that CPM leaders themselves opposed the decision," he said.
Why won't he let Amar go, ask cadre
Shahira Naim
Tribune News Service
Lucknow, January 10
With Samajwadi Party President Mulayam Singh Yadav refusing to accept Amar Singh's resignation and hoping for an amicable settlement, gloom has once again descended amongst the rank and file of the party.
"After triple talaq in three sittings even a marriage is legally annulled, but in Amar Singh's case - despite so many very public talaqs - netaji (as Mulayam as called) refuses to part with him and takes him back every time," complained a Muslim MLA requesting anonymity.During the last two days, the old guard - including Ram Gopal Yadav and Mohan Singh - had openly spoken against Amar Singh.
Undermining Amar Singh's tall claims of his contribution to the party, his bęte-noir - Ram Gopal Yadav - had yesterday declared that even when Singh was a small fry in the Congress, Mulayam Singh Yadav had twice become Chief Minister of UP.
Refusing to comment on the rumored departure of 22 MLAs from the party, SP legislative party leader Ambika Chadhury said that those who had no faith in socialism should, in fact, leave the party sooner than later.
While senior SP leaders blame 53-year-old Amar Singh for ideologically diluting the party and getting political lightweights from the film world to command key positions they remain equally speechless in explaining why the party chief refuses to see the real picture. Speaking of a conspiracy theory, expelled SP leader Mohammad Azam Khan said Amar Singh had been planted in the party to ruin it.
Amar keeps blog updated on resignation drama
Aditi Tandon
Tribune News Service
New Delhi, January 10
He may have quit party posts citing health reasons, but former Samajwadi Party (SP) general secretary Amar Singh has kept his blog updated on the events that followed his dramatic resignation on January 6.
From the moment he quit to this date when SP Chief Mulayam Singh Yadav publicly admitted to Amar being his compulsion (he said he could not let Amar go; it was not easy), the latter has been posting every development on the issue on his blog, which still bears the image of the two leaders together.
If web postings are anything to go by, Amar appears reluctant to leave the party at the moment and might well return to old positions if Mulayam talks out issues with him. There are past proofs on how cajoling works well with Amar.
In fact, senior party leaders told The Tribune that Amar was angry with Mulayam and his son Akhilesh Yadav as the two had visited the former during his illness only once each, and was avenging for the neglect.
"Amar has been harbouring a grudge against both "netaji" and Akhilesh because the two did not spend enough time with him while he was ailing in Singapore. That is a major reason behind his quitting the party positions. But how could he expect party leaders to stay in Singapore for three months?," a senior SP leader said, adding that Amar should not have quit at a time when the party was out of power.
But top party leadership also knows its compulsion, well aware of Amar's damaging potential, with his Bollywood brigade already rallying behind. Sanjay Dutt has quit as general secretary of the SP, owning allegiance to Amar. Lok Sabha member Jaya Prada and Rajya Sabha member Jaya Bachchan may follow; actor Manoj Tiwari is expected to go, so is a certain section of SP MLAs.
Several leaders in the party are naturally irked with Amar for causing ripples at a time when the party is struggling to find lost political space in Uttar Pradesh. Mulayam's brothers Ramgopal and Shivpal Yadav have made their disgust public.
Says no differences with Mulayam
Meanwhile, in a TV interview on Sunday, Amar Singh said he had no differences with Sp chief Mulayam Singh Yadav. Referring to the fact that his resignation from the party posts had not been accepted by Mulayam, Amar said he was in no position to participate in party activities. "I know he (Mulayam) is my well-wisher," he added.