A life-threatening complication
Dr K.P. Singh
High blood sugar level, commonly referred to as diabetes mellitus, is quite familiar. However, not many are aware of its acute life-threatening complications. Diabetic keto-acidosis is a condition characterised by the blood sugar level of more than 250 mg/dl with blood pH of less than 7.3, presence of ketones in urine and elevated serum ketones of above 5 meq/L. Modern management with the use of insulin in controlling high blood sugar has brought down the reported mortality of nearly 100 per cent in 1922 to near 5 per cent now of this dreaded complication.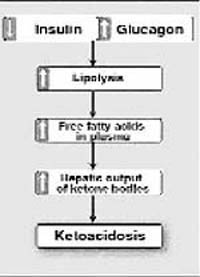 Generally, in young diabetic patients treated with insulin (Type-I diabetes), this complication is precipitated by some infection such as pneumonia or urinary tract infection, acute emotional stress, by missing adequate doses of insulin or by steroids. Effective insulin therapy is required to be taken under the supervision of an expert in diabetes management without which sometimes insulin deficiency and resistance with elevation of certain anti-insulin hormones (such as Glucagon, Cortisol, etc.) may remain undetected, till the patient manifests in diabetic keto-acodisis. Without adequate and effective insulin available in the body, "sugar" cannot be delivered to vital organs for metabolism. Barring fat, liver and muscle, almost all the vital organs, including the brain, cannot survive without the availability of sugar (glucose). In the absence of glucose the brain starts utilising ketones derived from fatty acid oxidation for energy.
High blood sugar results from increased glucose synthesis in the liver, breakdown of glycogen and impaired utilisation of glucose in the periphery (muscle). Insulin helps the entry of glucose available in circulating blood into the cells of various organs such as brain, heart, etc. In the absence of insulin, the brain tries to maintain itself by utilising excessive ketones generated from beta-oxidation of fatty acids triggered by the decreased availability of vital enzyme malonyl coA (an inhibitor of ketone synthesis in the body)
Diagnosis and Presentation
High blood sugar (hyperglycemia) manifests by the presence of sugar in urine which leads to more urination than required and eventually causes dehydration, leading to increased thirst. Simultaneously, excess ketone bodies thus formed result in severe acidosis, impairing the blood pH and affecting the functions of all the vital organs, including the brain, which invariably leads to coma if not treated promptly.
In an acute emergency, ketoacidosis is diagnosed by a suggestive history and examination with the evidence of high blood sugar and by the presence of ketone bodies in urine. The arterial blood gases generally show a reduction on pH (less than 7.3) accompanied by low bicarbonate which sometimes requires to be corrected along with the correction of low phosphate, though rarely.
Diabetic ketoacidosis in any diabetic manifests with increased urination associated with nausea, vomiting and upper abdominal pain, simulating pancreatic pain. A clinical examination reveals signs of dehydration, low blood pressure and rapid/deep respiration (Kussmaul), with the dryness of the skin and mouth. Such patients exhibit distinct fruity odour in breath. Unless treated promptly, patients generally slip into coma very rapidly, which demands an early and correct diagnosis and treatment in a specialised hospital.
Treatment
Immediately on suspicion, crucial time should not be wasted on shifting the patient from one to another clinic. Instead, the patient should be brought straight to specialised medical centre with adequate facilities. The treatment goals in such a case are: to correct dehydration rapidly by infusing normal saline which also helps in quick wash-out of excess ketones in the blood, to correct high blood sugar with intravenous insulin infusion, to correct electrolyte imbalance with particularly stress on the supplementation of potassium early after rehydration. If not treated in time, hypokalemia is dangerous and can cause death by inducing cardiac arrhythmias. Ironically, while managing such patients, IV glucose infusion is also to be given when blood sugar, hourly monitored, shows a fall below 200 mg/dl.
Early rehydration improves blood circulation and reduces the levels of anti-insulin hormones (catecholamines and glucagon). It is important to monitor the patient under close supervision while on treatment to avoid complications related to the overload of fluids such as cerebral and pulmonary edema.
The writer is a senior consultant at Fortis Hospital, Mohali.