M A I N N E W S
Antony: CRPF to control J-K highways from Jan 15
Jupinderjit Singh
Tribune News Service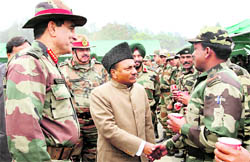 With an eye on fake certificate and the rackets involving fake institutions, the government is in the process of D-Matting academic degrees on the lines of share certificates.
Jammu, January 12
With an improved situation on the terror front in the state, the Army's visibility would be far less from January 15 onwards, as Defence Minister AK Antony today announced that the CRPF would take control of the highways and the police would have a greater role in urban areas.
Besides, the Defence Minister said his ministry had written to the Home Ministry to give instructions to the security forces to discontinue the use of "combat" uniform to ensure their lesser visibility. The minister said this while addressing the top brass of various security forces and agencies at the Unified Headquarters in Jammu today.
He disclosed that on the request of the Defence Ministry, the Home Ministry had issued instructions to the CRPF to take over the entire responsibility of the opening of roads on the Jammu-Srinagar National Highway-1A from January 15. "This has been done to reduce the visibility of the Army, without in any way, diluting our counter-terrorist grid," he added.
Antony said a request had also been sent to the MHA to issue instructions for the discontinuation of the use of combat uniform by all central police organisations and the state police.
The minister, however, did not make any statement on troop withdrawal from the state, which was the main demand of the state government. He asked the security agencies not to be complacent and work towards consolidating the gains achieved in the last couple of years.
Antony said year 2010 may prove to be crucial as forces inimical to stability and peace in the state would make all-out efforts to neutralise the gains of 2008 and 2009, when the state witnessed considerable improvement in the security situation.
"The incidents of the first week of January in the valley are indicative of the shape of things to come," the Defence Minister said in reference to the terrorist attack in the Lal Chowk area of Srinagar.Antony said time had now come for the state police to shoulder far greater responsibility, particularly in major towns, in tackling the threat of terrorism. However, the handing over of the responsibility must be meticulously planned and undertaken in a gradual, phased manner," he said.
Taking part in the deliberations, Chief Minister Omar Abdullah requested the Defence Minister to explore the possibility of recruiting more youth from the state in the three armed forces.