M A I N N E W S
Haiti: Indian peacekeepers safe
Death toll in quake over 1 lakh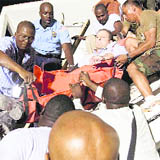 India to give
$1m aid
New Delhi: India has decided to give earthquake-hit Haiti one million dollars in cash for immediate and emergency relief purposes. The government is deeply saddened at the death and destruction caused by the earthquake, an External Affairs Ministry release said. It said communications with Haiti were currently difficult. The Ministry is in contact with the Indian Embassy in Havana, which is concurrently accredited to Haiti, to ascertain the welfare of other Indian nationals. — TNS
Port-Au-Prince (Haiti)/New Delhi, January 14
The 150-odd Indian peacekeepers working under the United Nations in quake-devastated Haiti were safe, but the fate of many other Indians, including Missionaries of Charity nuns, was not known yet, an official said on Thursday.
According to a senior Ministry of External Affairs official, the 150-odd Indian peacekeepers working under the UN were safe and had already started to help in rescue efforts in the country. But the fate of 40-50 Indian families, including several nuns working with Mother Teresa's Missionaries of Charity who live scattered around the islands, was still not known. "There is no news of them," said the official.
Meanwhile, over 100,000 people were feared dead in Haiti after the calamitous earthquake razed homes, hotels, schools and hospitals, leaving the capital in ruins and bodies strewn in streets.
A massive aid operation swung into action, with rescue teams set to fly in from across the globe to try to pull victims from the debris, bringing desperately-needed medicines and food, as a humanitarian crisis unfolded.
Casualty figures were impossible to calculate, but Prime Minister Jean-Max Bellerive said the final death toll from the 7.0 quake could be "well over 100,000".
President Rene Preval said: "Parliament has collapsed. The tax office has collapsed. Schools have collapsed. Hospitals have collapsed." He said head of the UN mission to Haiti, Hedi Annabi, was killed when the UN headquarters collapsed. UN officials could not confirm that, but said at least 14 of its staffers were dead, 56 were injured and a further 150 were missing.
With thousands of people missing, dazed survivors in torn clothes wandered through the rubble as more than 30 aftershocks rocked the ramshackle capital, where more than two million people live, most in extreme poverty.
Some injured survivors wore makeshift slings and blood-soaked bandages. One woman was carried on a bit of debris used as a stretcher, past piles of smashed concrete, from which crushed bodies protruded. A second long night in the open beckoned for tens of thousands of people with nowhere to sleep, and no tools but their bare hands to try to rescue trapped compatriots.
Fanning safety fears in the crime-hit capital, the United Nations said the main prison had collapsed, allowing some inmates to flee into a city. — AFP/IANS