Darjeeling Land Scam
Army chief promises action
Ajay Banerjee
Tribune News Service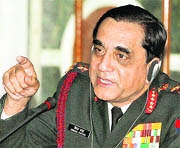 Army chief General Deepak Kapoor addresses a press conference on the eve of Army Day in New Delhi on Thursday. — PTI
New Delhi, January 14
After facing media accusations of inaction in the "Darjeeling land scam", involving senior Army Generals, Indian Army Chief General Deepak Kapoor today promised "due action" and made it clear that "the culture and ethos of the Army have to be retained at the highest level."
Dispensation of justice will, however, not be swayed by external considerations like "personal biases" and "media pressure", the Chief of the Army said while addressing a press conference on the eve of the Army Day function here this evening. He accepted that the land scam-type of the incidents "dent the image of the Army but such aberrations are corrected".
Refusing to elaborate on the findings of the COI, General Kapoor said it was his responsibility to "dispense justice that is fair, just and based on facts of the case and also takes into account the culpability of the individuals involved". A set of directions have been issued, the General said, adding that disciplinary proceedings were on and it would not be proper for him to comment on the case.
In reply to a question if there was a rift between the Army top brass over the recent court of inquiry in the land scam, General Kapoor said "There cannot be a rift between a senior officer and his junior. Once a senior orders, that has to be followed… that is the culture of the Army."
In what was an obvious reference to his immediate junior, the GOC-In-Chief, Eastern Command, Lt Gen VK Singh, the Army chief said: "A rift can not be between two people who are not at the same level of hierarchy".
The Army Chief denied reports that China had encroached upon any land in Ladakh. "Let me assure the nation there is no change in the LAC," he said.
Commenting on Jammu and Kashmir, he said in 2009, the infiltration was higher while 57 persons infiltrated in 2008, the number rose to 110 by November 30 last. The infrastruture across the Line of Control in Pakistan was intact.
He defended his statement on the Indian Army readying itself for two front war - with Pakistan and China, saying that "it was the duty of the Army to prepare itself… any professional military man looks at all challenges that come in its way… we have a doctrine and that has to be reviewed". We have to update it.
The Army Chief expressed concern over the force's "night blindness" in the area of armoured corps and mechanised infantry.
"My major concern is that night blindness of the Army is removed so we are able to fight during the night as during the day," General Kapoor said.