The boy next door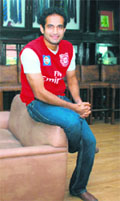 He may be one bright star both on and off the field, but rather than basking in limelight, Irfan Pathan would rather play with Yusuf's horse


Much more than a cricketer, this guy comes across as a real star. No, he doesn't like to walk around with an entourage of wannabes, he will not flash a pair of Bottega Veneta, swirling, twisting ensuring everyone saw it, and he will not pull out two identical blackberry sets to talk at the same time. And, he certainly doesn't carry 'people look at me' attitude. He'd rather do things less ordinary… discuss the architecture of their new home, mollycoddle his younger sister, keep a respectable distance from his brother, talk and talk at family dinners, or take his finance on a cruise.As compared to khyal, thumri and other forms, dharupad gayaki is the strictest in observing the raga grammar and its fixed presentation style. Because of its rigid code of conduct, some maestros failed to come up to required discipline of dharupad, resorted to more flexible modern khyal gayaki and broadly termed it on the verge of extinction," laments Ustad F Wasifuddin Dagar, in the city on the invitation of HIFA for a concert.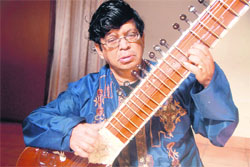 Musical high
Aloke Dasgupta believes in improvisation to make music palatable to all age groups
"

We, the Indian musicians are best known and respected for being maestros and performers abroad because of the established superlative splendour of Indian classical music," saying it with pride is the Los Angeles-based renowned sitar virtuoso, Aloke Dasgupta in the city, on the invitation of Pracheen Kala Kendra. Encouraged with the popularity and appreciation by one and all, the Chandigarh Sangeet Natak Akademi presents the fifth edition of the musical soiree Yadon Ki Kasak on January 18 at the Randhwa auditorium of Punjab Kala Bhavan-16.The annual event, a musical memoir of olden and golden melodies immortalised by legendary KL Saigal and other great maestros is being organised in honour of senior citizens of tricity. This particular edition is dedicated to the memory of SK Sharma, founder president of the Environment Society of India, Chandigarh.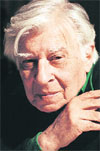 The Mural Man
Artist Krishen Khanna to interact with tricity art lovers
The Chandigarh Lalit Kala Akademi is organising a lecture and slide show titled Making of Mural by Krishen Khanna, who is one of the most celebrated names of contemporary art.He is the pioneer in the field of modern Indian art who motivated a whole generation of artists. He started painting at a time when there was not much glamour in art along with his friends M.F. Husain, Tyeb Mehta, Ram Kumar, Raza, Ara, Souza, Gaitonde and others. And his perseverance and interest fetched him rewards and accolades.
An artist recalls...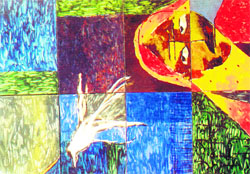 In good old art-college days, during this festive season, I, like most of other artists, used to hand paint scores of cards to be sent to greet people. A few years later, I could afford to get my drawings printed to be used as greeting cards. The whole process used to be very exciting, from making special drawing for the occasion to getting the line-block made from the then famous block-maker Roshan (at whose workshop even the stringent smell of acid would appear aromatic) to getting it printed from a small press on a treadle machine overlooking the process so that each one of them is printed finely.

Visual treat
Haryana's first contemporary art exhibition gives a glimpse of the state's rich heritage


HIFA's First Haryana Contemporary Art Exhibition is another effort to promote creative talent from the state and compiles a selective display of visual art with a four-day cultural treat.With an itinerary that has art exhibition, book exhibition, terracotta exhibition and a slide show giving insight on the works of eminent artists from the country, it promises the whole deal to art lovers in city.

It's getting fishier
Take your pick from the newly opened aquarium and souvenir shop at Rock Garden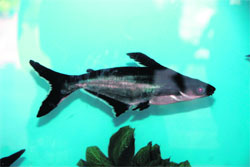 Gold fish, parrot fish, angel fish, pencil fish — they couldn't get fishier than this. Calling all the nature lovers, water world enthusiasts, aquarium buffs, souvenir crazies in one go. The UT administration opened its doors for the 'oh so imposing yet so beautiful' aquarium along with a souvenir shop. Round pebbles, colourful marbles, aquatic plants, electric paraphernalia, neon water, foreign elements—it's like a child in a candy shop. Who cares for the why's and what's?Say cheese and smile please! That beautiful curve right under your nose which these guys claim to set straight! Arete' Dental Practice—8 (read aa-ree-tay) launched its clinic that brings to the city the concept of designed smiles.

Eeco drive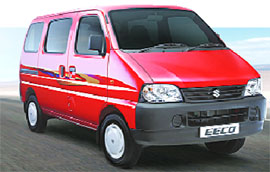 Auto Expo 2010 gave us a peek-a-boo into the world of cars of all types and genres. And now, it is time to see them touch the gravel.


Maruti Suzuki launches an all-new spacious family car Eeco in Chandigarh on Thursday.The five-door, C segment vehicle has been specifically designed for India by the auto-major. Eeco comes with a new, powerful and highly fuel efficient 1200 cc engine. This new engine delivers 73 bhp of raw power @6000rpm, a high torque of 101Nm@3000rpm specifically designed to meet the Indian driving conditions.

Side Lanes
Year-end burnout


It was the last day of 2009. We tucked ourselves into bed after a lot of good food and dancing at the DSOI. It was a particularly cold night and as our bedroom is the original Alaskan freezer where ham, fresh meat, eggs and dal can last for weeks without turning rotten, we put on the slick looking tower heater with carbon rods, guaranteed to provide a lifetime of safety and warmth.