Great expectations
Vaibhav Sharma


High hopes will be pinned on Indian shooters during the Commonwealth Games, says Abhinav Bindra
Being the only man in the nationís history to have won an individual gold medal at the Olympics carries a lot of weight. But Abhinav Bindra has learnt to deal with it. He knows now that every time he will compete, expectations will be sky high. That it will be a case of him, and the rest of them.

Abhinav Bindra feels that for India to emerge as a shooting powerhouse, the entire set-up needs a lot of professionalism. Photo: Manoj Mahajan

Ground reality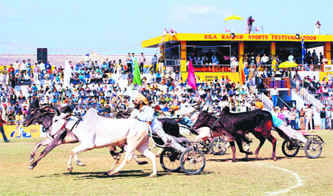 Sukhvir Singh Grewal
To improve sports in Punjab, we need better playfields and infrastructure
Punjab is preparing a blueprint for the development of its sports. For this, the sports programmes of countries like Australia, China, France and Germany are being studied.
The Kila Raipur playfield is comparable to the high-class cricket stadium at Mohali and is maintained by just one grounds man. Photo: Himanshu Mahajan

Fit Zone
Side light


Bharat Thakur
How many times have you stood in front of a mirror and observed your body? And felt helpless? Either you stay away from the mirror or send yourself hate waves. All you need to do is focus some time and attention on yourself. It is so fascinating that we can actually sculpt our bodies the way we want to. No matter what shape we are, we can be what we want through yoga. Although fat accumulates in many parts of the body, it affects the shape of our body most when it comes on to the sides.


MAT FINISH






More and more young athletes are training in New Delhi for mat wrestling to gain entry into world competitions like the Commonwealth and Olympic Games. Photo: Reuters