ART & LITERATURE
'ART & SOUL
ENTERTAINMENT
TELEVISION
GARDEN LIFE
NATURE
FOOD TALK
CONSUMER, BEWARE!
FASHION
HOLLYWOOD HUES
BRIDGE
ULTA-PULTA
EARLIER FEATURE
TRAVEL
RELATIONSHIPS
DREAM THEME
TIME OFF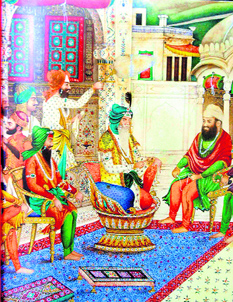 A new book, Maharaja, recreates India's regal past. Excerpts...
Royalty revisited
SIGNIFICANT aspects of what we in the twenty-first century would consider to be the 'private life' of the maharajas — marriages, familial relationships, life in the zenana, the status of palace women, and the structure and scale of royal households — were intensely public and political. A sense of this is conveyed in a work called the Pratapa Prakasha (The Glory of Pratap) by the court poet of Jaipur, Krishnadatta, dating from about 1802. In this work, Krishnadatta extols his patron, Sawai Pratap Singh (r. 1778 — 1803), to the rival Maratha chief, Peshwa Baji Rao II (r. 1775 — 1818), by elaborately describing his daily routine.

A depiction of the court of Maharaja Ranjit Singh

The kite runners
Hues of 34 nations dotted Ahmedabad skies during the International Kite Festival, says Azera Rahman
Varied colours symbolic of 34 countries, including Britain, Germany, Greece, Lithuania, Singapore and Malaysia, dotted the clear blue skies in Ahmedabad as the 20th International Kite festival 'Uttarayan' was formally inaugurated by Chief Minister Narendra Modi.
Where women call the shots
Ima Market in Imphal reflects the spirit of independence and self-belief of Manipuri women, writes Bijay Sankar Bora from Guwahati
Manipur is one place in India where women have a towering presence in life in different spheres ranging from art, culture, literature, agriculture and sericulture to leading mass protests — a regular feature in the troubled state — from the front. But an unparalleled example of overwhelming women dominance is Ima Market, or Khwairamband Bazaar, in Imphal city.
The city of kings
The cosmopolitan city of Lima is a goldmine of fascinating cultural experiences,
writes Nivedita Choudhuri
Peru packs all sorts of cultures and landscapes into a surprisingly compact area, making it one of South America's most tempting destinations. Its capital, Lima, is a city of contrasts and commotion. Street-sellers scamper through traffic that idles down streets, flanked by colonial mansions, pre-Inca ruins, historic churches and museums, full of treasures. Unfairly undervalued, Lima is a warm and vivid city that has much to offer.
Truck art
Pakistani artists have found a new medium for the traditional craft of painting on trucks — by transferring the images on items of everyday use
Lanterns, mugs, cups, kettles and jugs painted in colourful floral patterns are just a few examples of Pakistan's well-known truck art tradition that were showcased by an NGO from the country that participated in the recently-concluded annual Dastkari Haat Samiti festival in New Delhi.
Poison on the Platter
Mahesh Bhat's film sheds light on the frightening impact of genetically modified crops and food on all living beings, particularly human beings, writes Shoma A. Chatterji
Eight-year-old Sunita's day begins at eight in the morning where she performs acrobatic feats on Delhi streets at traffic lights. That is her sole source of living. She continues at her job till the sun goes down.
Moonsoon Wedding to be a musical
Madhusree Chatterjee
Those who enjoyed Mira Nair's hit movie Monsoon Wedding have something more to look forward to. The filmmaker has started working on a Broadway musical version of her film. The musical will feature an Indian cast and will combine circus acrobatics, aerial acting, theatre, music and dance. The filmmaker said "she was glad to be back to crossover movies after her Hollywood sojourn".
Action for action's sake
Guy Ritchie's Sherlock Holmes lacks cumulative build-up and the absence of suspense is glaring, writes Ervell E. Menezes
Sir Arthur Conan Doyle's legendary detective Sherlock Holmes has been endowed with a new image "revealing fighting skills as lethal as his legendary intellect."