Strokes of love
More than technical expertise, it is Krishen Khanna's unadulterated love for art that touches one's heart and soul
Ashima Sehajpal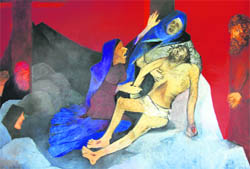 The canvas may spread up to 300 square feet, goes till the height of 40 feet and is the dome of Maurya Sheraton, but art still has to be spontaneous. Blueprints, made initially, failed to mirror emotions what prompt strokes did, instant thought process then helped complete the mural in four years. The result of spontaneity was the projection of Indian society, rituals, nature, people's habits and Krishen Khanna's close friends and contemporaries, Khuswant Singh, Mulk Raj Anand, KK Nayar and Iqbal Malik.
Khanna gives own his face some space too in a dhaba scene that has his friends painted as well, "Everything came in a flow, without any planning. All emotions (he terms as navrasras), parts of mythology and present time was conjured up to portray different scenes," says Khanna, the eminent and acclaimed artist, in the city on Saturday, to share his experience of mural painting in Maurya Sheraton, on the invitation of the Chandigarh Lalit Kala Akademi for a lecture-cum-slide show Making of a Mural.
However, the sprint of feelings weren't allowed to overshadow the practical aspects of the grand work. Geometry of space was taken into consideration and measurements from all angles of the three-tiered dome and specifications about every curve were taken in detail. "Plywood was used as the canvas, which was painted in parts in my studio and then pasted on the dome accordingly. One wrong measurement could distort the unity of vision, vital to complete the picture and story," he says.
Most of the mural was done with public art, which he says is important from sociological point of view. "In the late 19th and 20th century, individual became important, as he projected the society." The top of the mural has a temple, with a Shivling and priests praying inside. It's shown to have two entries, one from the top and other from below, which has been artistically done. Also, there is a mosque, with a scene of mourning inside it and Mulk Raj Anand sitting and thinking about the Indian art scene. Birds and animals were also drawn he adds, "They complete the universe."
With artwork like this, Khanna, also known as the Grand Old Man of Art, makes his humour apparent. His eloquence and wit, makes the interaction interesting, as he explains the facets of mural at length.
A few other aspects that represent society in his work are a woman calling out for her husband from her window, who is smoking, a show mender, barber, man playing cards, a dog, who is holding a stick with his teeth in front of his master. "It's similar to the corporate sector, where the employee himself brings the stick to his master to spank him," explains Khanna with wit.
During the lecture, recalling the experience of making of the mural, he confesses, "Now, if asked to do it again, I would refuse, because of the hardwork and energy it required." But if at all, he does, the work would be different from the prior one. "For an artists, perception is ever evolving," which shows in his latest series based on Partition.
His other popular series is on bandwallas, a subject he chose because, "Their job profile saw an unusual change from playing music for British officers to playing in weddings, which is fascinating." Another recent series by him is on trucks that shows truck drivers and works in the same colour in which the truck is. But whatever is the medium, a 2 by 4, 4 by 6 and 6 by 8 canvas or a something in hundreds of square feet, what's perpetual is Krishen Khanna's love for art.