Calling for the CREATIVE
Usha Albuquerque
Most of us have tried our hand at some kind of décor of our living spaces. We look at home décor magazines, select curtains and try to make our homes or offices look as interesting as we can make it. If you are a creative person with a good sense of colour and style, enjoy decorating your room, and have a keen interest in such work, here is a career that does not require much introduction or a fancy qualification.


Careercature
Sandeep Joshi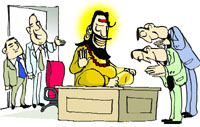 All types of conflicts were resolved, the moment this high profile management guru joined our organisation

Career Hotline


Prospects in Human Rights

Communication skills must for PR

MBA in Germany
Slim chance
LONDON : Overweight people miss out on jobs and are overlooked for promotion because employers think they are lazy, according to a British weight-loss organisation.Those who are very overweight are twice as likely to earn a low salary, four times more likely to suffer bullying about their weight and six times more likely to feel their appearance has caused them to miss out on a promotion, Slimming World said in a statement on its website.
An enterprising choice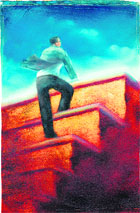 The year 2009 witnessed a slump in the job market characterised by a sharp decline in job offers and pay packages, a direct repercussion of the economic meltdown. With the economy showing positive signs of recovery, 2010 is expected to ring in good news for job seekers from all quarters. However, economic forces of market demand and supply take time to adjust and in such situations, it may not be possible for the job market to witness a spurt in job opportunities all of a sudden.Such a scenario presents umpteen opportunities for budding entrepreneurs, capitalizing on which they can generate multiple avenues not only for themselves but for others as well, thereby emerging as job providers in place of job seekers. The time is especially ripe for those with great ideas to give a shape to their dreams.

Netting success
With more and more entertainment/media/life style/consumer product and services companies opting for social networking platform, net presence has become an important part of young professionals' life. It is also observed that a number of important societal, digital marketplace-specific and enterprise trends are driving aggressive growth in this market. There is considerable functional adoption as companies deploy social networking solutions to address a wide variety of specific business challenges spanning HR, marketing/sales, engineering, channel management, and customer service functions, among others.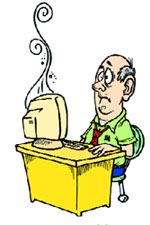 Deadly Monday
Melbourne:Monday has been found to be the deadliest day of the week as heart attacks, suicides and accidents happen more frequently on that morning than on any other day of the week, according to a new study. The research suggests that this is because people are distracted and unhappy when the weekend is over and they have to go to jobs they don't like.According to Dr Barton Goldsmith is a California-based marriage and family therapist, if you know your position is secure, but still can't enjoy that fact, start thinking about what the 10 per cent of people who don't have a job might be doing (and fearing) in their lives.
Make an impression
GDPI for getting into the coveted management colleges is round the corner. Manish Saraf gives some tips to excel in this test
Face-to-face interviews are where decisions are made. During the GDPI the moderator/ interviewer evaluates the candidate's skills, capabilities and level of experience. You may anticipate some questions and prepare the ideal answers but remember that there are no standard responses. Your replies should be clear and relevant, whatever be the question.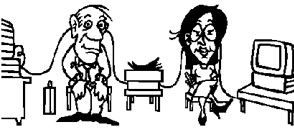 Happiness work
Communication in work chain
Gems of ancient wisdom
Most products today are made in a work chain. One gets a half-finished product from a colleague, finishes it a little and passes it to another workman for further polishing.