26/11 repeat may test India's patience: US
Says Qaida fuelling Indo-Pak conflict
Ajay Banerjee
Tribune News Service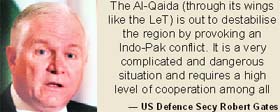 New Delhi, January 20
The US today warned Pakistan that India's patience would be "limited" if it faces another Mumbai-type attack. It also described Lashkar-e-Toiba (LeT) as part of a terror syndicate run by the Osama Bin Laden-led Al-Qaida that wants to trigger confrontation between India and Pakistan to destabilise the region.
US Defence Secretary Robert Gates, while addressing a press conference after meeting Prime Minister Manmohan Singh and Defence Minister AK Antony, said India responded with great restraint and statesmanship after the Mumbai attacks."…..I think it is not unreasonable to assume that Indian patience will be limited in case of another attack", said Gates in reply to a question if what he presumed would be India's response in case the LeT attacked again.
"The Al-Qaida (through its wings like the LeT) is out to destabilise the region by provoking an Indo-Pak conflict. It is a very complicated and dangerous situation and requires a high-level of cooperation among all," the US Defence Secretary said.
Al-Qaida has a safe haven along the Afghanistan-Pakistan border and the LeT was focusing on Pakistan and India, said Gates, who is a former CIA director. Though India would have wanted it, Gates did not mention any element of the Pakistan government or the ISI as being a part of the Qaida-run syndicate.
Gates said he appreciated the insight he got ( after meeting the Indian side) on Afghanistan and shared the concerns. "The support India is providing in Afghanistan is very ideal. The $ 1.3-billion aide is a significant one. It plays an important role," he said.
On being asked if the US perceived a military role for India in Afghanistan, Gates said there is a real suspicion in India and Pakistan on what the other was doing in Afghanistan. "Perhaps the role can be limited to training and humanitarian efforts but with complete transparency," he added.
The crucial part of the Indo-US discussion was China's growing military modernisation programme and its impact in the region. Gates said the US wants to engage China in a dialogue to prevent any misunderstanding and miscalculations.