Urdu book review
A poet for all reasons
Amar Nath Wadehra
Aks-e-rukh-e-gulbadan
by Kashmiri Lal Zakir.
Edited by Mahender Pratap Chand
Educational Publishing House.
Pages 160. Rs 140

Jahan raks kartee hai ruh-e-tamanna
Uss hadd-e-manzil pey main aa gaya hoon
Khuda bakshey meri nigaahon ko himmat
Qayamat sey main aaj takraa gayaa hoon
(I have reached those bounds of the destination where the soulís desires dance; may God bestow courage upon me for today, I have taken on the apocalypse itself).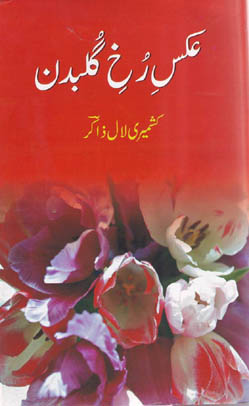 The above lines aptly describe Kashmiri Lal Zakirís 60-year-long literary journey that has culminated in a Padmashri. The 90-year-old Zakir, despite his age, is energetic and young at heart. No wonder, he has about 100 books to his credit and is still writing. An accomplished litterateur, he writes prose and poetry with equal felicity. His novels, short stories, plays and essays appeal both to oneís heart and the mind. His poetry Ė be it ghazal, nazm or qita Ė never fails to convey a profound message.
Zakir is a sensitive and simple soul. These traits were evident even when he had first penned his thoughts in verse:
Aasmaan ki bulandiyon sey nadeem
Ek roshan sitara toot gaya
Merey haathon sey jaam-e-mustaqbil
Farsh-e-maazhi pey girkey phoot gaya
(A bright star has fallen from the heights of the sky; the goblet containing my future has crashed on my pastís floor and shattered)
Or take this contemplative qita that wistfully dwells upon what all he has missed out on:
Meri jawani bahaaron mein bhi udaas rahi
Fiza-e-zeest tamanna ko raas aa na saki
Khushi uffak pey khadi dekhti rahee mujh ko
Usey bula na saka khud woh paas aa na saki
(My youth remained sad even in the spring, my desires couldnít go well with the breeze of life, happiness kept watching me from the skies, I couldnít call out to her and she couldnít reach me by herself).
Yet, he never allowed the dark thoughts to overwhelm him, as evidenced by these lines:
Lafaz lafaz zinda hai meri har kahaani mein
Saans saans khushboo hai meri khush bayaani mein
Waqt kee amaanat hain meri saari tehrirein
Main yakeen rakhta hoon iskee hukumraani mein
(Every word of my story is alive, every breath fragrant with my happy narrative, my writings are owed to Time in whose sovereignty I believe).
He is capable of conveying most profound observations in simple language, which tells us a lot about the excellence of his craft. For example the following couplet:
Zindagi ek kehkaha dekar
Aansuon sey hisab leti hai
(After providing one guffaw, life extracts a price in terms of tears).
He was greatly impressed with Mir Taqi Mirís style and learnt a lot from Asar Lakhnavi. Yet, he managed to chisel out his own distinct style right from the beginning of his writing career. The following couplet from his first ghazal was greatly appreciated by Asar:
Tera tow intezaar raha mujh ko raat bhar
Mera bhi intezaar hai, jaaney laga hoon main
(I waited for you the whole night; I am going as I too am being awaited).
He is capable of portraying varied moods and hues of life, viz., happiness, sadness, spring and autumn etc with equal ease, using sparse language:
Lafzon sey tehrirein roshan hotee hain
Lafzon sey takrirein roshan hotee hain
Duniya waalo lafzon kee tazeem karo
Lafzon sey taqdirein roshan hotee hain
(Writings and speeches brighten up with words. O people respect words for they brighten up fortunes)
In his own words, each of his works highlights an aspect of his life:
Mainein Zakir saath baras sey iss gulshan ko seencha hai
Qatra qatra khoon diya hai saru-o-suman ko seencha hai
Yaaro mujh sey meri hikayat kya poochogey rehney do
Mainein kalam kay dariaayon sey vaadi-e-phan ko seencha hai
(For sixty years, I have cultivated this garden; with drops of my blood have I irrigated trees and flowers. O friends, donít ask for my story, I have watered the valley of craft with the rivers from my pen).
As they say in Farsi: Dareen chey shaque (There is no doubt in it)!