Loserís lament
Madhusree Chatterjee

Failure stays with everyone and is a wonderful subject to write about, says newspaper editor and novelist Soumya Bhattacharya, whose new novel If I Could Tell You has just hit the stands.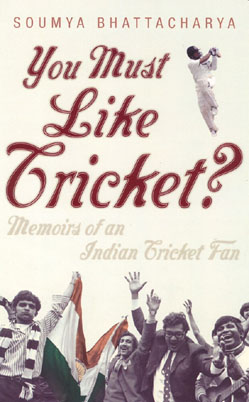 "Failure is a part of everyone's life," Bhattacharya said. His book is an epistolary fiction about a writer's failure in his professional and personal life set against the backdrop of the global financial meltdown and journeys between Europe and India.
The writer, who has been inspired by 20th century American novelist Richard Yates, feels "happiness is much harder to achieve". He is the author of You Must Like Cricket and its sequel, All That You Can't Leave Behind.
The new novel, which according to the novelist "is a shade bleak", explores an aspiring writer's failure to become one and the broken promises made to his daughter as his stock market stakes crash with the fall of Lehman Brothers, Dow Jones and the Sensex through a series of letters from a father to a daughter.
"I started working in earnest on this novel in 2006. In April last year, I was offered a commission by the editors at the Tranquebar Press. They had an edgy publishing list," said Bhattacharya, who edits a leading English daily in India.
Recalling the creation of the book, the writer said, "It was a hypothesis about a guy, who does not need a day job like me and has a huge inheritance, consumed by the thought of becoming a good writer and a good father, but ends up as a spectacular failure".
"The Lehman Brothers happen and his money is wiped out bit by bit for no fault of his. He doesn't write for newspapers and he is intent on becoming a writer. I tried to figure out the puzzle. The book is deeply anti-autobiographical though the intimate scenes between the father and daughter have been borrowed from my own life," Bhattacharya said.
The novelist feels an ideal "father-daughter relationship should be one of unconditional love". "A father must not expect his daughter to do anything for him," he said.
"The epistle format that I chose allowed me the freedom to switch back and forth, to slide in and outside the story, flexibility and the narrative to filter in through the consciousness of the author".
Bhattacharya leaves several questions unanswered in the book. "There are clues thrown in about the marriage breaking up, the bitterness of it, but there are no wife's or daughter's points of view, no transgressions".
"But it has not been influenced by Aravind Adiga's White Tiger or Jawaharlal Nehru's Letters From a Father To His Daughter," he said.
Bhattacharya feels "contemporary Indian writing has been witnessing very good times". óIANS