Food talk
Arbi all the way
Get bowled over by arbi ka korma, says Pushpesh Pant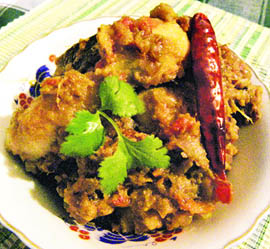 ARBI, we feel, is a most unfairly undervalued root. Every time we encounter it, we have been overwhelmed by its potential. Whether it is Vrindavani dahi wali ghuiyaanor masale meinsookkhi bhuni, in its Awadhi avatar as dabi arbi ka saalan, disguised in a vegetarian seekh or as chunky pahari gutke tempered with aromatic jambu-Himalayan chives or in chaat, we are reminded that this staple for the orthodox during the days of prescribed fasting is the original alu-pindalu a.k.a. ratalu and kachalu is the original swadeshi potato serving sons and daughters of India faithfully till the new kid on the block accompanying the Portuguese displaced it.
We keep tempering with recipes tweaking them to favour this Cinderella. We are glad to report that the experiment with arbi ka korma has passed the test with flying colours. Try it out yourself.
If you only treat arbi with the respect, and dare we say affection, it deserves, it will return the sentiment manifold. Spend equal time selecting it at the green grocers as you do for other seasonal, more expensive/exotic vegetables and don't be tempted to flavour with readymade pre-packaged garam masala.
Arbi ka korma
Ingredients
Arbi 250 gm
Hung curds 2 tbsp
Bay leaf one
Cloves three
Brown cardamoms two
Green cardamoms two
A stick of cinnamon ½ inch
Black peppercorns ½ tsp
Ginger-garlic paste 1 tsp
Medium onion (sliced very fine) one
Aromatic garam masala
(preferably prepared fresh) 1tsp
Kashmiri lal mirch ½ tsp
Whole red chilli one
Salt to taste
Oil to shallow fry
A few drops of mitha ittar or kewra essence
Method
Boil the arbi but ensure that these are not mushy. Peal, prick carefully with a toothpick and flatten a little by pressing between the palms. Put oil in a non-stick pan and when it reaches smoking point, reduce heat to medium and slowly shallow fry the arbi till these are rich golden-brown in colour. Remove and place on kitchen towels to remove excess oil. Glaze the whole chilli lightly in oil and remove. Increase the heat to high and add the bay leaf, along with whole spices. When these change colour, add the onions and stir-fry till golden brown. Reduce the flame to medium-low and put in the garlic-ginger paste. Stir-fry briskly for 30 seconds and add powdered spices. Put the arbi in the pan, turn gently once or twice to coat evenly with the spices stir-in the whisked yoghurt mixed with a little water to avoid curdling in a slow stream stirring constantly. Cover and cook on low heat for about five minutes. Remove from flame, sprinkle ittar or kewra essence and cover. Garnish with whole red chilli and serve with phulka, purior plain parantha.