End of a defining decade on TV
AS one stands on the cusp of end and beginning of a new decade, in a country where TV is promised as an election sop and its health minister terms it as a contraceptive, one better believes that size does not matter.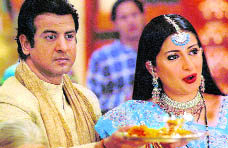 Kyunki Saas Bhi Kabhi Bahu Thi set new trends not only for TV but daily soaps as well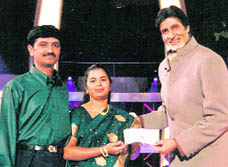 Amitabh Bachchan reinvented himself with the game show Kaun Banega Crorepati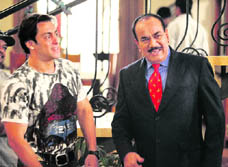 Despite the changing trends CID has completed 12 years and remains the longest running serial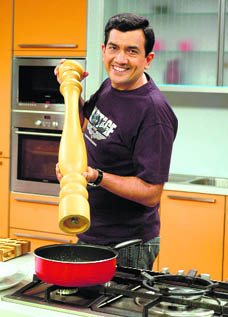 Cookery show Khana Khazana turned chef Sanjeev Kapoor into a celebrity Photos: NF

From shaky, snowy, blurred pictures on bulky TV sets to digital quality stuff on flat screens, the tube world is something to look out for.
Though it has been around for 50 years now, the last decade has so far been the most defining in its history.
It was during this time when not only TV gave its big brother, Bollywood, a run for its money but also set new trends.
This silent revolution began one night quietly at 10.30 P.M. on Star Plus, in early 2000s when a completely non-descript cast and crew went on air with their serial Kyunki Saas Bhi Kabhi Bahu Thi. And as they say, rest is history.
It went on to become the longest running serial in the history of television. It single-handedly changed the course of TV and definition of entertainment in the country.
The homely, docile but assertive desi bahu, Tulsi, played by then a small-time actress Smriti Irani soon became a national obsession. Edits and obits were being written on her on-screen hubby Mihir's demise in the serial.
Audience forced the serial's producer Ekta Kapoor to resurrect his character. And again another new trend was born.
Terming the last decade as "most significant" for TV industry, Smrit Irani says today it is offering a lot more job opportunities as well as variety to
the audience.
"In terms of creativity, production values in the last 10 years have been extremely significant," says Smriti.
TV was not offering solace or bread to these little-known actors alone. Bollywood mega star, Amitabh Bachchan, in search of megabucks and the limelight that had deserted him then, reinvented himself with Sidharth Basu's game show Kaun Banega Crorepati in 2000. The KBC show revived his movie career too.
Needless to say the show became an instant hit and went on to be a pioneer in the concept of non-script shows.
Years later stars like Shah Rukh Khan, Salman Khan, too, aped him.
The success story of the Indian TV industry, which started with the launch of Zee TV, the first private channel, was carried forward by Sony and Star. Their regional brethren, too, mushroomed and the entertainment-starved audience started facing a problem of plenty with a plateful of it — from daily soaps to reality shows.
Sameer Nair, CEO of NDTV Imagine, says the highlight of this decade has been the spurt in regional, sports and news channels.
"Content is evolving...we are still doing daily soaps with reality shows, which are not only song and dance based anymore," adds Nair.
As Nair says, it was not only the number of General Entertainment Channels going up. Indians, who till then were used to bland news, very much akin to dull documentaries, suddenly woke up to a new phenomenon called 'breaking news'.
As the news channels beamed images of an ageing Karunanidhi being dragged out of his house in the dead of the night, twin towers in the US coming crashing down on 9/11; the life and psyche of a common Indian was all set to undergo a sea change forever.
While it did wonders for people like Baba Ramdev and Rakhi Sawant, who owe their existence to TV, it was also instrumental in brining the culprits in the Jessica Lall murder case or the very recent Ruchika molestation case to book.
Who can forget the tiny Prince who fell into a borewell and had the entire nation glued to the TV, praying for his safety?
Another highlight was the successful broadcast of the IPL.
But as new trends came and went, the audience stuck with shows like celebrity chef Sanjeev Kapoor's Khana Khazana and CID, Boogie Woogie, Sa Re Ga Ma Pa.
Meanwhile, channels like Discovery and National Geographic, too, were doing good work finding viewership.
As always is the case, everything is not hunky dory in the small world. Charges of obscenity have forced closure of seven channels. Several others are facing notice for 27 controversial reality shows; including Iss Jungle Se Mujhe Bachcho, Raaz Pichle Janam Ka and Sach Ka Samna.
Call it an idiot box or anything, today, small is the new big. One may love it or hate it, no one can ignore it. — PTI