The sucker punch
Innovation is the name of the game as Bollywood devises aggressively
gimmicky ways of promoting its products. Following the runaway success
of 3 Idiots, brace up for more, says Saibal Chatterjee

IN the course of the promotion of his latest film, Chance Pe Dance, Shahid Kapur reiterated a home truth that new-millennium Bollywood has quickly internalised. "In the making of a film, you have to be innovative," the actor said. "In marketing the film, you have to be even more so." Bang on. Ask Aamir Khan. He knows a thing or two about marketing innovation. How else would 3 Idiots, at best an average film with a rather laboured, off-kilter storyline, have made suckers out of millions of moviegoers?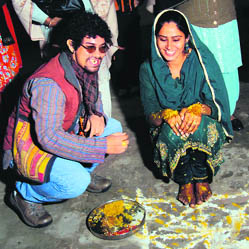 Disguised as a documentary filmmaker, Aamir attended the wedding ceremony of Ramandeep Kaur in Chuharchakk village, near Moga, in Punjab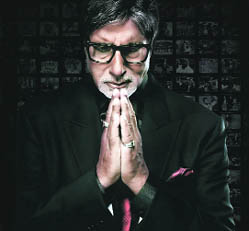 Amitabh Bachchan appeared as a real-life newscaster on a news channel to promote Rann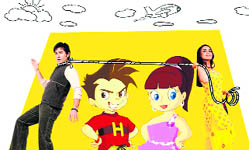 The release of Hum Tum was preceded by a comic strip in an English daily, a tie-up with a top potato wafers brand, and an appearance by Saif Ali Khan and Rani Mukherji in Jassi Jaisi Koi Nahin

Aamir is now quite a past-master at this game, having pulled off a stunning hat trick of year-end superhits — Taare Zameen Par (2007), Ghajini (2008) and 3 Idiots (2009). His strategy appears to be rather simple but it calls for much thought and a sense of timing: unspool a concerted publicity campaign in the run-up to a new release, flood media outlets with freewheeling interviews, think up unprecedented mass contact tricks to arouse the curiosity of the public and then sit back and watch moviegoers troop into the multiplexes to savour his latest film.
Even as 3 Idiots was, by the 10th day, smashing the records set by Ghajini, Aamir wrote on his blog: "In less than 10 days, 3 Idiots has overtaken the entire business of Ghajini... India, overseas, everywhere... and is still going strong. I have no idea how to explain what is happening..." Marketing gurus, and we have reason to suspect, Aamir himself, know exactly what is afoot out there. `A0
So here we go. Ever since round-the-clock television became a part of the lives of millions of Indians, the well-oiled Bollywood publicity machinery has been in overdrive mode in order the extract the maximum mileage out of the medium. But when a big Bollywood banner relies too much on getting the word out via the idiot box, it is usually a hit-and-run kind of affair — some films hit home, others turn out to be also-rans.
Consider the case of Tashan, a much-hyped from the Yash Raj Films stable. It came galloping into the market, riding on the back of the new-fangled romantic alliance between Saif Ali Khan and a size-zero Kareena Kapoor, but went out with a whimper.None of the excitement that the stories generated helped the cause of Tashan.
So, of late, a new scenario is emerging on the movie-marketing front. The men and women, who devise the promotional strategies of big-budget Hindi releases, are pushing beyond the confines of the small screen and Page 3 columns and into real life spaces where they can attract popular attention to their upcoming cinematic products.
So you have superstar Aamir Khan jetting around the country in the guise of a common man, donning a new persona at every stop, making friends in the unlikeliest of places and doling out gold rings to his new pals to promote Rajkumar Hirani's 3 Idiots. The exercise may have cost producer Vidhu Vinod Chopra a huge bomb — Aamir had a jet on standby for him all through the unique road show — but it paid handsome dividends in the long run. 3 Idiots mopped up a whopping sum of Rs 315 crore from the box office in less than 20 days, setting a new Bollywood collection benchmark.
The 3 Idiots publicity experiment was in a way a replication of what Aamir had pulled off with great success exactly a year ago with Ghajini. In the last few weeks of 2008, the star ran amok with the publicity of the film, getting all and sundry associated with Ghajini to cut their hair and acquire his on-screen look. Young male ushers at multiplexes sported the lawn-mower look as audiences walked in to watch a movie — the buzz about Ghajini assumed giant proportions in the bargain. When the Rs 50-crore film opened, it raked in Rs 32 crore in a single day, another difficult-to-break benchmark.
Not long after Aamir's no-holds-barred 3 Idiots publicity act, Amitabh Bachchan was doing his bit for his upcoming release, Ram Gopal Varma's Rann, a take on the ways of the television news industry. The Big B appeared on a leading news channel over several nights to present a wrap-up of the decade gone by. Getting Bachchan to serve as a real-life newscaster to promote a film did catch eyeballs. It now remains to be seen whether it benefits the film when it hits the big screen in the last week of January.
RGV has, in the past, tried bizarre publicity stunts to whip up a buzz for his films. Remember the time when some Mumbai residents woke up to find dummy corpses hanging from posters of Agyaat, blood oozing out of them? People were shocked out of their wits and the media reacted to the audacious publicity stunt by expending much airtime on its impact, but nothing could prevent the film from sinking at the box office.
Inspired no doubt by the success of the 3 Idiots publicity campaign, the big budget Salman Khan starrer, Veer, is being preceded by a 'Veerta' (bravery) contest as part of which the film's unit will select and honour a real-life Indian who has displayed exemplary courage in the face of extreme danger and provocation. The distance between the reel and real is shrinking. Aamir Khan has unleashed a publicity war that the other two Khans now have to perforce keep pace with. Salman has swallowed the bait.
In contrast, Karan Johar and Shah Rukh Khan, co-producers of the latter's next release, My Name is Khan, have decided to adopt 'silence' as their promotional device. It will be a test case — can a big banner film starring one of the nation's most popular movie stars be able to draw the crowds despite its low-key publicity? The Aamir vs Shah Rukh battle is set to acquire rather interesting proportions.`A0`A0`A0 `A0`A0`A0`A0`A0`A0
As marketing gurus point out, today's audience have a limited attention span. A movie has to make an impact on the first day of release. Its long-term fortune is determined on the opening weekend itself. So in this era of aggressive publicity strategies, it would be intriguing to watch the fate of My Name is Khan. Of course, the film has been in the news ever since Shah Rukh was involved in a well-publicised fracas at Newark airport, where US immigration officials hauled him up because "his name is Khan". Detractors had described that incident as a publicity stunt to draw attention to the film. No matter what it really was, in this day and age, all's fair in this game.
The Saif Ali Khan-Rani Mukherji starrer, Hum Tum, released in 2004, had reaped the benefits of a well-orchestrated promotional binge. Since Saif played a professional cartoonist in the film, the release of Hum Tum was preceded by a comic strip in an English daily, a tie-up with a top potato wafers brand, and an appearance by the two leads in the popular soap opera, Jassi Jaisi Koi Nahin.
Publicity drives have gone increasingly bizarre in recent times. Just a few weeks ago, Pritish Nandy Communications, promoting the Hangover-inspired sex comedy, Raat Gayi Baat Gayi, sent out a fancy press kit that, among other things, had condoms, contraceptive pills, anti-hangover capsules, a sachet of an energy drink and Dispirin. The Saurabh Shukla-directed entertainer, described by the spin doctors as "intelligent and witty", did not exactly leave people with a headache, but neither did it send them into paroxysms of delight.
It is estimated that the producer of an average Hindi film invests 10 to 15 per cent of the budget on publicity and promotion. But that ratio is steadily on the rise: some producers now spend over 25 per cent of a film's budget on promoting it. In fact, in the case of big films, the stakes are so high that no expense is regarded as too much.
But does it always pay off? From Mallika Sherawat selling tickets for Bachke Rehna Re Baba at a theatre in New Delhi to Abhishek Bachchan and Rani Mukherjee pulling fast ones on unsuspecting victims on the popular MTV show, Bakra, to promote Bunty Aur Babli to Ranbir Kapoor and Katrina Kaif hitting the road in search of India's most 'ghazab' couple in the weeks leading up to the release of Ajab Prem Ki Ghazab Kahani, Bollywood producers have tried every trick in the book — and even some that aren't in the book — to catch the attention of the public. Sometimes it works, sometimes it doesn't, but that doesn't mean Bollywood will ever stop trying.
Dev.D's promotional design was no less in-your-face than the film. Its production company, UTV Motion Pictures, invited visitors to its website to get into an adult chat with Kalki Koechlin, who played sex worker Chandra in the Anurag Kashyap film. On his part, Abhay Deol threw his weight behind the film by introducing a line of tattoos inspired by Dev.D.
Such gimmicks don't always yield the desired result. When the disastrous Chandni Chowk to China opened across India in early 2009, the film's lead actor, Akshay Kumar, joined his fans to fly kites on Makar Sankranti. Unfortunately, that starry attempt to connect with the hoi polloi did not send the film's fortunes soaring into the stratosphere.
A year later, Chance Pe Dance has met with a similar fate. The film's two stars, Shahid Kapur and Genelia D'Souza, did the rounds of promotional events to provide the Ken Ghosh film a push. The producers also launched a contest for Hindi movie fans who fancied their dancing skills by inviting video entries from. But with a script that reeked of a redundancy, this dance had no chance of pulling off a profitable pirouette.
Aggression and innovation are now the dominant mantras, but they can only guarantee visibility for a film. Box-office success is still, if you discount Ghajini, Ajab Prem Ki Ghazab Kahani and 3 Idiots,`A0hinges on quality of content. Or so we would like to think until the next load of cinematic muck hits paydirt.