Jurassic Park set to return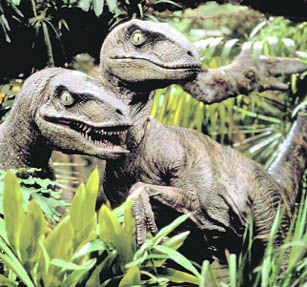 Dinosaurs are set to roam the big screen once again with Hollywood bosses planning to bring a second trilogy of the hit sci-fi franchise Jurassic Park is set for a return on the big screen. The original 1993 film that won three Oscars, starring Sam Neill and Jeff Goldblum, was a massive success, grossing $914 million worldwide and spawning two sequels, Box Office online reported. Now, nine years after Jurassic Park III hit cinemas in 2001, Joe Johnston, who directed the third instalment, admits a new movie is on the cards which will be closely followed by two more.
"There is going to be a Jurassic Park IV. And itís going to be unlike anything youíve seen. It breaks away from the first three ó itís essentially the beginning of the second Jurassic Park trilogy. Itís going to be done in a completely different way," Johnston said.
"If you think of the first three as a trilogy, number four would be the beginning of a second trilogy. We just want to make them justified in their own right. We donít want to make sequel after sequel just because thereís a market for it. We want to tell different, interesting stories," he added. ó PTI