Ulta Pulta
Return of the medal
Jaspal Bhatti

LAST night I woke up in the middle of my sleep with a horrible dream and a terrible scream. My wife also got frightened and said, "What happened?" "I was being unceremoniously stripped of a medal given to me for public service," I said wiping cold sweat from my forehead and sipping some water. She snatched the glass from my hand, gulped down the remaining water and rebuked me; "You havenít got any medal for any service from anywhere. Go back to sleep." I thanked God that I hadnít got any medal.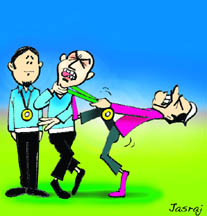 Recently a few medal awardees have been in the news for their misdemeanours. The people have been calling out to take their medals back. `A0Some people criticise and wonder how can a shady person lay hands on such high honours? They donít understand that this is the beauty of our system, which covers up the taint of their characters. In fact, for the corrupt police force to look more meritorious in the eyes of public, we should institute more awards and medals, may be for a limited period of time. Such fake awards can be taken back before their retirement.
The next question is how to strip off those awards; either a peon from the Governor House should come and declare in a derogatory voice, "Sahib ne medal vapis mangvaya hai. Nikalo jaldi." The other option could be that the awardees should be invited to the Presidentís House. After reading out a recitation of shame in his name, the medal should be snatched disgracefully in front of the media.