whodunit king
Crime writer Ian Rankin was in city to talk of his next venture and much more...

How often does it happen that you start writing your first crime novel and end up being mistaken as a suspect for the actual crime? "But that's research," says Ian Rankin, one of the best-selling crime writer in the UK."And just for the record, you can call me Dr Dr Dr Dr Dr Ian Rankin." Well, with five honorary degrees who wouldn't like to be so humbly addressed!The author who created the character of Inspector Rebus was in city to promote his latest novel – 'The Complaints' - on an invitation by the British Library under their cultural programme, Lit Sutra.
Master of things small
Some things are done solely for personal gratification while

some are lucrative. Some passions last a lifetime while some are strong enough to turn into a profession. For Peter Chan, best-selling author and co-founder of Herons Bonsai, UK's premier bonsai nursery, there is a place for every probability. An electrical engineer from IIT Kharagpur, Chan, who had a fascination for designing miniature models, found his calling in the live version – bonsai's. Warming up with a cup of piping hot tea at Rupen Deol Bajaj's house, former Punjab cadre IAS officer and state information commissioner, bonsai master Peter Chan shares his addiction for the small wonders.
Pick and move...
From designer wear, home linen, balloons, perfumes, Tarot readings, pets to spices, Winter Wonder sure has something for everyone
If it's apparel, bags, jewels, linen on your mind… it's time to check out Winter Wonder put up by Rashmi Bindra at Hotel Shivalik View-17.Kashmiri, Rajasthani, Gujarati, Pakistani hand-printed, rich in gotta patti work…when it comes to designer wear, choices are aplenty. You can take your pick from designer brands like Aarav, Deiva, Manjri, Vashanshi and Saboori.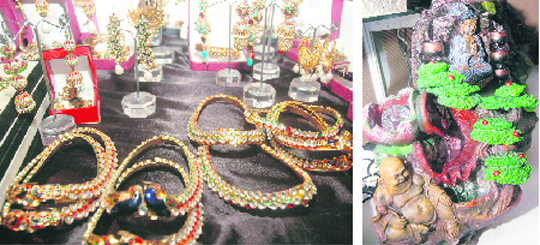 'Veer'ing towards the unhinged!


'Veer took a long time (over 10 years) from concept to screen but the labor (if any) never shows up on screen. The entire scenario appears preposterous, the story is ridiculous and the setting is hysterically overdone. This is Salman's second attempt at screenplay writing and frankly, there has been zero growth from the days of a disaster called Chandramukhi.And Salman is no actor either. He is just a star who postures in his own style and gets away with the bloody murder of acting in film after film. But in Veer his posturing comes a cropper too.
Koffee break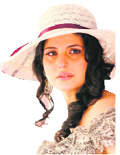 Dream debut
Zarine Khan, a look-alike of Katrina Kaif is all set to rock Bollywood in the world of newcomers. Having made her debut with director Anil Sharma's period film Veer written by actor Salman Khan, Zarine is the new actor who seems to have immense potential.
Would you call Veer a dream debut?
It is definitely a dream debut for me. I feel I am living in a dream. I am lucky to make debut with Salman Khan and director Anil Sharma.
Matka chowk
The Punjabi cabbie
To be a cabbie in Mumbai now, one will have to give a Marathi language test. This is after MNS Chief Raj Thackery had proclaimed - "Mumbai is not a dharamshala for North Indians."