Gaining ground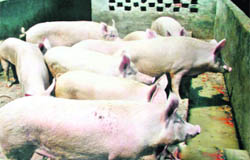 New techniques and changing perceptions have made pig farming a lucrative option for youth, writes Rajender Singh
With the increasing population, the demand for food is also rising. Shrinking land holding coupled with changing food habits has opened up new avenues in processed food market of meat apart from the traditional occupation of agriculture. Besides meeting the food requirement, this growing market has thrown open employment opportunities for people in the private sector.
Success Sutra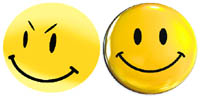 Make the big switch
If your constant refrain is, "I can't. It can't be done. I do not have the luck except of the bad kind. Things always go the way opposite I want", then you are inflicting a psychological injury on your own self. You are crippling your chances of a bright career and life.


Careercature
Sandeep Joshi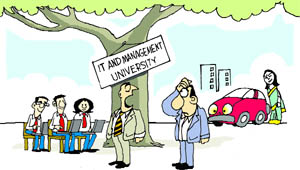 No need to worry about your son's future. We are trying to get standards and norms for the deemed university.
Fair BALANCE
Majority of young professional women surveyed in the US are optimistic that they will be able to balance rewarding careers with fulfilling personal lives, a survey by global IT consultancy Accenture says.
Basic Instinct
It's time to turn management education on its head. Students must learn that intuition will
serve them better than
economic theories based in rational behaviour, says
Subrata Chakraborty
Recent literature has made me think about whether human behavior is much less rational than has been assumed. In his book Management Rewired, Charles Jacob asserts: "most of what we thought we knew about management is probably wrong".
Harness manpower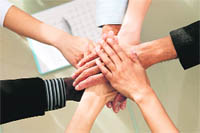 Human Resource is an essential ingredient for any organization — big or small, and is a must for the success of start-ups. For any start up clear defined policies and procedures are required to govern the workplace. It is required by an entrepreneur to have good understanding of different aspects of the HR function that plays an integral role. Defining smart HR policies can make the organisation more efficient and save entrepreneurs from experiencing common small-business problems.
Pitfalls of SMS lingo
London: Abbreviated forms of communication among teenagers may become a problem for them later in life while securing jobs, experts claim. Apparently, the abbreviated "teenspeak" of text messages, social networking sites and Internet chat rooms are having significant effect on the vocabulary of youngsters.
Career Hotline


M.Ed through correspondence
Q. I am a Reader (history) in inter-college and had completed my B.Ed in 2006. Now I want to do M.Ed through correspondence. Could you please suggest some recognised universities?
Work your way up
Vast scope in maths
Dairy tech courses
Upgrade skills
BSc (IT) vs BE
Experience pays more
Happiness @ work
Gems of ancient wisdom
The art of communication
Tongue is a double-edged sword. It can help spread cheer as well as give rise to ill will.