Rooted in tradition
Ritu Kumar's collection will be showcased at the grand finale of the Chandigarh Fashion Week
An epitome of elegance, the high priestess of Indian fashion industry, Ritu Kumar, is one name that embraces both the traditional and the contemporary Indian designs.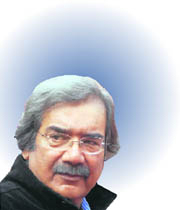 Basic instinct
Mike Pandey, Time magazine's Hero of the Environment 2009, is in the city for an event
It's Mike Pandey! And a cup of coffee with him is having conversations flip over from birds to vultures to tigers, bees, elephants, geese…an interaction with him is an exercise in quotable quotes, expedition through forests, excursion in nature, exertion in the wild, an eye-opener on environment…In city for a Tellus Art event, the iconic wildlife documentarian speaks and we listen. "Last time I was here around two years ago. I came for the vultures. In between also I came once, but that was in connection with the Pong Dam. One of the most pollution free wetlands," he gets us started and moves on.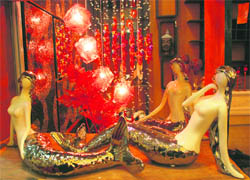 As trendy as it gets
Inside Outside Mega Show has a lot to offer for your dream house
Looking for something more than just a designer home? Don' worry, you've got plenty of options to pick from at the ongoing 'Inside Outside Mega Show' at AKM resorts on Patiala road. From multi-utility furniture to photo frame switches and digitally printed floor tiles, the exhibition showcases a smart couture for a smart home.

Side Lanes
BUSTER
Felix Bernard Manley, fondly remembered by his nickname "Buster," passed away in London on January 21. His beloved Chevrolet is still seen tootling around Chandigarh. Like everything he did, the vehicle was perfectly maintained and its engine has not been opened to date.
Khana khazana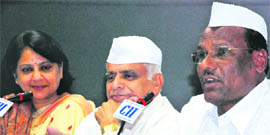 This is an organisation over 125 years of service, with an annual turnover of over Rs 40 crores and a Six Sigma rating from Forbes, a 99.999999 per cent correctness in functioning, which means error in one in six million transactions. What they do is to distribute 565 million dabbas every year to Mumbaikars everyday giving them a taste of homemade food, from downtowns to suburbs. They are the world famous Mumbai Dabbawallahs, one of the most efficient and biggest food supply chains. With such a profile, they are businessmen who don't ride on the fact that they are big.
Changing skyline
This one is out and out for the architectural community. And, for Indo-French relations. Bonjour India Festival, present in 13 cities of India, celebrates the Indo-French friendship and co-operation. Rendez-vous d'architectes is an exhibition promoting French architecture in India.
Objet D' ART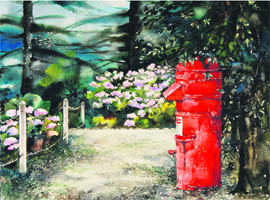 Think out of the (post) box
Electronic screens may have replaced those ivory sheets. And pen, unless it comes from the factory of Mont Blanc, lies in that forgotten cupboard. Letter writing is, of course, an art of the yore. And the entire process of waiting for the postman to deliver a letter is something to get nostalgic about, whenever we hear Carpenters crooning Mr Postman or Beatle doing the same with Please Mister Postman.

Painting by Bheem Malhotra

Green is the colour
Literally as well as metaphorically it's green, for the colour is as green as the cause. Tellus Art, a Sweden-based NGO, brings to the city 'My home, My planet', an art exhibition and creative workshop by artists from Chandigarh, Haryana, Himachal Pradesh, Punjab and Scandinavia.
Aamir on a high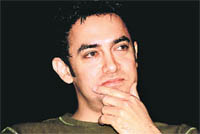 His production venture Peepli Live gets a warm response in the US
Bollywood star Aamir Khan is extremely happy that his production venture Peepli Live was received well by the audience at the Sundance Film Festival in Utah, US. "Our film Peepli Live was really well-received here at the Sundance Film Festival. We had our first screening at the Egyptian Theatre, Park City, on January 24. The audience really seemed to love it," Aamir posted on his blog on Wednesday.
Ranbir, Priyanka to see Stallone
Priyanka Chopra and Ranbir Kapoor, who are shooting for Anjaana Anjaani, are set to meet Rocky-Rambo superstar Sylvester Stallone.
Over the moon!


A lunar crater has been named after Bollywood star
Shahrukh Khan
Bollywood superstar Shahrukh Khan has transcended his popularity on earth and is literally over the moon with a lunar crater named after him by the International Lunar Geographic Society. According to the official website of the Society, the decision to rename the crater, earlier known as Arago B, after the famed actor came following overwhelming petitions from his passionate fans in India and around the world.