COLUMNS

THIS ABOVE ALL
TELEPROMPT
GOOD MOTORING
LIFE'S LESSONS
WEBSIDE HUMOUR

FOR CHILDREN

CROSSWORD
ROOTS
RHYME TIME

Earlier Feature
TELEVISTA

AUDIO SCAN
Desperate endgame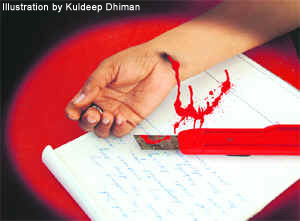 There has been a spate of suicides by youngsters ever since the year began. Shoma A. Chatterji tries to analyse the factors behind the malady
IN 3 Idiots, a scathing indictment on the numbers-chasing, grades-grabbing rigid education system, a talented youngster, Joy, commits suicide because the principal of the elite engineering college refuses to accept his invention of an innovative project as part of his assignment. The wall behind the hanging body is filled with two words, scribbled in large letters – I QUIT.
Game point
New military-theme shooting games are targeting adults also, says John Gaudiosi
Coming to a video game console near you, an onslaught of new military-theme shooting games — and they're not all for children as game publishers target a more mature audience. The popularity of shooting games has been proven by Activision Blizzard's "Call of Duty: Modern Warfare 2", which has raked in more than $1 billion worldwide and counting.
Comic act
The US postal department, which has announced a stamp in Mother Teresa's honour, has brought cheers to comic book lovers too. The "Sunday Funnies" series of the United States Postal Service (USPS) would feature eternal comic book favourites Archie, Beetle Bailey, Garfield, Dennis the Menace and Calvin and Hobbes.