Chilling chemistry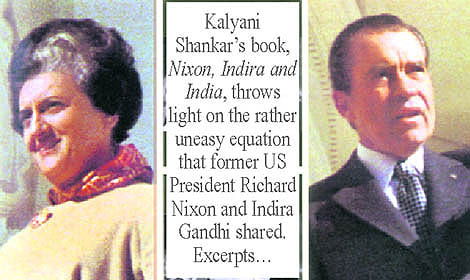 NIXON visited India in 1964 and again in 1967 as a private citizen. He took note that on both occasions, the Indians had received him with minimum of appropriate protocol. Dennis Kux in his book, Estranged Democracies, pointed out that 'This treatment presumably did nothing to lessen Nixon's preference for Pakistan, the erstwhile ally of the United States, and his dislike for India and its policy of nonalignment.' However, Nixon began his regime with a determination to maintain good relations with both India and Pakistan. The open tilt towards Pakistan came later, he observed.
Nixon's visit in 1969 came at a politically turbulent period. Prime Minister Indira Gandhi was struggling to fight for her place with the old guard Congress leaders like her Deputy Minister Morarji Desai, Home Minister Y. B. Chavan, and Lok Sabha Speaker Neelam Sanjiva Reddy. In his 16 July 1969 memo to the President on the Indian political scenario, a fortnight before Nixon's visit to Delhi, Kissinger observed that 'India's ruling Congress Party is in the midst of a sudden crisis which might have even led to the resignation of the Prime Minister Indira Gandhi.' Narrating the sequence of events, Kissinger said that the crisis developed between the old guard of the party and the faction led by Indira Gandhi. Kissinger traced back the problem to a Congress Party meeting, where two main controversial issues were discussed. One was the nationalisation of bank and the second was the presidential candidate for the 16 August elections. While Indira Gandhi got away with the bank issue, the choice of presidential candidate provoked a furore with the old guard supporting Speaker Neelam Sanjiva Reddy. Indira Gandhi's candidate was acting President V.V. Giri, who announced that he would contest independently. This was Mrs Gandhi's counter move to put pressure, Kissinger observed.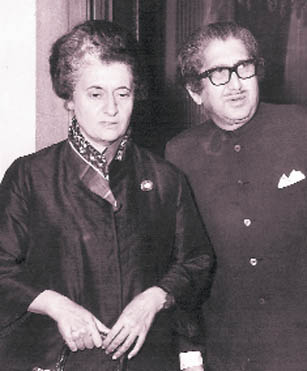 Indira Gandhi's visit to the US during Nixon's tenure went wrong from the beginning

Kissinger further pointed out that Nixon's trip could have been in jeopardy as there were no clear answers from the government in view of the political crisis. However, he surmised that any decision for cancellation should come from the Indian side and the trip was on.
The US Ambassador to India Keating also advised that the visit should not be cancelled. He assured, 'If political crisis seems to be heading towards a point which would require reconsideration of the President's visit, I will make recommendation immediately.' He observed that if Acting President Giri carried out his threat of resignation, Chief Justice Hidayatullah would take his place.
Nixon undertook his trip with no intention of making big changes in his South Asia policy ...
When the Air Force One carrying the Presidential party landed in New Delhi, the public welcome was none of the overwhelming enthusiasm president Eisenhower received ten years earlier, according to a New York Times report dated 1 August 1969. In his arrival speech, Nixon broadly talked about the role of Asia. Speaking eloquently, Nixon said, "The purpose of my visit is to exchange views with Indian leaders on these and other concepts as they affect India and India's role in Asia and our relations with India and other Asian nations. Above all, my purpose is to discuss the roads to peace".
Nixon's visit was too short for discussion on substantive issues with the Indian leaders. 'Neither Mrs Gandhi nor Nixon displayed much warmth. The substantive discussions, mainly on Vietnam, lacked spark and animation,' Dennis Kux noted in his book, Estranged Democracies. After landing in New Delhi at noon, Nixon called on Acting President Hidayatullah at Rashtrapati Bhavan and held official talks later with Prime Minister Gandhi. The talks went on the lines predicted by Kissinger. Later, he went to the Gandhi Samadhi, made a moving speech and planted a tree beside the one planted by his predecessor Eisenhower. That night he attended a Presidential banquet hosted by Hidayatullah and witnessed a cultural show for half an hour. The next morning, the presidential party left for Lahore after breakfast.
The chemistry between Indira Gandhi and Nixon was not at the same level as that of Nixon and Pakistani leaders. Nixon had met Mrs Gandhi during his earlier visits. Mrs Gandhi also reciprocated Nixon's dislike of her. Dennis Kux noted in his book, Estranged Democracies, that Indira Gandhi had told her friend 'I think I had excellent relationship with everybody (American Presidents) except Mr Nixon. And he had made up his mind before hand.' Dennis Kux observed that Mrs Gandhi could scarcely conceal her boredom during her meeting with Nixon when he visited India as a private citizen in 1967. After about twenty minutes of her meeting with him, she asked Nixon's escort from the foreign ministry in Hindi how much longer the session was going to last.
Kissinger concluded that the two 'were not intended by fate to be personally congenial. Mrs Gandhi's assumption of almost hereditary moral superiority and her moody silences brought out all of Nixon's latent insecurities. Her bearing toward Nixon combined a disdain for a symbol of capitalism, quite fashionable in developing countries, with a hint that the obnoxious things she had heard about the President from her intellectual friends could not all be untrue. On the other hand, Nixon had an understanding for leaders who operated on an unessential assessment of the national interests.'
Kissinger summed up their relationship in his memoirs, "The political relationship in substance was thus far better than the personal one...".
Unexpectedly, by 1971, the Indian subcontinent moved to the top of the Nixon administration's agenda in view of the unfolding crisis in South Asia and Nixon's China initiative. Robert Dallek pointed out in his book Nixon and Kissinger: Partners in Power that the highest priority of the Nixon administration in late 1971 was to avert a war between India and Pakistan.
'Conversations with Indian and Soviet officials became repeated warnings against an Indian attack on Pakistan.' Nixon and Kissinger did not want a war in the subcontinent that may sabotage their efforts for the China visit. Tensions were building up between India and Pakistan with millions of refugees crossing the border to India. The civil war in East Pakistan reached its heights with India supporting the Bangladeshis. Yahya was not able to visualise his own position and the need to address the concerns of East Pakistanis.
In August 1971, Indian Ambassador to the US L.K. Jha flew to San Clemente and met Kissinger in his office. Responding to Jha, Kissinger said the Indo-US relations were at a 'curious phase'. On the one hand, the US considered India as a great power and wanted good relations and, on the other hand, it was difficult to avoid the conclusion that a deliberate campaign was going on to undermine this relationship ...
From the beginning, the US policy makers knew that nothing much would come out of Mrs Gandhi's visit ...
By 1971, the US relationship with India had reached 'a state of exasperatingly strained cordiality like a couple that can neither separate nor get along,' according to Kissinger. He added in his memoirs, "Our relations with Pakistan were marked by a superficial friendliness that had little concrete content. On the subcontinent, at least the alliance with the United States had not been shown to produce significant benefits over nonalignment', he said...
For various reasons, the visit to Washington went wrong from the beginning. Mrs Gandhi was received by Nixon and his wife on the morning of 4 November at 10 am. After the arrival ceremony, Nixon met with Mrs Gandhi and her delegation. Kissinger joined them and the meeting went on till 12.30 pm.
Dennis Kux in his book, Estranged Democracies, pointed out that 'the visit began badly when in Nixon's welcoming remarks on the White House Lawns, he offered sympathy for the flood victims of Bihar, but made no mention of Bengal refugees and their sufferings'.
Untactfully, Mrs Gandhi in her response chided the President for ignoring a man-made tragedy of vast proportions. 'The Chief Executive returned the Prime Minister's slight the next day by keeping her waiting fortyfive minutes for a White House meeting.
Kissinger gives a more descriptive and an in-depth account of what happened in the meetings with Nixon. The US President and Mrs Gandhi sat in two wing chairs near the fireplace while he (Kissinger) and Mrs Gandhi's Cabinet Secretary Haksar sat on the sofas adjoining the chairs. Mrs Gandhi began in a condescending manner, expressing admiration for Nixon's handling of the Vietnam and China initiative 'in a manner of a professor praising a slightly awkward student.' Her praise lost some of its lustre when she smugly expressed that with China, Nixon had accomplished what India had recommended for the past decade. 'Nixon reacted with glassy eyed politeness which told those who knew him that his resentments were being kept in check only by his reluctance to engage in face to face disagreement,' Kissinger noted in his memoirs.
Kissinger goes on to comment that Nixon had no time for Mrs Gandhi's condescending manner. Privately, he scoffed at her moral pretensions, which he found all the more irritating because he suspected that in pursuit of her purposes she had, in fact, fewer scruples than him. 'He considered her indeed a cold blooded practitioner of power politics'...
Giving an insight about the mood in the Oval Office, Kissinger said that the Nixon-Gandhi conversation turned into a 'classic dialogue of the deaf'. He pointed out that the two leaders failed to hear each other, not because they had not understood each other, but because they understood each other only too well`85
If the meetings did not go well, the White House banquet on 4 November was also strained. Nixon met with Mrs Gandhi in the yellow Oval Room for about seventeen minutes, and Mr and Mrs Nixon met with the guests in the East Room for about fifteen minutes. Dinner ended at 11.20 pm and the guests witnessed an after dinner entertainment by New York City Ballet dancers. According to Kissinger, 'the talks were the worst and most painful' ...
The next day on 5 November, a conversation among Nixon, Kissinger, and President's Chief of Staff Haldeman from 7.50 to 9.10 am revealed the anger and frustration of Nixon on the Gandhi visit. Nixon used what Kissinger called as 'unprintable' vocabulary and called Indira Gandhi 'a bitch and a witch' and vowed that he would make that morning meeting brief and cool.
Nixon: I do not mean by that cool in terms of not trying to bring up ... I will talk to her a little about Vietnam and...
Kissinger: While she was a bitch, we got what we wanted. You very subtly, I mean she will not be able to go home and say that the United States did not give her a warm reception and , therefore, in despair she has got to go to war.
Excerpts used with permission from Nixon, Indira and India Politics and Beyond by Kalyani Shankar. Published by Macmillan.

Nixon agreed saying 'yeah' and commented 'we have slobbered over the old witch.' Kissinger added, "How you slobbered over her in things that did not matter in the things that did matter" to which Nixon said 'yeah' once again... Nixon said, "She knows". A little later, Kissinger remarked, "But Mr President, even though she was a bitch, we shouldn't overlook the fact that we got what we wanted, which was we kept her from going out of here saying that the United States had kicked her in her teeth. We have got the film clip of this, you have got the toast. You have got the general warmth that you generated in the personal meeting.'