Read alert in Pink City
This year's Jaipur Literature Festival brought its share of famous faces,
new voices and subcontinental concerns, writes Perneet Singh
FIVE years is not a very long duration, but it took just that much time for the Jaipur Literature Festival to blossom into Asia's biggest literatary event as also the biggest completely free festival of literature in the world. So, what has made this festival a huge success? Said William Dalrymple, a writer himself and one of the organisers, "There is no competition; no other book festival in Asia, though there is a huge appetite for reading books and meeting authors. For instance, people may have read Vikram Chandra's books but nobody has ever seen him. So, if you bring such authors to the festival, the booklovers will come to meet them". He also attributes the festival's success to his collaboration with writer Namita Gokhale, who is also an organiser. both have extremely good contacts in different areas. While I know many international authors, the same holds true for her when it comes to Indian writers in various languages".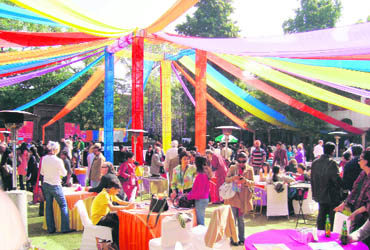 united colours of book lovers: Authors and audiences converged on the grounds of Diggi Palace, Jaipur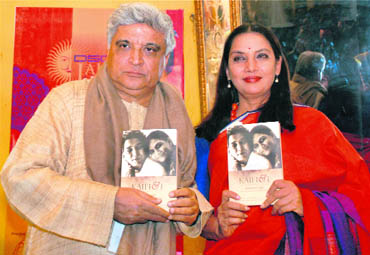 couple of verses: Shabana Azmi with husband Javed Akhtar at the reading of Kaifi and I Photos by the writer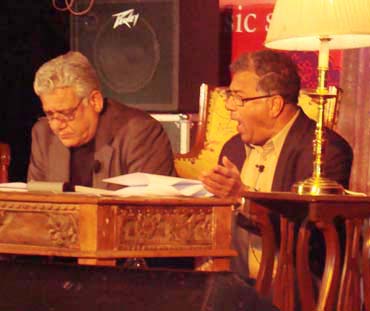 Actors Om Puri and Girish Karnad read
from the latter's play "Tughlaq"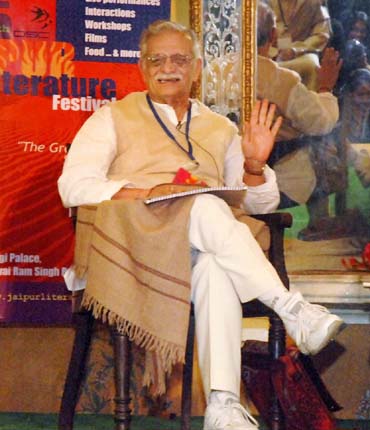 Lyricist Gulzar participates in a session on 'Language and Identity' at the Jaipur Literature Festival

On the difficulties that they had to face, he said, "We worked very hard for raising funds. Initially, we were making losses and in 2007, we were virtually collapsing when sponsors like DSC came to our rescue and covered a third of our cost. This year, it cost us Rs 2.4 crore, which we just managed to raise. We are yet to pay the organisers and it has been entirely honorary work at the moment".
And it's not only the organisers who went gaga over the success of the event, those attending it had a word of praise, too. "I've been to hundreds of literary festivals but this has an amazing mix of writers and people. It's boisterous, I love it," said Tina Brown, Editor of The Daily Beast and former Editor of Vanity Fair. "The fact that it is the only literature festival in India and that, too, in an exotic city like Jaipur has contributed to its popularity," said Sri Lankan writer Romesh Gunasekera. Similarly, British writer Geoff Dyer said Jaipur was unusual in providing a level playing field. For Ajay Navaria, a Dalit writer, the festival provided a forum he was denied in the Hindi literary community, which he described as generally "caste-based and feudal". "Even in mainstream Hindi literary seminars and conferences, Hindi Dalit writers are often set aside. This festival was more democratic. My voice got heard," he added.
Apart from a lively mix of the literati, the festival also had a generous dose of the glitterati. An array of Bollywood stars brought in the glamour quotient. Dalrymple was candid about it, "They certainly contributed hugely to our profile. However, we have a strict rule that they must have a literary reason for being here". Obviously, this year was no different with noted actors like Om Puri, Shabana Azmi, Girish Karnad, Deepti Naval and Rahul Bose attending a better part of the festival. Not to forget lyricists Gulzar, Javed Akhtar and Prasoon Joshi who, too, participated in various sessions. While Shabana read from her mother Shaukat Azmi's memoirs, Kaifi and I, on the inaugural day, Om Puri interacted with the audiences over his biography, An Unlikely Hero: Om Puri, which is penned by his wife Nandita Puri. This year the festival focused on Dalit writings. "Dalit literature is a powerful new voice in India which has not been projected. We wanted to introduce writers whose works have been translated into English and Hindi," said co-organiser Gokhale.
Addressing a session, "Outcaste: The search for Public Conscience", Dalit writers made a passionate case for why the caste system would not go unless Hinduism went. "The reason most Hindus don't get worked up enough about atrocities against Dalits is that their conscience is not a public conscience but a caste conscience, imbued with values derived from caste," said P. Sivakami, a Tamil novelist.
Kancha Illaiah, author of Why I am Not A Hindu, turned up the heat further, by stating, "Hinduism is spiritual fascism".
"Being called a Hindu is like a gaali (abuse) to me because we are being called Hindu for vested interests but are being denied the rights of a Hindu. We cannot enter into their temples, we have to fight for it," said Om Prakash Valmiki, and added that caste enveloped every aspect of life in India.
According to him, Gautam Buddha and Guru Nanak made a huge effort to put an end to the caste system. "However, you look at Punjab today, Sikhs stand divided on caste lines. They've forgotten the message of their gurus who were strongly opposed to the caste system". He said a good Dalit writer hardly got any visibility while Dalit consciousness was not visible even in the writings of Ismat Chugtai, Nagarjun or Premchand. "The upper-caste Hindus have told us what they think about us but they don't want to know what we think about them. The day they will know our viewpoint everything will change". He stressed on a review of the syllabus being taught in the schools. "Today's education is not producing patriots but is turning children into narrow-minded Hindus".
Valmiki maintained that Dalits continued to be shunned in the realms of culture, literature and arts despite 60 years of Independence and numerous laws guaranteeing their fundamental rights. Coming from the southern part of country, Sivakami has had her share of experiences about the struggle of Dalits. She felt that that the Periyar Movement in the South failed to uplift the Dalits. "I think any revolution starts from the lower end of the society. However, Periyar picked up in-between groups and put them on to positions of power while the lowermost strata of society, Dalits, were left out. The movement didn't achieve its goals as it didn't touch key issues regarding social reforms ".
Expressions of an envoy
THE Jaipur festival also saw some Punjabi faces. One of them being India's Ambassador to Israel, Navtej Sarna, who has penned a book, The Exile, on the life of Maharaja Duleep Singh, son of Maharaja Ranjit Singh. Excerpts from an interview:
What made you write this book?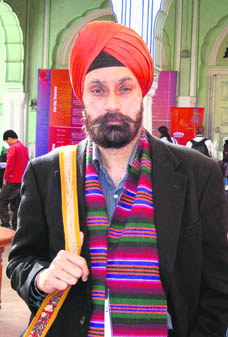 Navtej Sarna

It is a very important story from the recent Indian historical point of view, particularly that of the history of Punjab, and I didn't think that it had been done justice to so far. Therefore, I tried to do my bit. Till now, not much has been written about Duleep Singh and whatever is there has mostly been penned by British writers and that, too, in a very sketchy form. Through this book I have tried to give a more complete treatment to the story and that's how everything came about.
How much research has gone into it?
It is a very research-based book. It took me eight to nine years to read everything that has been written about Duleep Singh, his letters and archives etc, apart from visiting the places where he lived in. I tried to unearth all the facts before I started putting them in a fictional narrative and as I was going much beyond facts, it was very important to get a sense of places and a sense of time, though it was time consuming.
How different was your impression about Duleep Singh after completing the book from what you had read about him?
It was a very rewarding experience, as we have only a uni-dimensional view written by British authors. When I did my own research and read his letters I`A0found he was not such a bumbling fool like some British writers tried to make him out to be. He was an intelligent, analytical man, he is somebody who did a lot of research of his own past and read a lot of papers. When you do your own research, you get a more rounded impression of the people.
Does the same hold true for Rani Jinda?
Yes, she has been treated very dismissively, patronisingly and negatively by British writers of the time. She was much more intelligent and politically savvy, apart from being a devoted mother. She was very unfortunate character in the way she was treated. Again, you come away with a much deeper impression.
Do you think that more Sikh authors should dwell on Punjab's history?
Not necessarily Sikh authors, but anybody who is interested in Punjab. From Punjab's point of view, the history of Punjab, the history of Sikhs is a huge area where so much more work can be done. I do wish many more people would come forward and do it. There are a lot of stories out there, a lot of things that can be told in our own words, from a Sikh point of view, an Indian point of view and these must be told. — PS

Beyond boundaries
THE festival also played host to some of the promising young authors. Among them were Ali Sethi from Pakistan and Shazia Omar from Bangladesh, both of them in`A0their twenties. They made their debut in the world of writing only last year.
Born and brought up in a family of journalists and publishers in Lahore, Ali left Pakistan in 2002 to attend college in the US and returned in 2007. His first book, The Wish Maker, was published in 2009. Talking about his experiences in the literary world, Ali said, "It is difficult writing a novel on a country that is so extremely divided on class, gender and urban-rural lines." Interestingly, he has also learned Hindustani classical music from his neighbour ghazal singer Farida Khannum. He also sang some verses of Urdu poet Faiz during the festival.
A social psychologist, Shazia completed her undergraduation at Dartmouth College, USA, and her master's at the London School of Economics, UK. She now lives in Bangladesh, where she works at a development agency and teaches Pilates. Her debut novel, Like a Diamond in the Sky, was released in August 2009. Shazia said she looks up to India for inspiration in writing. "Being the biggest country in the neighbourhood India has a cultural hegemony in the region and as I certainly draw inspiration from many of its writers." — PS