The initiator
From Bollywood to business, actor Poonam Dhillon has always put her best foot forward

The first one to introduce the concept of make up vans in Bollywood, the first one to start a personal website almost 12 years back, the one to dabble with the world of television, when it wasn't considered a good prospective for top notch actors, the first Jat Sikh girl to move into Bollywood and today, the first one to launch a city specific website. Actor Poonam Dhillon, indeed, has the knack to be the first one. And you bet she shoulders the responsibility of being 'the first one' pretty well. In city, for the launch for www.chnadigarhwallahs.com, the 'first' and only social networking site for the residents of Chandigarh and for those who have a Chandigarh connect, Poonam Dhillon found out the interaction drift from networking site to Bigg Boss experience. And for sure, the pretty woman didn't mind it a bit. After all she was 'the first' woman candidate to enjoy an equal fanfare and support from the audiences vis-a-vis the men finalists.
Fighting terror
Mukul Deva's new book offers tips to make our country safe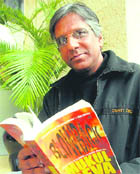 The basic qualification to be recruited as a constable in the Indian Police Force has been brought down from 10th standard to 8th. On the contrary, the terrorists are becoming tech savvy; they are educated and are imparted quality training. The very paradox has made India suffer from numerous terror attacks. So what should be done, how can India become safer, what are the immediate challenges that army, police forces and our government face? The answers to all of these are there in the latest book, Blow Back by Mukul Deva, whose previous books are also on terrorism.

Photo: Vinay Malik

Brides made
Complementing each other's creations the designers at Chandigarh Fashion Week present a colourful palette for brides-to-be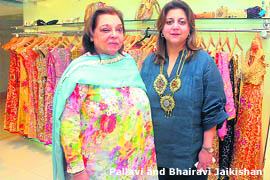 Classic, elaborate and elegant. That's signature Pallavi Jaikishan. Lehengas, ghagra-choli, saris, embroidered to perfection in georgettes, chiffons, brocades, net. Gotta patti work, badla work, flower motifs and opulent evening dresses. Even that's signature Pallavi Jaikishan. When it's her, fashion becomes sensuous, without even trying hard for it. Displaying her bridal collection at the Chandigarh Fashion Week, the mother-daughter duo of Pallavi and Bhairavi Jaikishan impressed the city with their classic appeal and royal designs.

On a mission
As a child prodigy, seven-year-old Pammi was in high demand at school functions as well as among elders of a sleepy village—Jakhepal in Sangrur district of Punjab - to sing Mere chacha ji ki moonchh, the only song he knew at that time.




Photo: Rajesh Sachar

Double the treat
The Daily Bread Café is one stop for both parents and kids
Next time you drop in Sector 17 for an endless shopping spree, with tiny tots in tow wondering what have they done to invite this torture there is one place where kiddos can be kids and parents can relax. Called the The Daily Bread Café, right above Kidsown-17 this newly opened café is one place where you can sit down and dig into Belgian Waffle, Burgers and Doughnuts without worrying about your child. As mummy shops, kids can have a good time at the toddler and play area and once she is back the jig bang can enjoy a good lunch or soups.

Melody makes a man
From plying a tonga to pulling a rehra, Sharif Eedu's musical journey has come full circle with Folk, Raagi Dhadi Kavishar award
Humility, hard work and loyalty for preserving the purity of Punjabi folk singing will account for Sharif Eedu's winning the Rashtriya Sangeet Natak award or the coveted Rs 2.5 lakh Punjab state folk Ragi, Dhadi Kavishar award. Eedu (75) had never dreamt of bagging this award while plying a tonga and later a rehra in the outskirts of Manimanja for years. Struggling for survival he left his ancestral village Lalauda in Punjab to settle at Manimajra, but the belief of the accomplished Sarangi maestro was so deep rooted that he never fell to the charms of easy money (read making Punjabi pop or allied genres).
Run for your money
On his seventh half marathon run, Yashovardhan Saboo is running for a cause. "Every kilometer run by me will be sponsored with a donation of Rs 5,000 by my friends for the education of underprivileged children," he says.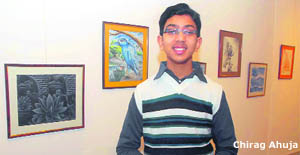 Child's play
It's like fumbling for the drawing file in a school bag and turning over the beautiful drawing sheets of a school student. There's landscape, hut, stream, river, grass, birds. Extravaganza of Colours, an art exhibition by Class VIII student Chirag Ahuja captures countryside in myriad hues and all its moods.
Matka chowk
Facade of a city


I think its time I revive my 'Faces of Chandigarh,' before the theme gets too stale. Faces attempts to introduce to you, people who have moved to Chandigarh from many places – the new residents, who now dictate the city's cultural landscape and imminent future. The melting pot theory is no good, but pluralism in a young and dynamic group that is growing will change forever what we know as the City Beautiful.
Just jewels
Deepika Gupta, jewellery designer from Delhi who specializes in traditional kundan and polki gold jewellery showcased her collection at the Chandigarh Fashion Week.
Picks & piques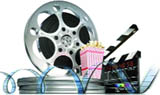 Show time
Four films released this week and the best thing was that all four had at least a bearable standard. Ishqiya from the Vishal Bharadwaj stable was the best of the lot. Road to Sangam was poignant and moving while Ram Gopal Verma's Rann and Vishal Bhandari's The Hangman are films which could definitely have been much better but for flaws in their respective narratives.
Hello tunez
Soulful sufi
My Name Is Khan (Sony Music): Shah Rukh Khan, Kajol, Karan Johar, Shankar-Ehsaan-Loy together combination spells success. Particularly because music has all along been the mainstay of Karan Johar films. They weave magic whenever they come together. However, this time they have gone in more for quality than popularity in this Muslim-centric movie. It seems unlikely that the songs will prove to be chartbusters, considering that most of them have classical and sufiana undertones.
Religious serendipity
Living With Sai (Times Music): Shirdi Ke Sai Baba is held in highest esteem by all sections of society. Here, some of the best singers of Hindi film industry have come together to sing bhajans in his honour. These include Sadhna Sargam, Suresh Wadekar, Shankar Mahadevan, Shilpa Rao and Sukhwinder Singh.