They've got designs on you
So urbane!
The model, who walked the ramp for Nikhil-Akhil made it clear what the designer-duo from Delhi intended to convey through their collection, themed Urban Living. Wearing a back shimmery dress, the firang model took out hairpins from her hair to untie them, which just as the dress depicted. "The liberal, unfettered, unbothered, bold women have attitude and are capable of changing the world," as Akhil says it.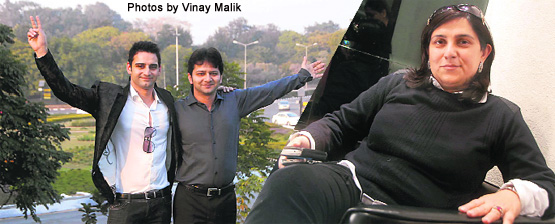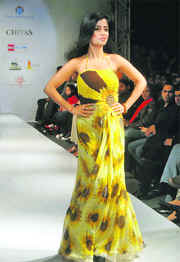 Shivani's free spirit
Shivani Kashyap, who walked the ramp for her friend Charu, talks about her latest album My Free Spirit and more
Chandigarh is a city full of good looking people, with great bodies and glowing skins. They don't need fashion, it needs them'. Thank you Shibani for the complements but haven't we already chewed on the fact and threw it away long ago? Well, let's keep our humility intact. As for Shibani Kashyap, walking the ramp for good friend Charu Parashar at Chandigarh Fashion Week was an opportunity she couldn't miss. "The last time I was on the ramp was a year ago for an event in Delhi for Charu. It's the first time I am a part of a fashion week," she says. Interestingly, it's first for city too to have a fashion week.
Photo by Vinay Malik
Calorie count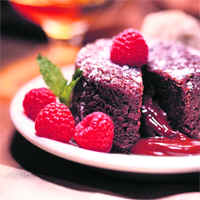 Will putting a nutrition label on the menu help choosing the right dish?
Would you still gorge in butter chicken, if its calorie count 400 is mentioned alongside or malai kofta with 500 calories, a shahi paneer: 300, dal makhni:300 and those several butter-laden naans with several hundreds of calories are all written about in the menu? It's not just the Punjabi cuisine that's a storehouse of calories, all fast foods, burgers, pizzas, even sandwiches filled with mayonnaise do equal damage. A recent research by Dr Pooja S Tandon at Seattle Children's Research Institute, US, suggested, "Putting nutrition labels on fast food may lead to a significant reduction in high-calorie food consumption.
BODY wise
Ten steps to slim down
For many people weight loss is a chronic endeavor. Often the shedding of pounds is a temporary event followed by a steady regain of weight. Most people lose out because they fail make efforts that ensure successful successful and permanent weight loss. Luckily, research has revealed many invaluable strategies which can help increase your odds of permanent weight loss. On the Anti-Leprosy Day, health experts renew their pledge to eradicate this dreaded disease
Even though there has been reduction in the prevalence of leprosy cases to one case per 10,000 population in the last two years in the city, a number of health experts still believe that the region has to go miles before it witnesses elimination of the infectious disease.
Weighty issues
Most parents of kids aged four or five are not aware if their children are overweight or obese, a new study has found. Researchers from the University Medical Centre Groningen in The Netherlands reached the conclusion after observing 800 parents and 439 children who took part in study.
Spice up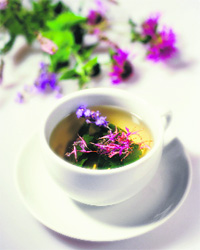 Drink to health
While meeting the demands of a hectic day, we consume endless cups of tea or coffee, without realising that they are taking us further and further away from good health. I wonder how many of us stop to think of ideal alternatives to these two popular beverages. Too much tea and coffee has many undesirable effects. One of these is a depletion of vitamins and minerals. Coffee contains caffeine, an artificial stimulant. It can increase the heart rate and make the blood alkaline. It can also lead to anxiety and irritability. In other words, avoid too much tea and coffee if you wish increase your level of fitness and good health. Instead, take green tea and herbal teas. Green tea is an anti-oxidant and has several health benefits. It prevents and reverse oxidation damage. …We ask Reetinder Singh Sodhi about his and he gives us a complete list


A dream rekindled, which means to him more than the world, coupled with a positive uncertainty of tomorrow, cricketer Reetinder Singh Sodhi takes a seat in the dugout. Relaxed, focused, his eyes sparkle with dreams and ideas. Not bothered about the sequence, he lists out the important ones. "To get married," he laughs, continuing "My parents are searching for the perfect bride." Before we try to dig in the requisites of 'the perfect bride', he quickly puts a lid on the matter. "It is too personal." We give it to him. But didn't someone share with the 'passionate cricketer' about the conspicuous lifestyle cricketers sport?
Love affair
Bollywood actor Vidya Balan promoted her film Ishqiya at a mall in Mumbai on Saturday. Ishqiya deals with the emotional journey of three individuals. Two thieves Khalujaan (Naseeruddin Shah) and Babban (Arshad Warsi), who are on the run from their boss Mushtaq (Salman Shahid), seek refuge with an old friend, but end up meeting his widow Krishna (Vidya Balan).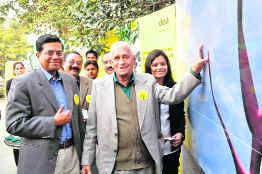 What an Idea!: Nek Chand, creator of Rock Garden, flags off the Green Pledge campaign under Idea's 'Use Mobile and Save Paper' initiative. seen here with Mr Anish Roy, COO, Punjab, Jammu and J&K, Idea Cellular Ltd.at Sukhna Lake.

Short & sweet Rann for Gul
Gul Panag is happy to be a part of the Amitabh Bachchan starrer Rann but the actress says Ram Gopal Varma's film is not the most important film of her career. The former beauty queen plays a young ad filmmaker in the movie, which has garnered a good response from the critics. Gul is happy to be a part of the project, which is otherwise an all-men saga with Amitabh Bachchan, Riteish Deshmukh, Rajat Kapoor and Paresh Rawal in the key roles.
Rings a bell?
Bollywood stars Shah Rukh Khan and Kajol have been invited by NASDAQ, the world's biggest stock exchange, to ring their opening bell at New York Monday. The stars of director Karan Johar's upcoming feature film My Name Is Khan will become the first Indian actors to open the market, an honour usually reserved for CEOs of major corporations, when they ring in the first trading day of February at 9.30 am.
Cool cans
Haywards 5000 Super Strong Club Soda, India's largest selling strong soda brand, will now be available in cool cans. ZeeStar Beverages Corp., part of the leading conglomerate ZeeStar Group of Companies, announced the launch of the canned version of Haywards 5000 Super Strong Club Soda. Haywards 5000 Super Strong Club Soda is India's first ever strong soda to be launched in Can packaging.
The search is on
There is no dearth of talent in Chandigarh. How many times have we heard this? Almost at every talent hunt or reality hunt auditions that take place in the city.