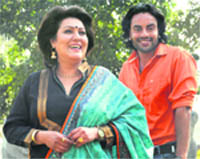 Passion defines her
For actor Navneet Nishan 'there is always a tomorrow'. "Memories are a good filler when you have nothing better to do. Sometimes, they leave behind a curve on your face and sometimes they come with a flush of salty water. But, I choose to live in the moment," she asserts. And the moment has lots to offer. My Name Is Khan defines it.

Navneet Nishan & Aman Dhaliwal share screen space — Photo: Pradeep Tewari

Paint it live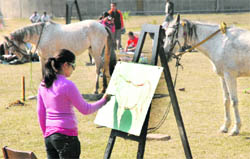 Like in the West, students of Government College of Art-10 got a chance to paint animate things
It's live art, on the spot and out in the open. The object of interest? Four sturdy, white horses. Within a matter of seconds tumble out the aspiring artists' paraphernalia - colours, brush, canvas and palette. Soon, the entire student fraternity at the Government College of Art-10 was busy defining the anatomy of the horses on their canvases! — Photo: Pradeep Tewari

All that Jazz
A nostalgic trip down the corridors of your college and university is something we would all love to indulge in, pretty willingly. Punjabi singer Jazzy B doesn't mind doing the same! "I miss my college days in Canada. It was great fun hanging out with friends; attending classes half-heartedly, jam in sessions outside an eating joint etc. I like to catch up with old college friends because they remind me of the good times," shares Jazzy B, in city to perform at the 'Jalsa Youth Festival 2010' on Thursday night.
Art-i-fact
A tradition that inspires
Even as it remains in the backdrop, the impact of Sanskrit works on modern day theatre is marked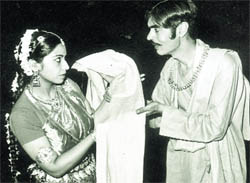 Fate plays with us like buckets at the well. Where one is filled, and one an empty shell. Where one is rising, while another falls and shows how life is change — now heaven, now hell. The essence of life is frozen poignantly in these lines from the Sanskrit play Mricchakatika. Herein, says versatile theatre director and actor Harish Bhatia, lies the beauty of Sanskrit theatre that is vibrant and at the same time epitomises the deeper philosophy of life.
A still from Mitti ki Gaadi directed by Harish Bhatia and Aditya Prakash.
§ Famous works
Now, log in for Tagore's works
In a bid to popularise Nobel laureate Rabindranath Tagore's literary works, the West Bengal government has launched a new Rabindra Rachanabali website which contains poems, songs, novels and short stories, essays and verses written by the author.

Dance like an Indian
Call it a raaz pichhle janam ka. Though born and brought up at Semey city of Kazakhstan, scores of miles away from Chandigarh, I find myself more related to Indian civilization, especially the performing art," says Buranbayeva Kmilla, who celebrated her twentieth birthday last week at the Pracheen Kala Kendra where she is undergoing an advanced training in kathak under a two-year ICCR scholarship from guru Shobha Koser.
— Buranbayeva Kmilla
No faking it!
A portrait once believed to have been painted by Leonardo da Vinci sold for more than $1.5 million in New York on Thursday, around treble the top price estimated ahead of the auction. A source from Sotheby's says another version of the portrait, "La Belle Ferronniere", is in the Louvre in Paris and it is that painting that is now generally agreed to have been by da Vinci himself or one of his pupils, while the painting sold in New York was a later copy. The painting is thought to be of Lucrezia Crivelli who was a mistress of Ludovico Sforza, the Duke of Milan, and was painted sometime before 1750 by a follower of the Renaissance master.
It's Jalsa time
Give me some sunshine, give me some rain, give me another chance, I want to grow up once again… this is what 'Jalsa Youth Festival 2010' is all about. The festival brings together students from as many as 75 colleges from Chandigarh, Punjab, Haryana and Himachal Pradesh, and affords them an opportunity to get in touch with their creativity. — Photo: Pradeep Tewari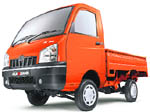 Power pack
Mahindra & Mahindra Ltd. announced on Thursday that the Maxximo would now be available at Rs 2.78 lakh (ex-showroom Chandigarh). The first product to roll out from Mahindra's state-of-the-art Chakan plant, the Maxximo was recently unveiled at the 10th Auto Expo 2010 held in New Delhi. The world's first mini-truck to be powered by a 2-cylinder CRDe engine with DOHC technology and 4 valves per cylinder, the Maxximo scores highly over its nearest competitors in terms of technology, style, safety and comfort.  
In high spirits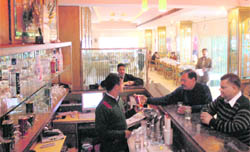 The city has got another reason to let its spirits high, with opening of Shahenshah bar in Sector 17. A part of the Shahenshah restaurant, it offers value for money with an array Cocktails, Mocktails and snacks on the menu. An endeavor of Harmohan Dhawan, who has completed 30 years in the hospitality industry, the bar also promises high quality and service at minimal pricing, with an inaugural offer of 25 per cent off on food and drinks.The bar merges into the dining space with a capacity of 300 people, pub area and a valet parking. —TNS
Dare to win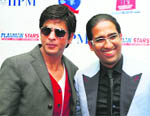 When India's most premium B-school, IIPM and India's most read business and marketing magazine, 4Ps get together with India's most sought after superstar, Shahrukh Khan - what you get is the most rocking three hours of live and electrifying event that any audience has ever witnessed! And such was the case with 'Dare'09' an event conceptualised and hosted by IIPM at their international Campus in New Delhi.
Side Lanes
All izz well


Thankfully, inspite of horrendous terrorist threats, we have glided safely into another incident-free year. So far! Two events strengthened my belief that all is well. As we drove through the Sector 19 market, we brought up the rear of a small band of people, walking with the fluttering tri-colour held high on bamboo sticks. Heading the procession was a tanned, rather portly, middle aged, bald individual, following his own well nourished stomach. I doubt if he could ever touch his toes but he looked well massaged and oiled, which is why he probably did not feel the chill breeze that made us hunch our shoulders, muffle our necks and put our hands into coat pockets. I looked towards his feet – there were no shoes. As my glance wandered upwards, I noticed that he held a huge tasselled pompom in front of his crown jewels. But for that bit of cotton finery, he was the original emperor who wore no clothes.