PUNJAB
HARYANA
JAMMU & KASHMIR
HIMACHAL
REGIONAL BRIEFS
NATION
OPINIONS
LETTERS
BUSINESS
SPORTS
WORLD
Sunday, February 7, 2010, Chandigarh, India
Updated at 3:00 am (IST)

Panel to tackle price pangs
CMs' meeting: States must do their bit, says Manmohan
New Delhi, February 6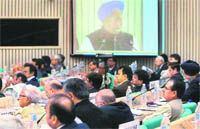 The Centre today decided to set up a committee of chief ministers and Central ministers to suggest ways to deal with price rise and improve the public distribution system (PDS).
PM Manmohan Singh addresses chief ministers on price rise in New Delhi on Saturday. — PTI
Sops assured to Punjab, Haryana

Hooda wants sops for cane growers

Nation page: Crack down on hoarders: Pawar

Punjab page: Don't need FCI, says state
CAST YOUR VOTE
Should khap panchayats have any right to interfere in matrimonial matters?

Advt
EDUCATION
JOBS & CAREERS
HEALTH & FITNESS
SCIENCE & TECHNOLOGY
REAL ESTATE
SPORTS
A Tribune Exclusive
Ad gaffe leaves PCS aspirants in lurch
Chandigarh, February 6
A major clerical goof-up by the Punjab personnel department has rendered employees of the Central and other state governments ineligible to appear in the Punjab Civil Services (PCS) examination.
BT Brinjal: Nay, say states
Bangalore, February 6


Minister of State for Environment and Forest Jairam Ramesh's letter to Chief Ministers of various states as regards introduction of Bt Brinjal seeds in the market has only drawn negative responses. So far, Chief Ministers of eight states have responded to the minister's letter and they have all opposed commercial introduction of the seed.

Ramesh flares up
SRK willing to meet Thackeray
Says comment misconstrued, aim was to promote goodwill
Mumbai, February 6
Adopting a conciliatory approach towards Shiv Sena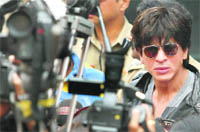 upon his arrival from abroad, actor Shah Rukh Khan today said he was willing to speak to party supremo Bal Thackeray so that theatres screening his latest film 'My Name Is Khan' were not attacked by Sena cadres.
Shah Rukh Khan in Mumbai on Saturday. — PTI


'Withdraw security of Sena chief, son'
NDA 60 Glorious Years
1857 The First Challenge
E - Revolution 2005:
A Two-day IT conclave
Assembly Elections - 2005
Turbans
Chandigarh is 50
125 Years of The Tribune
India: The Tasks Ahead
India at Sixty
A Tribune Supplement
EARLIER FEATURES
On Sundays
On Saturdays
Rahul: Oppose Sainiks by mobilising people
Edathala (Kerala), February 6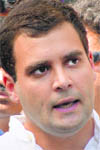 After taking on the Shiv Sena on its home turf for "Mumbai for Marathis" campaign, Congress leader Rahul Gandhi today said the Sainiks should be opposed by mobilising people and not by violence. Taking potshots at the Sena protest, he said there were 15 to 20 Sena workers with black flags when he boarded the suburban trains in Mumbai yesterday, but there were thousands of people to support him.
At Rs 100 a kg, no more an apple of everyone's eye
Chandigarh, February 6
Once considered an advice for a healthy life, the maxim "An apple a day keeps the doctor away" seems to be of little significance for the common man nowadays. For, the fruit has been selling at a high of Rs 100-110 a kg this winter, as compared to Rs 70-80 a kg during the corresponding period last year.



Rahul hops onto Mumbai trains to snub Shiv Sena
February 6, 2010

Let's talk, India tells Pak
February 5, 2010
If PM panel has its way, LPG to go up by Rs 100
February 4, 2010
Amar, Jaya Prada expelled
February 3, 2010
PC says Mumbai belongs to all
February 2, 2010
Sopore gunbattle ends, Harkat militants escape
February 1, 2010
Pak court records evidence
January 31, 2010
PCB bars players from IPL
January 30, 2010
Stop outsourcing jobs: Obama
January 29, 2010
Rajapaksa wins second term
January 28, 2010