Venice-ing Act
Sara Michieletto, Baldeep Singh and Madan Gopal Singh are all set to musically unite Venice with Punjab
One line definition and it's a complete confluence of cultures, compositions, concerns! An endeavor juxtaposing the five rivers of Punjab and the architectural masterpiece, Venice. The Anad Foundation, the Italian Embassy and the Italian Cultural Centre bring to the city Venice and Punjab: Water Memoirs, Soundscapes by Sara Michieletto, Bhai Baldeep Singh and Madan Gopal Singh.
Jat's the way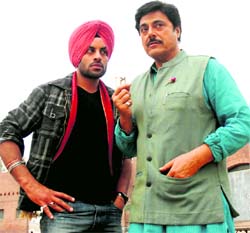 Things he shares might sound funny, strange and even surprising to you. After all, what Gugu Gill talks about, happened 25 years ago. A time when Punjabi film industry was hardly an industry, when it picked and blatantly copied Pakistani style of movie making, when anyone with Jat type looks, muscular built and a heavy baritone could dream of being an actor and when the title of every second script would begin with Jat or Jatti, when a two minute dialogue would be punctuated with words like badla, main tere khoon pi jaunga, jatti da badla, bahar nikal oye….



Gugu Gill (R) with his co-star Aman Dhaliwal. Photo: Pradeep Tewari
Fair game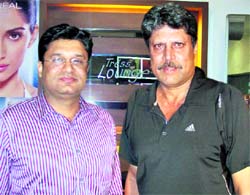 Kapil Dev turned quite a few heads and sent hearts aflutter in the city on Saturday evening
There is no way that you can refrain yourself from gaping at him, even if you are taking a trendy hair cut done for your own engagement, or you have your feet dipped in the warm and foamy water for a pedicure. So, when Kapil Dev, former Indian Captain entered Tress Lounge-8 to meet his friend Munish Bajaj, owner of the salon, on Saturday night, all heads turned.


Kapil Dev with Munish Bajaj Striker should bring carrom back in vogue
There was a time when children and adults alike enjoyed a game of carrom, but videogames seem to have taken over now. Actor Siddharth hopes his film Striker will bring back the lost popularity of carrom. "Striker is not a sports film, but I am sure it will bring back carrom in vogue. Although it is still quite alive... we have Asian champions and many great players of the game in India...it will definitely get a boost in popularity with the film," Siddarth said.

Kat calls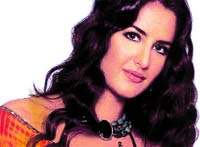 She may be one of the most in demand actors in Bollywood but Katrina Kaif is all set to play the role of a wannabe item girl in her next film Tees Maar Khan. The movie, directed by Farah Khan and produced by her husband Shirish Kunder, will see Kaif pairing opposite Akshay Kumar, his co-star of hits like Namaste London, Welcome, Singh is Kinng and recently released De Dana Dan.


Katrina to play item girl in Tees Maar Khan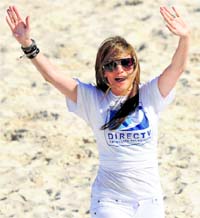 Singer and actor Jennifer Lopez participates in the fourth annual Celebrity Beach Bowl on Saturday in Miami Beach. PTI photo
'Dear' arm candy
Lindsay Lohan has reportedly been paid 150,000 dollars to appear as arm candy for an Austrian billionaire. The 23-year-old singer will reportedly accompany 77-year-old Richard Lugner to the super posh annual event Vienna Opera Ball.
What a relief
Singer Dannii Minogue has let out a sigh of relief after being told she would not be delivering twins. The 38-year-old mum-to-be, who is expecting her first child with former England rugby playing boyfriend Kris Smith, said she was glad after learning that a multiple birth was not a possibility in her case.
Kiss and tell


Anne Hathaway has admitted that she is not as great a kisser as Angelina Jolie. The Valentine's Day star said she is certainly not the best kisser on screen. "Really you have to be Angelina Jolie to pull that off and still look good. I ain't no Angie," she said. She added: "You have to leave your mouth open a little bit." However, Hathaway feels Jennifer Garner deserves an award for kissing. However, Hathaway feels Jennifer Garner deserves an award for kissing. She said: Jennifer Garner -- now that girl can movie kiss!"
Kate's arty debut
Super model Kate Moss is taking painting lessons, it has emerged. The beauty is reportedly following a private art course at her north London home. "Kate has always been a big collector of art and has several valuable works in her home. But she has been getting more into painting herself," a source said.
Mann of the moment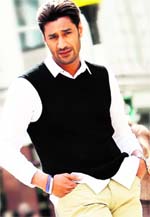 Aggressive marketing and distribution can take Punjabi cinema to places. Punjabi singer and actor Harbhajan Mann provides that a right balance of the above mentioned things can definitely improve the viwership for Punjabi movies, and do good to it in more the one way. In the city, to perform at the concluding function of Jalsa Youth Festival 2010, Harbhajan feels that Punjabi film industry did not get enough time to grow, the journey is long, but with a few dedicated people like Manmohan Singh, the industry has a bright future. "Before Partition the film industry had a base in Lahore that later shifted to Mumbai," says Harbhajan. "Thereafter, Punjab faced terrorism, followed by many social evils like drugs, alcoholism which took its toll on many youngsters of the region."

Photo:Pradeep Tewari
Native returns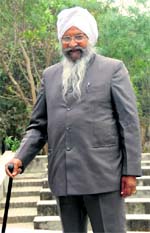 Copenhagen-based poet Swarn Singh Parwana gives away the 21st Bulle Shah Award
Indians settled abroad observe, relish or lament the events, the progress with greater concern than people who closely witness the factual position of the happenings in all spheres of life. We had a lot to celebrate, the triumphant of the Oscars, Grammies, the spectacular musical or dancing performances by Indian maestros the comparative achievements in literary arts especially Punjabi literature," opines Copenhagen-based poet Swarn Singh Parwana, founder president of the Asian Writers Association in Denmark. In the city to confer the 21st Baba Bulle Shah award on the acclaimed Punjabi author and critic Sharanjit Kaur, he shares his views at the Punjab Kala Bhavan on Sunday.
Place for wheels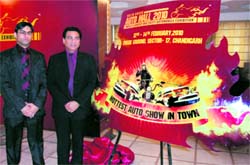 The Auto Expo is over but automobile aficionados don't have to wait for the next two years, because AutoMall 2010 is arriving and that too in Chandigarh to reach not only the industry players but also to delight the auto lovers across Chandigarh, Punjab, Haryana, Himachal Pradesh and Jammu and Kashmir from February 12th-14, 2010 at Parade Ground Chandigarh. After the stupendous success last year in Bangalore, Delhi and Chandigarh ,- Relio Quick Auto Mall 2010 is back to Chandigarh -an extravaganza full of action.
Musically yours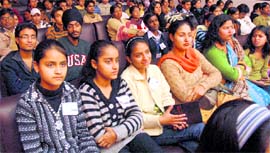 The auditions for musical event, Voice of Chandigarh -2010 for budding vocalist talent was organised jointly by Gurukul Vidyapeeth and S-4 Trust at the Government  Museum and Arts Gallery-10. Rinku Kalia, the eminent singer and Varinder Bachan, the renowned music director, were the judges for the auditions. It was a preliminary round to shortlist the potential voices in and around the city.
Spice up
Exploding beauty myths



Myth 1: People with oily skins should wash their face several times a day with soap and water to reduce the oily look. Actually, this provides a temporary fresh feeling. Washing the face several times makes the skin too alkaline. The Ph (acid-alkaline) balance of healthy skin is slightly more on the acid side. The acid mantle of healthy skin actually protects it from pimples and acne. The skin should be washed only two or three times a day with soap. It should then be wiped and toned with a rose-based skin tonic to complete the cleansing process and restore the balance.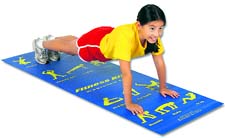 ...John Abraham's abs, Piggy Chop's legs & Sallu's biceps
And we thought fitness experts and gym trainers have an easy job at hand! Wish it was true but they have a lot to deal with, besides, giving usual instructions, planning diet chart and motivating people. Empathise with them to realise how hard they have to work when people come to them with silly and offending demands, something like, "I am getting married in another month and wish to lose 10 kgs," or "I want abs like John Abraham in three months time before the final of the auditions of a modeling contest", even worse, "I want to have prominent jaw bones likes Angelina Jolie."
BODY wise
Handle with care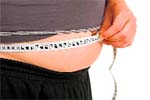 The last place you want fat hanging around is at your waist. Love handles are not just unattractive but carrying weight around your abdomen is bad for your health. Excess fat around the waist, or an apple body shape, is suggestive of insulin resistance, a condition that is linked to the development of heart disease and diabetes. It is also indicative of an imbalance in cortisol levels. Size zero is not equivalent to beauty
Every human being has a desire to look good. In Indian mythology, Kaam Dev is considered as the most handsome god. Individual's looks depend on many factors like facial features, height, weight, colour and complexion. Out of these, height and complexion are non- modifiable while facial features can be modified with plastic surgery. However, weight reduction is the commonest and easiest way to improve beauty. Presently, significant weight reduction (size zero) to improve the appearance is a 'hot topic'.
Short-term gain
Long working hours and short attention spans are driving more people to take exercise insmaller, meatier doses. Instead of demanding clients pound the treadmill for an hour at a time, some fitness experts have created short, swift workouts for the busy and the bored.