It's raining stars
A number of Bollywood celebrities showed up at the opening of Saroj Khan's academy in the city on Monday
Pretty soon, we could have two Bollywoods!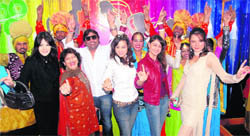 One, of course, is in Mumbai, and the second one, in all probability, could spring up in Chandigarh. Good news? Well, we leave this to you! With the number of walk-ins of celebrities in Chandigarh - for either opening of a dance academy, music academy, fashion school, inauguration of a hi-end store, touch-and-miss visits at private functions - you will soon see Salman Khan strolling in sector-17 or Ajay Devgan shopping in a multiplex! — Photo: S. Chandan

Shall we dance?

She came in this world to dance, and to make others dance to her steps. She has done it in almost 2,000 dance sequences for Bollywood movies. The legacy continues with Saroj Khan opening her dance academy in the city in collaboration with Leo One Productions (India) Ltd. The academy will offer different kinds of courses for youngsters who want to learn hip-hop, rock-n-roll, jazz, salsa, bhangra, gidda, bharatnatyam. — Photo: S. Chandan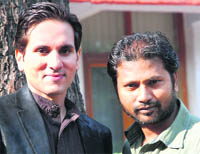 Desi beat
Get set for action
In the city to promote their first venture Aakhari Decision, Amar Sidhu and Deepak Kumar Bandhu label it as 'an ordinary looking extraordinary film'
Healthy, entertaining action drama, a fusion of Western and Indian sensibilities,' is how director Deepak Kumar Bandhu defines Aakhari Decision, his debut flick that is set for release on February 19. — Photo: S. Chandan
Master blaster
Padma Bhushan awardee and Jnanpith award winner Girish Karnad has said Slumdog Millionaire was the worst film he had ever seen.
3 Idiots boon for multiplexes
The blockbuster has generated Rs 382 crore revenue till date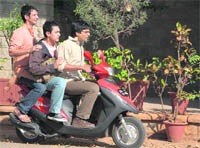 Aamir Khan starrer 3 Idiots, which has gone on to become the biggest hit in Hindi film history, has helped multiplexes recover from the two-month strike last year. 3 Idiots - which takes a critical look at the education system in the country - has already earned more than Rs 382 crore (Rs 3.82 billion/$82 million) worldwide since its release in December 25 last year. "Losses have reduced post '3 Idiots'. We have earned gross revenue of Rs 1.6 crore from the movie till date. There were a lot of expectations from it and it fulfilled all expectations," said Amit Awasthi, manager (programming and operations) of Spice Cinemas at Noida.

Tip talk
Failure teaches you everything, says Shahrukh Khan
He has played many roles on the big screen, but today Bollywood actor Shahrukh Khan donned the quizmaster's hat, grilled management students and advised them to consider failure as being crucial to teach pragmatic lessons in life. "Success imparts no wisdom, failure teaches you everything. Failure is very important. Fear of failure will make you pragmatic. It will make you logical in your thinking," he told a young audience at a quiz show.
Stars in your eyes
Actors Adi Irani, Shiva & Zakir Hussain talk their heart out
Sometimes, unexpected guests are more entertaining and welcome than those expected. But this does not mean you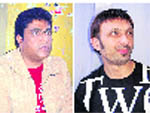 should stop inviting guests! They come with their share of hullabaloo and spice. Cut…the opening of Saroj Khan's dance academy in collaboration with Leo One Productions in Chandigarh was attended by some 'busy with work' filmstars, some 'still reading scripts' filmstars and some 'been-there-done-that' television people turned event managers as well as producers.
Zakir Hussain/Shiva

Valentine blues
This Valentine replace red, the usual colour of the season with blue. If you have doubts about blue being equally romantic, check out the stuff at Soh Koh, where there is enough designer wear in blue, especially for the lover's day. The designer store unveiled its Valentines collection on Tuesday that comprised designer range of Cue, prêt line by Rohit Gandhi and Rahul Khanna; Rimi Nayak, Arshiya and Gaurav and Ritika. The designers have Wills and Lakme Fashion week to their credit. — Photo: S. Chandan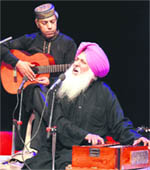 Symphony of waves
Soulful strains of classical symphonies on violin, spells of mystical Sufiana kalaams, the vitality of pristine Punjabi folk - all flowing in the melodic waves remained the salient features of a memorable musical concert Venice and Punjab: Water Memoirs held at the Tagore Theatre on Monday evening. The programme, designed and directed by Bhai Baldeep Singh, commenced on a melodious note with acclaimed Italian violinist Sara Michieletto taking the centrestage. — Photo: S. Chandan
Facts and fiction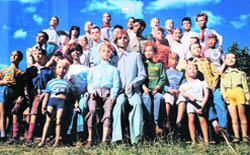 Bonjour India Festival this time opens its door to a photographer's mind and an artist's vision with True Fiction. Displaying over 20 works by French photographer Bernard Faucon, one of the most celebrated artists in the world. Over the past 25 years, Bernard Faucon has had nearly 250 solo exhibitions and group shows, from Leo Castelli in New York City to Yvon Lambert in Paris, and as well innumerable one man and group shows in museums worldwide. — Photo: S. Chandan
Light, camera and action

behind the stage
More and more youngsters at the Department of Indian Theatre are opting for slots like set designing, direction and sound recording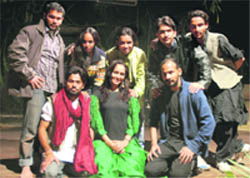 Whoever said it's all for Bollywood, arc lights, paparazzi…Whoever thought it's to be on stage, in front of the lens, before the audience, for the applause…Students at the Department of Indian Theatre might have imposing alumni list comprising the likes of Anupam Kher, Mangal Dhillon, Mita Vashisht, still a significant fraction of the learners would rather don the director's hat, put on the headphones, design the sets, do the sound check.



Standing tall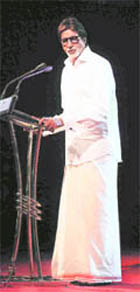 Bollywood actor Amitabh Bachchan dons a traditional attire from Kerela during a private function at Kochi on Sunday. — PTI
Not so gay!
A new study has shown that teenagers who self-identify as gays, lesbians and bisexuals are at a greater risk of having suicidal thoughts. Moreover, those who were unsure of their sexual identity were also at higher risk for suicidal ideation and attempts. "This is the first study that has separated sexual identity from sexual attractions and behaviours in looking at risk for poor mental health outcomes," said corresponding author Dr. Brett Thombs, of the Lady Davis Institute for Medical Research (LDI) at the Jewish General Hospital. "The main message is that it's the
Jobless Gen Y
Australia's Generation Y will be having a tough time landing a job, as employers find them too lazy and unfocused to be hired. According to the Courier Mail, bosses see Gen Y workers as people who lack work ethic and spend too much time talking to friends during work hours.
Romance, not for men!
Men may not be as romantic as women on Valentine's Day, a new study suggests. A poll of 2,100 adults found that despite the fact that more than three in four women want to receive a romantic letter or poem, only half of men have penned either.
Choose it right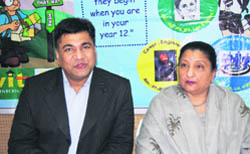 Gross! Who said students in India don't have much of a choice? Be a doctor, engineer anything of the two! Make it to IITs, IIMs, AIIMS, you have a free hand. Frankly speaking, career and subject choices for students in India are guided by everything but interest, aptitude. Over the past 25 years, Bernard Faucon has had nearly 250 solo exhibitions and group shows, from Leo Castelli in New York City to Yvon Lambert in Paris, and as well innumerable one man and group shows in museums worldwide.
Making a point
The dramatics club of DAV College-10, Aaghaaz, recently grabbed the second prize at the 25th Inter-university National Youth Festival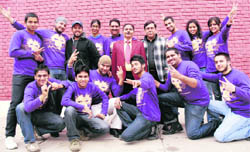 Let's straighten statistics first. They are almost eight years old now, comprise 14 members, competed against eight zonal teams, came second and have quite a few other accolades in their kitty. The dramatics club of DAV College-10, Aaghaaz, recently grabbed the second prize at the 25th Inter-university National Youth Festival held at Maharishi Dayanand University, Rohtak. But before the self-congratulatory mode, they are in gratuity mood.