Yesterday once more
Biddu, who gave hits like Made in India, resurfaces at the recently concluded Jaipur Literary Festival, this time to release his autobiography. Renee Singh engages him in a chat
I could'nt believe my eyes! The tall lean frame walking towards me and my gaze just followed ! My daughter nudged me excitedly as she saw my teenage idol walk towards us and hey finally I got out of my stupor. The adrenalin running fast in my blood as I felt 13 again. That's when I had first discovered Biddu — my teenage icon.
Punjab beckons
Actor Kanwaljeet, who is in the city to shoot for Ik Kudi Punjab Di, feels Punjabi film industry has a bright future
The good ol' television is no longer what it used to be. The high-voltage melodrama can give even a rudaali run for her money, the jarring Kanjivarams can surprise even the weavers who created it, the dialogues and scripts are as old as the birth of satellite TV — everything is been there and done that.
Objet D' ART
Like a prayer
A drink of bhang mixed with milk and a movie clipping showing inebriated Mumtaz and Rajesh Khanna falling on each other singing Jai Jai Shiv Shankar — that's what sums up Shivratri for most of us! But not if you have been a resident of City Beautiful and part of the city art circle.
Poetic justice
At the tender of nine, Tripat Bhatti, like many more, was destined to be a victim and witness to the tragic carnage of Partition, who left behind his childhood memories buried in Chakk no. 45, near Shekhupura in Pakistan. Injured and frightened at the unexpected turn of events and environment charged with anger, agony and terror, amidst cries for mercy and help all around, Tripat faced death-like situations till the family landed at Nawan Shehar.
Getting real
The idea is to find out how the real painting looks like; it has been overshadowed by a hue of garish colours. "I want to erase them, so that the painting is visible in its original form." The effort finds an end result in the form of a poem in blank verse - Before He Was God (Ramayana reconsidered recreated) - recreated by Ram Varma, retired IAS.
When minister becomes megastar
Punjabi play Wapsi saw Punjab's transport minister Master Mohan Lal and chief parliamentary secretary Harish Rai Dhanda on stage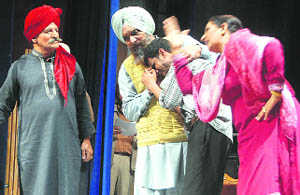 Folk and Punjabi pop songs, comedy and Punjabi play Wapsi marked the celebrations of the 20th edition of multicultural musical bonanza Hadsa Punjab at the Randhawa auditorium on Wednesday. The annual programme, organised by the International Punjabi Cultural Association in collaboration with the UT Cultural Affairs Department included the felicitation ceremony of Punjabi comedy star Bal Mukand Sharma (dramatics) Jarnail Hoshiarpuri (theatre) and Gurmit Singal (short story writing).
What class!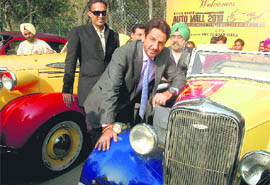 Auto Mall 2010 begins with a vintage car rally
Oh, the virtues of a vintage! The beauty of a woman and the value of a wine! So there they were, the colourful classics, the marquees of the bygone era, the pretty ladies in pink, maroon, orange, even combination of yellow and orange, blue yellow, red violet, red orange, red maroon…with proud owners flaunting their arm candies in tow.


Photo: Parvesh Chauhan

Multi-tasking redefined
One man, many talents, each coming with its own success. And, yet he defines himself as a lazy, confused and a nut case. Piyush Mishra has to convince himself everyday that he is more than just another actor, playwright, music composer, scriptwriter, theatre director, lyricist and more recently, a singer.