THIS ABOVE ALL
Cheerful author's grim novel
Khushwant Singh


Khushwant Singh
In Jalandhar live the Atwals, the most prosperous and respected family of the town. Their residence is a large seven-bedroom mansion with a reception room, dining room, a separate room for the gurdwara, servants' quarters to house their Bihari staff and a large garden. They have kirtans and akhand paths. They give lavishly in charity.
The head of the family is addressed santji because he is a saintly person. His wife is Ma Sukkhi because every one looks upon her as the divine mother. They have sons and two daughters — Durga and Sharda — who they do not cherish simply because daughters are not cherished in Jat land-owning families. Mysteriously, Sharda disappears; no one knows where and why. Then one monsoon night the rest of the family, barring Durga, are fed rat poison with their dinner and then stabbed to death.
An attempt is made to set the house on fire. It fails because it is doused by the rain. The next morning 13 inmates are found brutally murdered. The sore survivor is 14-year-old Durga. But she, too, has been brutalised, beaten, raped and left with one hand tied to the leg of a table. She is traumatised and unable to speak coherently. Who did it and why? This is the background of the grim detective fiction, Witness The Night by Kishwar Desai (Harper Collins).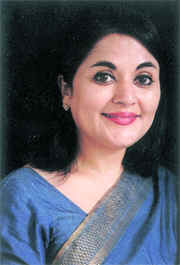 She assumes the role of the narrator, Simran Kaur, a freelance social worker with an NGO. She does not buy the police version that it was Durga who did it, and goes to Jalandhar to unravel the truth. In narrating her story Kishwar Desai discovers many other nasty aspects of rural life in Punjab and Haryana. The worst is to destroy female foetuses and bury alive new-born girls. They make up for shortage of women by misusing wives and daughters of Bihari labourers they employ. Or buy Bangladeshi women from pimps, who bring them over to sell to brothel keepers, or simply rape any girl they can.
There is also an extensive trade in drugs, preferably opium and cocaine — some imported from Pakistan and Afghanistan — and bhang and ganja, grown locally. It is as sordid a tale of nightmarish proportions as any I have ever read. It is skilfully crafted and written in lucid, compelling prose. It ends on a happier note.
Simran is able to nail the real culprits and rescue both Durga and Sharda, who have by then been put in a lunatic asylum in Amritsar. I cannot get over the shock and surprise I got reading the novel. I have known Kishwar over many long years. She is always giggling, laughing and congenitally cheerful. I did not suspect that behind the facade of light-heartedness was concealed a morbid mind deeply concerned with the sordid realities of our lives. Highly readable.
Son of Kashmir
There are a few Indian writers and poets who are more widely read and appreciated abroad than in the country of their birth. Amongst them was Agha Shahid Ali. He was born in Delhi in 1949 and his father was at the time with Jamia Millia Islamia. He moved to his ancestral home in Srinagar, where he went to school and college. For a short while he accompanied his parents to the US where he continued schooling till he returned home to do his MA in English literature. He returned to the US to do doctorate in literature from Penn University.
He taught in many prestigious American universities like Massachusetts, Amherst, Utah, Princeton and New York. He won many literary awards. His works were first published in the US and won acclaim. The Los Angeles Times wrote: "What is timeless in these poems is the power of grief. Sheer cliffs and drops of despair that he masters and spins into verse with astonishing technical virtuosity." Grief, the reviewer referred to, was the violence in Kashmir occasioned by the continuing influx of Pakistani-based intruders, and the brutal way the Indian Army dealt with them and their Kashmiri collaborators.
Shahid Ali expressed his sorrow in prose and verse. A selection of his verse, The Country Without a Post Office, was first published in India by Ravi Dayal. Agha Shahid Ali took American citizenship. His parents came to stay with him to have his mother treated for cancer of the brain. She did not survive. Later, he also got cancer of the brain and died in December, 2001, at the age of 52.
His works, including some translations of Faiz Ahmed Faiz's poems, have now been published. The reader can gauge for himself the anguish in the poet's heart, his Shia Muslim identity and having to opt to become a foreign national. He is not easy to read. You have to read the poems over and over again to savour the taste of what he has to say. I give one example, A Lost Memory of Delhi:
I am not born;
It is 1948 and the bus turns;
On to a road without name;
There on his bicycle, my father;
He is younger than I;
At Okhla where I get off;
I pass my parents;
Strolling by the Yamuna river;
My mother is a recent bride;
Her sari a blaze of brocade;
Silverdust parts her hair;
She doesn't see me;
The bells of her anklets are distant;
Like the sound of China from teashops being lit up with lanterns;
And the stars are coming out;
Ringing with tongue of glass;
They go into the house;
Always faded in photographs;
In the family album;
But lit up now with the oil lamp;
I saw broken in the attic;
I want to tell them I am their son;
Older, much older than they are;
I knock, keep knocking;
But for them the night is quiet;
This the night of my being;
They don't, they won't hear me;
They won't hear;
My knocking drowning out;
The tongues of stars.