Punjabi antenna
In touch with tradition
Randeep Wadehra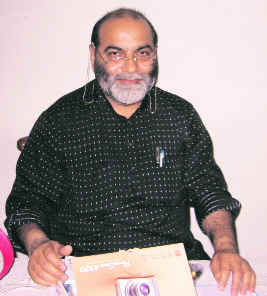 Baljit Balli's style of interview is conversational, which gives the show a drawingroom ambience

On Saturdays Doordarshan Jalandhar telecasts a show on Punjab's history. Last fortnight it described how the British, after taking over Punjab, modernised the administration and systemised governance — they replaced smaller parganas with larger zilas as administrative units; jagirdari system gave way to more hierarchical bureaucracy. The channel is a repository of information on our traditions and culture. It regularly focusses on our traditional arts and crafts.
Recently, it telecast a show on the Patiala jutti, the footwear with a royal past and, currently, fashionistas' favourite — something you learn from the lore narrated by the traditional craftsmen of Patiala, who have been struggling against all odds to preserve one of the disappearing arts of Punjab.
Noted for his column, Tirchhi Nazar, in Ajit since 1995, Baljit Balli had started his career as trainee journalist in Punjabi Tribune. Now, this Shiromani Pattarkar Award winner and PU graduate anchors a talk show named Tirchhi Nazar on PTC News featuring people from different walks of life. Last fortnight, Ujjal Dosanjh was presented. Apart from tracing his career-graph as a politician in Canada, Baljit elicited an interesting observation: Dosanjh averred that NRIs in Canada unabashedly flout conventions while enrolling members to the political parties there, attributing the phenomenon to the cultural reflexes carried over from India.
While pointing out the difference in political cultures of the two countries, Dosanjh underscored the need for the system in India to be more responsive. Baljit Balli's style of interview is more conversational than formatted questionnaire, which gives the show a drawingroom ambience. However, contrary to what the title suggests, the talks seldom become tangential, let alone contentious. Wanted more bite in the bytes, please.
Culture, in its social connotations, was the topic of discussion on Doordarshan Jalandhar's morning show wherein the principal of a reputed women's college went retro with a vengeance, like "jeans are evil because they expose female body`85 our women are being compelled to dance onstage to promote commercial products`85" ignoring the fact that dirt — like beauty — lies in the eye of the beholder. Sari and salwaar-kameez can be as "exposing" as any other apparel — depending upon how one wears it or how it is perceived by others.
Admittedly, values and traditions form vital ingredients of our cultural identity; but, we err in assuming that these are static concepts. True, certain values like honesty, integrity and respect for elders remain constant, but other values like unquestioning acceptance of whatever is written in our scriptures or treating physical appearances as non-negotiable need revisiting.
One is not advocating brazen irreverence but a healthy skepticism so that our generations do not wallow in stagnation. Blind faith warps one's intellect. Even traditions change as they must. For example, the veiled woman is anachronistic in today's world. The ghoongat or hijab does not necessarily stand for chastity; ditto for our traditional dresses like sari and salwaar kameez. You wouldn't become less traditional if you wear modern apparel. For a working woman traditional dresses can be quite cumbersome.
Not that the esteemed principal had nothing reasonable to say. Her protest against giving costly gifts like cars and motorcycles as birthday presents to under-aged children is valid. As a teacher her opposition to students carrying cellphones to schools/colleges is understandable, especially in the light of what our youngsters have been doing with these gizmos. The misuse is not limited to messaging odd video clips, but now these are being doctored and uploaded on porno websites as well. However, she was eager to put all blame on parents.
Certainly, a line needs to be drawn here. Although, to a large extent parents are responsible for the spreading "cellphonitis," the guru fraternity ought to do some introspection, too.