COLUMNS

THIS ABOVE ALL
TELEPROMPT
GOOD MOTORING
LIFE'S LESSONS
WEBSIDE HUMOUR

FOR CHILDREN

CROSSWORD
ROOTS
RHYME TIME

Earlier Feature
TELEVISTA

AUDIO SCAN
Leander the legend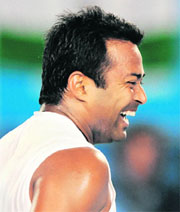 At 36, age has not deterred Leander Paes, who has collected his 11th Grand Slam title at the Australian Open, and is still hungry for more, writes M. S. Unnikrishnan
Leander Paes collected his 11th Grand Slam title at the Australian Open this year to catch up with Mahesh Bhupathi's record. The latest win just goes on to show that for Leander, who is on the wrong side of 30, age does not matter. Rather, it is only a number that helped him gain the experience to mature into India's best-ever tennis player. Players like Vijay Amritraj, Ramanathan Krishnan and Ramesh Krishnan had a halo surrounding them for the sheer class and aura they possessed.
Reality check
Prabhjot Singh captures the mood behind the scenes of Amul Music Ka Maha Muqqabla
They are at least not scripted! If those in reality shows can memorise and excel in those long dialogues, some of these extending beyond a couple of pages, they should better look for work in films than reality shows," says Shaan, one of the six singing superstars featuring in Amul Music ka Maha Muqqabla.
Wear what suits you
You need to choose your fabric, colours and cut, knowing well what best complements your complexion, figure and personality, says Banalata Bipani
In this cold weather, there is an obvious need to wear warm clothes. You may like to make use of an old cardigan or jumper. But on top of a salwar-kameez or a sari, this can often look frumpy and tired, detracting from the effect of your suit.
We have not received Mannika Chopra's column Teleprompt this week