Leander the legend
At 36, age has not deterred Leander Paes, who has collected his 11th Grand Slam title at the Australian Open, and is still hungry for more, writes M. S. Unnikrishnan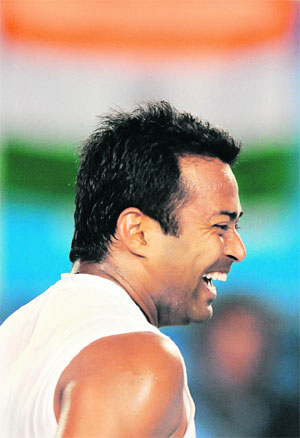 Leander Paes collected his 11th Grand Slam title at the Australian Open this year to catch up with Mahesh Bhupathi's record. The latest win just goes on to show that for Leander, who is on the wrong side of 30, age does not matter. Rather, it is only a number that helped him gain the experience to mature into India's best-ever tennis player.
Players like Vijay Amritraj, Ramanathan Krishnan and Ramesh Krishnan had a halo surrounding them for the sheer class and aura they possessed. But it was indeed Leander, and, of course, Mahesh Bhupathi, who created a great impact in the Grand Slam circuit, by making winning a forceful, natural habit.
Leander partnered with Cara Black of Zimbabwe and lived up to their No 1 seeding to capture the mixed doubles title in the first Grand Slam event of the season. Thus, out of 21 Grand Slam finals, Leander triumphed in 11 of them — six doubles and five mixed doubles. It was his second Australian Open mixed doubles crown, after he first won the title in 2003, partnering the legendary Martina Navratilova of the US. That year, the two had also bagged the Wimbledon title before Leander fell victim to a debilitating illness, though, fortunately, he recovered in time to play in the 2004 Athens Olympics, where Mahesh and he progressed into the semis.
Leander first teamed up with Cara Black in the US Open in 2008 to bag their first mixed doubles title, but two back-to-back setbacks in the Wimbledon and the US Open last year, put a question mark on the pair's ability to sustain their success. But they effectively silenced their critics with an outstanding run in the Australian Open and lifted their third straight Grand Slam final.
Earlier in the season, Leander had skipped the Chennai Open, where he was not "welcome", and this proved a blessing in disguise, as he was able to prepare well for the Australian Open.
Leander always has an ace up his sleeve when he sets out for a Grand Slam conquest. The 36-year-old still maintains youthful energy and enthusiasm when he guns for the big trophy on the big stage, and it was no different at the Australian Open as he covered up for the weak net play of the 30-year-old Cara to put it across the 10th seeded Russian-Czechoslovak pair of Ekaterina Makarova and Jaroslav Levinsky 7-6, 6-3 in the title contest.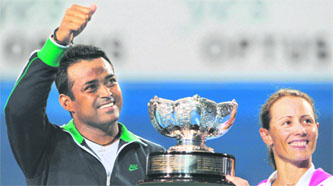 The Australian Open win this year was Leander and Cara's second Grand Slam title together in four finals. The pair is emerging as the best mixed doubles team in the Slam circuit. Photos: AFP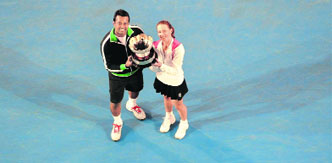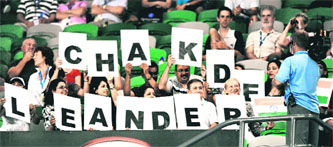 He digs deep into his mental strength when the going gets tough to put his opponent asunder. It was Leander's unwavering game, with dominant net play and nimble footwork when Cara was broken twice, that bailed them out of a spot of trouble. Otherwise, they were consistent throughout the contest to ensure that they won their third straight Grand Slam final.
This was their second Grand Slam title together in four finals, and the pair is emerging as the best mixed doubles team in the Slam circuit.
"This is, of course, a very special win, coming in at the beginning of the year. We worked hard to earn it — Cara and myself. This was my second Australian Open win and her first, so it was very special. This was also a career Slam for Cara — which in itself is a huge achievement," Leander said after his triumph at the Rod Laver arena in Melbourne. But this title win was not easy by any means, as he had to really work hard to be match-fit for the high-voltage contest.
"I had been practising and working very hard on my fitness. And this win is a result of that commitment and the exemplary teamwork we displayed on court," Leander said, when he returned with the trophy to Bengaluru. Leander leads a regimented life, he does not smoke or drink, practises yoga, does meditation, attends the Art of Living sessions under Sri Sri Ravi Shankar, along with wife Rhea Pillai and daughter Aiyana, to keep himself fit, ready, focussed and goal-oriented. He also follows other sports, particularly hockey, as his father Vece Paes was a member of the bronze-winning Indian team at the 1972 Munich Olympics. Leander is "sad" to see that India's national sport hockey "has not grown as much as other sports".
The last five years have been very successful for Leander, as he himself puts it "better than the first 10 years in the sport". And Leander felt 2010 began very much " like an extension of 2009", when he won the doubles titles at the French Open and the US Open with Lukas Doulhy. He said his skipping the Chennai Open, where he felt he was "unwelcome", helped him prepare well for the Australian Open, though he could not progress much in the doubles.
Leander had been relentlessly pounding the tennis courts ever since he won the Junior Wimbledon in 1990 and emerged as the World No 1. The US Open Junior title the next year heralded the arrival of an Indian prodigy on the tennis firmament, and Leander has not let down his fans or the country ever since, though his singles displays did not match up to his expectations. But that was the price he had to pay for focussing on his doubles and mixed doubles.
And ever since he first cracked the Slam code with Mahesh Bhupathi in 1999, Leander has either won a Grand Slam event, or at least reached the semis. Though the Leander-Mahesh partnership broke up along the way, Leander forged successful partnerships with others, notably with Lukas Doulhy in the doubles, to keep his Grand Slam wheels moving on the fast track.
Not content with his record Grand Slam wins, it is his unfettered ambition to win an Olympic medal at the 2012 Games in London, to better the bronze he had won at Atlanta Olympics in 1996. If Leander keeps his present form and fitness, he would be competing in his sixth Olympic Games in London — which will be a feat in itself — though he aspires to win a medal of better hue than what he had lifted at Atlanta.
Despite his Grand Slam forays and relentless pursuit in the ATP circuit, Leander had always made himself available for the Davis Cup competition, and his Davis Cup record surpasses many of his other achievements. Though Leander had to bow out of the World Group play-off tie against South Africa due to injury, which Somdev Devvarman and Rohan Bopanna pulled off for India 4-1, Leander would be very much part of the Indian team when they take on Russia in Russia in the World Group tie in March this year.
India would be featuring in the World Group after a gap of 11 years and Leander is determined to make a match of the contest. Leander's adrenalin overflows when he competes in the Davis Cup, and it is no surprise that he's looking forward to the challenging assignment against Russia, whose team will consist of high-voltage performers such as Nikolay Davyenko, Igor Kunitsyn and Michail Youzhny.
The second Rajiv Khel Ratna awardee, after Karnam Malleswari, in 1996 for winning the bronze at Atlanta, Padma Shri winner in 2001, 11 Grand Slam titles overall, six Asian gold medals, many Davis Cup wins, more than 40 titles on the ATP tour, Leander Paes has seen it all, won it all, and experienced it all.
But his appetite for more is so insatiable that he still says, "I feel I can win another 5-6 Grand Slam titles."