Reality check
Prabhjot Singh captures the mood behind the scenes of Amul Music Ka Maha Muqqabla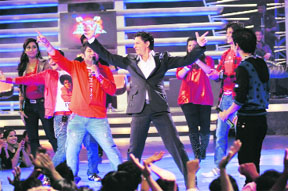 Shah Rukh Khan shakes a leg with the contestants of the music show

They are at least not scripted! If those in reality shows can memorise and excel in those long dialogues, some of these extending beyond a couple of pages, they should better look for work in films than reality shows," says Shaan, one of the six singing superstars featuring in Amul Music ka Maha Muqqabla.
And Mika, another superstar participant in the programme, corroborates what Shaan says, "You can see for yourself, there are no scripts. It is also instantaneous. We do rehearse and prepare ourselves well for each match. This is why, at times, there are exchanges. Sometimes other participants take offence to what I say. But later they realise what I said was true."
A team of visiting journalists had an opportunity to interact with some of the singing superstars or team captains at the Chembur sets. Each of the singing superstars has in their teams promising singers from across the country. Each team captain can handpick one new singer. The show that began in December last year has seen some absorbing contests at each of the weekend episodes.
Much before the actual shooting begins, a number of fans start converging on the BPL Club ground, the venue of the show. Each captain has a cabin where he or she interacts with fellow members of his or her team to chalk out strategies, songs to be sung and other finer details besides interacting with musicians, organisers and mediapersons.
The BPL Club looks no less than a festival ground where a first-of-its-kind temporary stage has been enacted for the show. Lighting, music control, audio and video control panels, besides seating of judges give the venue a look of a professionally run outdoor studio where members of the audience are given handsets to evaluate each performer.
Each of the episodes had been virtually a tug of war between two teams with captains of the remaining four teams acting as judges. And on each day of the competition, two eminent Bollywood personalities come as judges. Among those who have already been there include Shah Rukh Khan and Karan Johar.
Himesh Reshammiya's Warriors have Aishwarya Majumdar, Raja Hassan, Vineet Singh and Hasan Warsi while Mika's Blasters comprise Himani Kapoor, Lakhwinder Wadali, Toshi and Tejandar.
Mohit's fighters are Hemchandra Vedala, Ameya Date, Ravi Shukla and Nikita. Anveshga Dutta, Debojit Saha, Harshit Saxena and Nandini are members of Shaan's Strikers while Shankar's Rockstars have Niti Mohan, Sharib Sabri, Rahul Vaidya and Sanjeev. Shreya, the only woman captain has Abhas Joshi, Ujjaini Mukherjee, Aneek Dhar and Rehman.
"If this realty show looks different and more absorbing, it is because the actual performers or singers are before the audience. Otherwise in the world of glamour and music, the actors hog the limelight while the actual singers hardly get such direct public exposure. Realty shows have been a great help to those promising singers, who want a break in the showbiz. Once they perform in one show or the other, their market goes up," adds Shaan.
"I do not like the word 'struggle' for those trying to get into the ever expanding music industry. Those who claim to have struggled to success get into severe ego problems," adds Shaan.
He feels that because of recession, he has postponed his decision to come out with an album.
Shankar, however, feels that the competition is not between individuals but is between the teams. He feels that Indian music industry has come of age and is now well established in global market. He is planning to come out with an album of spiritual music. It is not only melody but also the classical touch that has rejuvenated playback as well as on stage singing.
"One unfortunate thing", says Shankar, "has been the tendency among youngsters to copy their seniors. Eighty per cent of singers from South sing like Balasubramanian. If I have to go for a voice like Balasubramanian, then why should I not go for the original one? Originality makes the difference," says Shankar while maintaining that film music offers a vast canvas compared to the music opportunities in the ad world.
Besides Mika, other singing superstar featuring in the competition is Mohit of Himachal Pradesh, better known for his Sikh Route Band. He admits that though he has no training in classical music but his association with the Silk Route Band and his initiation as a folk singer are a good cover up for this deficiency. He finds realty shows useful for surfing fresh talent as well as grooming it in a professional and competitive way. Mika has been successful in giving the competition a traditional Punjabi folk touch as he has taken liberties some of the hit songs of his brother Daler Mehndi.