Wear what suits you
You need to choose your fabric, colours and cut, knowing well what best complements your complexion, figure and personality, says Banalata Bipani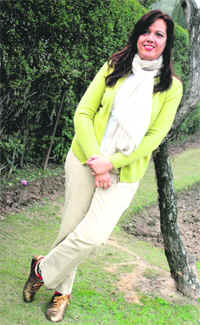 Looking good and feeling great has become a cliché in fashion circles

In this cold weather, there is an obvious need to wear warm clothes. You may like to make use of an old cardigan or jumper. But on top of a salwar-kameez or a sari, this can often look frumpy and tired, detracting from the effect of your suit.
However, this looking good and feeling great has become almost a cliché in fashion circles. Form fashion writers and dress designers to models and boutique owners, everybody seems to be mouthing this mantra without explaining how to go about it.
Well, for starters, we all know that a great cut for design does not automatically make for style unless accompanied by attitude and comfort.
It should fit in with your personality and lifestyle. You should be wearing the dress and not, as so often it is, the other way around. But what do you do when your heart falls for an outfit, that looks dashing on a model, or perhaps your friend, and you know deep inside that it would not be the same on you? How do you add that personal touch, a special something that could make all the difference?
First and foremost, you have got to understand that elegance, beauty and style are no longer the preserve of the rich and famous. Your clothing is an instrument to make people conscious of your presence.
Secondly, a natural ally to your belief is the realisation that how you feel will always show in what you wear. If you are feeling down, even the trendiest and most glamorous outfit will not lift your spirits.
Finally, the wearer is the final arbiter on what is right and what is wrong. No matter what the world has to say, if you are not comfortable in a sari or, say, in a kimono, there is little anybody can do about it unless you are willing to experiment. This is why you must know your mind before venturing into anything that is high fashion. You need to choose your fabric, the colours, cut and silhouette knowing fully well what best complements your complexion, figure and personality.
Should you be on the plump side, you will have realised that black is a better option than white.
For the slim and long limbed, the reverse is true. Those with a wheatish complexion look better in brown shades of make-up rather than pinks and purples.
As far as colours go, beige is a happening option these days. It works universally with all skin tones and on most occasions formal and casual.
But the best colours for a casual look are navy and white. Maroon and magenta should be avoided on dark skins. A mix of Indian and western design elements can work wonders. For example, an embroidered choli can look great on a pair of western trousers or a skirt. This can be extended to traditional jewellery with a western look.
In fact, the fusion look is the most popular across the world today. It involves bringing together bits and pieces of divergent design concepts to suit different personalities, lifestyles and purpose. But this principle has its limitations. It does not work with footwear. Obviously, a pair of slippers cannot complement a tailored suit.
Likewise, an outfit with too many details looks terrible. You cannot combine an ornate top, including multi-coloured threads with trousers, including too many pockets and flaps. Keep your dressing understated and chic. When it comes to elegance, nothing can match the timeless appeal of a sari. Whenever in doubt, pitch for this five-and-a-half-metre drape, which suits every body type and can be worn on almost any occasion except on the beach.
Today, the options in prints and textures are infinite, and these do not just concern saris. Carefully chose the fabric for whatever you wear. Remember, silk tissue might look beautiful but this cracks after two or three wears and is also difficult to iron. This applies to organza as well. So, when you choose the fabric for an expensive outfit, opt for something that will last — like satin, silk or brocade. You need to be as selective about the fabric of a garment as the garment itself. Do not go merely by how it looks. Do not be afraid about repeating yourself. If purple is your colour, stick to it. In any case, styles tend to repeat themselves. Whatever you buy must have lasting value. Just as what your mother wore in her youth has become the latest look, your daughter will value your designs when she grows up. — MF