Why go ball-istic?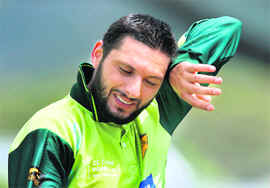 There's nothing new about ball tampering. Only now you get to see it all on camera, writes K. Datta
So what if Shahid Afridi was found guilty of ball tampering. All teams do it. As for Pakistan, well, it is standard operating procedure, as former captain Rameez Raja has gone on record while describing Afridi's act as indefensible.
OLD GAME: Players have been known to tamper with the ball long before Shahid Afridi's expose

Fitness mantra
Oil izz well
B. N. Behra
Many of us think that fats and oils are harmful components in food but they are an important part of a healthy diet and are needed in a calculated amount. They play vital roles in our body as they provide the maximum energy (1gm of oil provide 9 kcal of energy). They insulate our body and protect our organs, such as the kidneys, from injury. They are also necessary for the absorption of Vitamins A, D, E, and K.
Smaller workouts suit time-constrained fitness freaks
Short cut
Dorene Internicola
Long work hours and short attention spans are driving more people to take to exercise in smaller, meatier doses. Instead of demanding that clients pound the treadmill for an hour at a time, some fitness experts have created short, swift workouts for the busy and the bored.


Double

RIDE: Winter Olympics mascots Miga and Quatchi (back) on a bobsleigh in Vancouver before the games got going. Miga is a combination of the killer whale and Kermode bear. Her favourite winter sport is snowboarding, so you will surely catch her studying the half-pipe events at the February 12-28 games. The Pacific Northwest First Nations' legends inspired the creation of Miga. Yet another local legend on the Pacific West Coast inspired Quatchi. He is a Sasquatch, the mysterious creature that roams the Canadian forests. You will probably find Quatchi making his rounds to enjoy each sport. He is certain to make a stop at some of the hockey matches. For, his Olympic dream is to become a great goalie and one of the best ways to do so is to observe the greats. Photo: AFP