Corporate venture
Distributing freebies, reaching communities, spreading awareness and saving environment, corporates today are making that extra effort to stand out
A puppet show on cancer, free tickets for a movie night, special Karvachauth thali on the occasion, engaging competitions in housing societies — corporates are thinking out of the box to beat the cut throat competition and to reach out to the public. A time when print and TV commercials are just not enough, various companies are getting innovative in their attempt to appeal to the consumer, plus fulfilling their share of social responsibility— time is to kill two birds with a stone.
| | | |
| --- | --- | --- |
| | Lohri celebrations at Tanishq | A puppet show on cancer awareness at Fortis |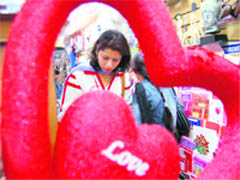 Patiala gets ready for V-day
The romance is already in the air for all lovebirds. Once again love-stuck couples are busy making plans to celebrate Valentine's Day in their own unique way. While some are planning a quiet evening together, others are looking forward for a blast. Markets are abuzz with activity with youngsters buying gifts ranging from few hundreds to a few thousands. Highly decorated galleries are flooded with special valentine cards, love statues, teddy bears, photo frames, mugs among other things. — Photo: Rajesh Sachar

Sweet something
Make your own chocolates for your beloved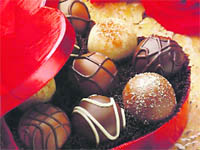 The most-celebrated day of the year is here and everybody is busy innovating ideas, making plans and scripting sweet somethings for their love story. While the more brainy ones stick to devising new ways to express their love, the others still choose to stick to the conventional methods. Like classic fondant-filled beauties, anything with a heart shape is the star of the day and a chocolate dipped in anything makes a great gift. All you need to add further is your love.
Bon Appetit
Have a heart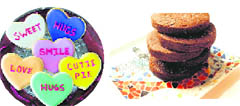 It's the eve of Valentine's Day and I'm in a mood to preach! I've observed that in our country this occasion seems to have practically no relevance to the older, married generation! Here, this day is associated with young people expressing love, carrying bunches of roses and chocolates, and wooing the person of their choice.
Hot wheels& cool dudes
From stunts to new launches, Auto Mall-2010 is where all action is happening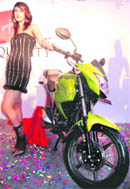 Most of us who missed out on the action happening on the automobile circuit at Auto Expo 2010 in Delhi had to settle with stories (courtesy, friends and relatives who could make it). Stories of fast, sleek, swanky models worth Rs 60-90 Lakh, SUVs that can open with a touch, stories of dream machines that would make your heart skip a beat, tales of how machos and petites from Bollywood posed with the desirable machines. Well, well, those were just stories. With the three-day Relio Quick Auto Mall 2010, kick starting in Chandigarh on Friday you can now hope to see and experience all those 'stories' in flesh. Oops, we meant 'stories in metal'. We get you anecdotes from the first day at the venue. — Photos: S. Chandan
| | |
| --- | --- |
| | |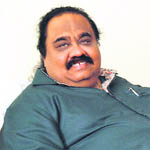 Ad(d)-on
Ad guru and author of Dum Dum Bullet Sandeep Goyal shares his success mantra
An open mind, hard work and being a child at heart - these are the three things that Sandeep Goyal lists for success in the advertising world. From being a 'small town boy' (we are talking of Chandigarh about 30 years back) to a media mogul, his is one success story. — Photo: S. Chandan
Shopper's paradise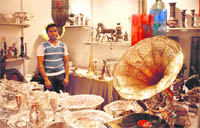 Valentines is the perfect time to shop and Beyond Art and Fashion, a Valentine special exhibitiosn, provides a perfect opportunity for that. With more than 50 stalls focusing on the latest trends in apparel, jewellery and home décor, leaves you with plenty of choices. Light weight designer suits and saris from Drapes, shawls from Kashmiri traditional weavers, jewellery from Kundan Creations, exclusive kids wear by Jingle Bell and spices from Egypt, the exhibition has all these and much more.— Photo: S Chandan
Go west
The inclination of foreign institutes towards the Indian students for hospitality industry has started coming to fore. Griffith College and School of Hotel and Resort Management India has announced an academic partnership that will see students who complete the advanced diploma in hotel management in Panchukula and the opportunity to complete a BA in International Hospitality Management in Ireland with Griffith College. Kevin Geoghegan, director of International Office, Griffith College selected six students for the admission in Griffith College. — TNS