M A I N N E W S
Srikrishna panel ready with plan
Members to visit Hyderabad soon
Tribune News Service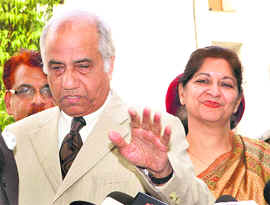 Chairman of the five-member Srikrishna Committee, Justice BN Srikrishna, with member Ravinder Kaur after the meeting in New Delhi on Saturday. — PTI

New Delhi, February 13
Meeting for the first time after its formation, the high-level committee on Telangana, headed by retired Supreme Court judge Justice BN Srikrishna, today chalked out "certain plans", including visits to Hyderabad and other places, while examining demands for both separate Telangana and united Andhra Pradesh.
Having been given until December 31 to submit its report, the five-member committee is likely to visit Hyderabad on February 25 —the committee's second meeting is also slated for the same day — to hold discussions with all stakeholders. As the meeting began, some students, including girls, tried to stage a demonstration outside the meeting venue, Vigyan Bhawan, but were taken into custody by the police.
After the three-hour meeting, Justice Srikrishna said the committee had chalked out certain plans. "We propose to have interaction with all sections of the society as soon as possible. We will ascertain their views. We will also hold a series of meetings with different strata of people in the affected areas," he said.
The committee would "try and see what can be done on the issue so that all quarters are happy and that peace and prosperity is reinstated throughout the state, without giving rise to violence and internecine quarrels", Justice Srikrishna said, adding the panel's job was to prepare the report and it was for the government to take the final decision.
Former home secretary and member-secretary of the committee, VK Duggal, said though the committee would function from the National Capital, it would also travel to Hyderabad and other parts of AP. Duggal said the committee would issue a public notice in newspapers in Delhi and Hyderabad seeking views from interested groups and people. "We will examine them and submit a report to the government," he added.