Food talk
Pepper treat
The health conscious are sure to relish bharwan mirch, which uses very
little fat and does away with the potato filling, says Pushpesh Pant

WE must confess that ever since multi-hued sweet bell peppers have been available, we havenít looked at the old faithful the green Simla mirch. At times, this makes us feel guilty. One remembers the shuddh vegetarian restaurant in CP in mid-1960s that used to delight us once with its stuffed capsicums and how can one forget the mouth-watering alu-Simla mirch that Naushad Miyan served to provide the counterpoint to his meaty dishes.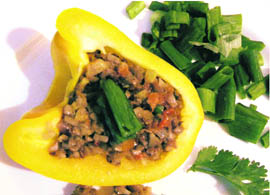 Back home in the hills, sagiya mirch (thatís what it is called in Uttarakhand) it is paired with torai and muli and cooked dry or in a yoghurt-based gravy. Countless are the days when just a large capsicum left over in the fridge saved the day when some unexpected guest or a family member in a hurry had to be served a quick-fix meal. Sliced tomatoes and onions stir-fried with it provided a most appetising accompaniment to a parantha or filling for a grilled sandwich. Minimal spicing was required and a light, tasty meal could be enjoyed.
Now, we arenít ungrateful by nature but how can one overlook that the green capsicum has a much stronger, slightly bitter if not handled with care taste that begins to jar. True the coloured sweet tasting beauties are far more expensive but remember a little goes a long way and in any case we are talking of dazzling delicacies to be prepared on special occasions.
The recipe we share with our readers uses very little fat, does away with the potato filling and should appeal to the health conscious even more.
Bharwan Mirch
Ingredients
Sweet bell peppers (medium-sized,
one red, one yellow) two
Button mushrooms 200 gm
Onion (small, peeled and chopped) one
Tomato (medium sized) one
Green chillies (deseeded
and chopped) two
Mixed herbs (dried) 1 tsp
Garlic (chopped) 1 tsp
Ginger (chopped) 1 tsp
Oil 1 tbsp
Salt to taste
A sprig of fresh coriander
Method
Wipe clean with a moist cloth the pepper. Then halve and remove the pith. Wash well the mushrooms, pat dry and chop into a coarse mince, including the stalks.
Heat oil in a non-stick frying pan and put mushrooms, onions, and tomatoes in it, along with salt, ginger and chillies. Stir-fry till moisture evaporates but the mince isnít dry.
Pack the hollows in peppers with this mince, garnish with fresh coriander and glaze them a little if you like in the same pan. Enjoy.