Just like her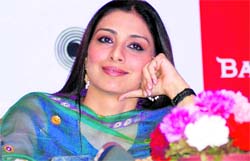 In the city to promote their upcoming flick Toh Baat Pakki, Tabu & Sharman Joshi share a thing or two about their 'choice' of roles
She's one of those who walks around with a restrained attitude and doesn't want to give it up, not even once. So, when surprisingly young and near slim-looking Tabu walks in the conference room of Hotel Mount View, all eyes inadvertently follow her to the dais.
Here to stay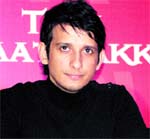 An idiot? Sure he isn't. Oblivious? Certainly not. Perturbed? not an inch. Intimidated? Who said that? Even as reviews and media critics declared 3 Idiots as a movie 'class apart', showering accolades on the 'two other' boys in addition to the Mr Perfectionist Aamir Khan, Sharman Joshi doesn't feel this is the turning point of his life. We say he has arrived, but Sharman feels he has been here for a good 10 years now. "I can't treat one movie as the turning point of my life. I am enjoying my work for almost 10 years now.



Zoom 2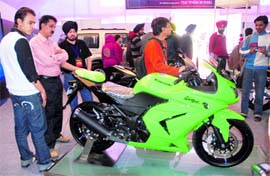 A balmy Saturday afternoon and neatly arranged swanky cars and bikes. The second day of the Auto Mall at parade ground, Sec-17, was a great crowd-puller. Buying was not an agenda, all the same, there is no harm in checking out the car models and fast bikes!
Call of love
Love changes its defination with time. After two twin boys, a cute little daughter, where stands the love equation between Sharman and his wife. "I am a veteran in love and relationships after nine years of marriage. Nonetheless, love is a beautiful experience that has grown and acquired a different form. This valentine too, it will be chocolates and flowers."
Picks & piques
All fire, little smoke
The most talked about film (before release) in recent times, largely because of the raging controversy generated by King Khan's post-IPL auction remarks that a fringe political party took umbrage to, has been My Name is Khan.
Hello TUNEZ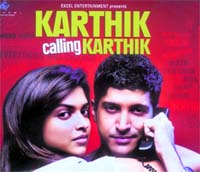 Low pitch
KARTHIK CALLING KARTHIK (T-Series): Of late, luck has not been smiling too widely at Shankar-Ehsaan-Loy. Shortcut, 13B and London Dreams have at best been modest hits. So, here they have tried to revitalize their music with the youth brigade firmly in the hair trigger. They set the table with the very first rendering, Hey Ya! Clinton Cerejo joins Shankar Mahadevan and Loy Mendonsa in crooning the Hinglish lyrics.
Perfect spinner
OM JAI JAGDISH (Times Music): Raghav Sachar is a musical prodigy who can play more instruments than you can count on your two hands. He has enlivened many a party with his prowess. But here he has taken upon himself to reinterpret the famous Arti, Om Jai Jagdish Hare and indeed gives it a different spin.
Doings the rounds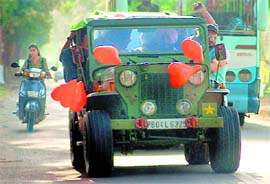 It's the ultimate spin street, it's signature Chandigarh, one helluva culture, where drifting is a cult. It's the famous geri route and rights of admission reserved! Place where cars that can cruise at the speed of Concorde cross each other at the pace of a snail. Where girl meets boy, eye meets eye, or never mind where one finds all things easy on the eye. On Valentine's, here's taking you on a geri of the romance route all through these years as seen through the eyes of 'regulars.'
Filmy love
BIG 92.7 FM is celebrating love the filmy style this Valentine's Day. The station has made plans to shower an exotic and romantic Valentine's Day treat for its listeners this year. Beginning February 11 and running into Valentine's Day, BIG FM's stations have queued up some great on-air and on-ground offerings as listeners savour the most exclusive, romantic and unforgettable Valentine's Day ever with their loved ones.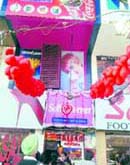 Sweet nothings
Valentine's Day just can't get better without sharing a softy cone with your loved one. Here is a chance to do that at Softy Corner-17, which has come up with a special flavour for the special day. "It's a twin Italian flavour of rose and creamy vanilla, topped with red cherries," informs Sanjay Abbot. Softy corner has been introducing new flavours on special occasions like Valentine's Day. "Also we are offering free waffle cone and have introduced double choco chip." Make sure you indulge in this delicacy. — TNS
Valentine's Day has become a multi-million dollar industry now, Ashima Sehajpal takes a look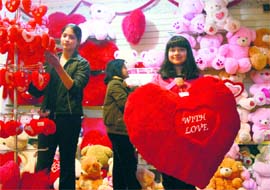 This one's literally a million-dollar question; what's Valentine's Day all about? Is it about expressing feelings, sneaking out of the house (in case parents aren't cool about it) and spending time together? Or does the emotional aspect of the day end here and the financial takes over? Shopping, buying gifts, dining out, partying; add the bills and Valentine's Day sure becomes a million-dollar affair! Special discounts, offers, menus, the Valentine's Day 'industry' makes it really special!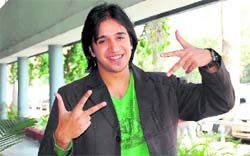 In the city, Parleen Gill, Indian Idol-3 contestant, shares his musical journey
A burning desire to be a singer took Parleen Gill to Indian Idol, which proved to be the turning point of his life. One of the top 10 contestants in Indian Idol- 3, Parleen today is living his dream. "Indian Idol got us love and recognition not only in the country but the world over. Today we have a band, F4, cut our own album, performed extensively and toured the world," shares Parleen, who was in the city to lead a promotion drive for Indian Idol-5.

Open happiness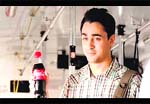 Gearing up for the summers ahead, Coca-Cola India unveiled the latest communication for Open Happiness campaign for brand Coca-Cola for 2010. The all-new communication features Bollywood sensation and the new Coca-Cola Brand Ambassador - Imran Khan. The latest communication is based on the spontaneous human connections between people, who are unlike each other.
Unity we lack
Director Anurag Kashyap says the Hindi film industry lacks integrity and that if Bollywood had united, the ruckus created by the Shiv Sena over Shah Rukh Khan's My Name is Khan could have been avoided. "If it is considered to be an industry, people should have unity among themselves. At least once, they should unite and show that we are working, we are also professionals. They never do that so these people dare and take advantage of it," Kashyap said
Koffee break
Happily busy


Kajol is happy to juggle among family, acting and social work
From Baazigar to My Name is Khan, Kajol is one of the most sensitive and hard working actors in Bollywood. She was last seen in Ajay Devgan's home production U Me Aur Hum and in a song with Shahrukh Khan in Yash Raj Films Rabb Ne Bana Di Jodi. Now, she is back in what seems to be another award-winning performance My Name is Khan with her favourite actor Shahrukh Khan. Lifestyle talks to the actor.
Sukhmani — hope of life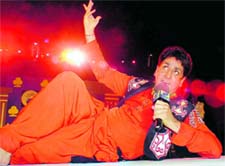 Produced by Gurdas Maan and Gurikk Maan, film Sukhmani-Hope for Life marks the debut of Manjeet Maan as a director. She has come up with an interesting story of a decorated Major Kuldeep Singh, played by Gurdas Maan. Manjeet shows immense promise as a director with her penchant for creating a fresh ambience with authentic way of telling a story straight with army background. The technical values are also good and the music by Jaidev Kumar is well-used. A nice touch is the way the Punjabi songs penned by Gurdas Maan is employed.
Getting spooky
After offering a starkly realistic media drama in Rann, Bollywood director Ram Gopal Varma is venturing into the territory of 3D films, with his horror flick Warning. "There are lots of things that need to be explored in India. The international market is doing great in 3D films and there seems to be a great demand for these kind of movies across the globe," Varma said.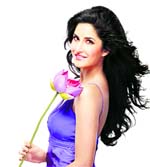 Purple blooms
On the occasion of the forthcoming Valentine Day, a fan of Katrina sent her a gift she never imagined in her dreams, a gorgeous bouquet of the most spectacular purple lotus. The purple lotus has been one of Katrina's favourite bloom. Katrina is baffled as to how this fan unearthed this completely unknown fact about her. Anyways, she's not complaining and was last seen enjoying the company of these blooms.

Finding the missing missive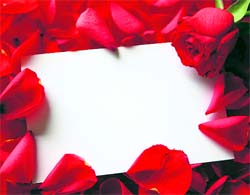 In this online era, a love letter would sure be something to look forward to
It's the day of love. And when people around are using flowers, cards and gifts, why not profess your love through a heartfelt letter? Although modern technology has made communication easier, some still prefer it the good old way! "A love letter means that the person really cares for you. An sms, a card, wall post or a scrap, is something you send to all you know, but a love letter is for the special someone," says Tarika, an arts student from the city.
Matka chowk
Valentine vandals


The victory of the East India Company over Nawab Siraj-ud-Daulah at the battle of Plassey is judged to be pivotal in leading to the eventual formation of the British Empire in today's South Asia. It enabled the merchants to acquire ruling power. The British were aided by greed, treachery amongst ranks and a curious belief system that validated the notion of subjugation to a foreign power. We are now losing an invisible and imperceptible battle against the West again - only this time, the victory belongs to the great American business enterprise - good old capitalism with a big C.