PUNJAB
HARYANA
JAMMU & KASHMIR
HIMACHAL
REGIONAL BRIEFS
NATION
OPINIONS
LETTERS
BUSINESS
SPORTS
WORLD
Wednesday, February 17, 2010, Chandigarh, India
Updated at 3:00 am (IST)

Uniform math & science content for Class XI, XII
By 2013, national-level single entrance test for engg, medicine
New Delhi, February 16
From the 2011 academic session, students of Classes XI and XII across the country will study a uniform science and math curriculum. Currently, course content of these critical subjects varies with the state school board an institution is affiliated to.
Maoist Attack
PC accepts 'failure' in some aspects
New Delhi, February 16
Maintaining that only a thorough probe would bring forth the "lapses" that led to a police camp with adequate strength being overrun by Maoists in West Bengal, Union Home Minister P Chidambaram today said there were "indications of failure in some aspects".


Nation page: Maoist attack: No arrest so far
CAST YOUR VOTE
Should khap panchayats have any right to interfere in matrimonial matters?

Advt
EDUCATION
JOBS & CAREERS
HEALTH & FITNESS
SCIENCE & TECHNOLOGY
REAL ESTATE
SPORTS
India offers $250-m soft loan to Nepal
New Delhi, February 16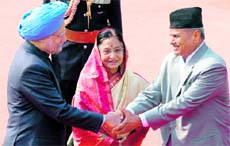 India went out of the way to make Nepal President Ram Baran Yadav's visit to New Delhi a truly successful event by offering a 250-million dollar soft loan through EXIM Bank and signing four major accords with the Himalayan nation.

Prime Minister Manmohan Singh greets Nepal President Ram Baran Yadav while President Pratibha Patil looks on at Rashtrapati Bhawan in New Delhi on Tuesday. Tribune photo: Mukesh Aggarwal
I-T raids at houses of Soren's PA in J'khand
Ranchi/New Delhi, February 16
Jharkhand Chief Minister Shibu Soren's personal assistant (PA) Manohar Lal Pal's residences here and in Jamshedpur were raided by sleuths of the Income Tax Department today. At the time of raids, Pal was present at his Kanke Road (Ranchi) residence.
NDA 60 Glorious Years
1857 The First Challenge
E - Revolution 2005:
A Two-day IT conclave
Assembly Elections - 2005
Turbans
Chandigarh is 50
125 Years of The Tribune
India: The Tasks Ahead
India at Sixty
A Tribune Supplement
EARLIER FEATURES
On Sundays


On Saturdays
MiG crashes in WB, pilot killed
New Delhi, February 16
An IAF MiG-27 fighter jet today crashed near Hashimara in West Bengal killing its pilot in the first such mishap this year. "The MiG-27 crashed today and a pilot was killed in the mishap," an IAF officer said here.
Sena withdraws threat to Oz players in IPL 3
Mumbai, February 16
In a U-turn, Shiv Sena supremo Bal Thackeray tonight withdrew his opposition to Australian players' participation in the third edition of Indian Premier League cricket competition starting next month.
Pune Terror Trail
Police detains four suspects
Pune, February 16
Four persons have so far been detained in connection with Saturday night's bombing of the German Bakery in the posh Koregaon Park area here, police commissioner Satyapal Singh said. Singh told reporters that two of those held were from the Kudalwadi and Janwadi neighbourhoods while the others were picked up from Aurangabad.


Unknown Pak group claims responsibility
Pune Terror Trail
Blast cripples their lives forever
Pune, February 16
Most of the 37 survivors of the German Bakery blast who have been admitted to various city hospitals stand to be scarred badly for the rest of their lives. Many have got one or both legs amputated, while some have been badly burnt in the incident. The government has banned doctors from any giving interviews, citing national interest. The city police has also issued a stern warning to media personnel against trying to gain access to those injured in the blast.
Maoists kill 24 jawans
February 16, 2010
Terror clouds Indo-Pak talks
February 15, 2010

Terror strikes Pune; 9 dead


February 14, 2010
TRS cries 'betrayal' over Centre's terms
February 13, 2010
Centre ready for amnesty to Kashmiri ultras in PoK
February 12, 2010
Shiv Sena stirs more trouble over Khan
February 11, 2010
No to Bt Brinjal, for now
February 10, 2010
Avalanche turns grave for 17 Army men in J&K
February 9, 2010
CMs one on internal security
February 8, 2010
Panel to tackle price pangs
February 7, 2010