M A I N N E W S
Maoist Attack
PC accepts 'failure' in some aspects
Tribune News Service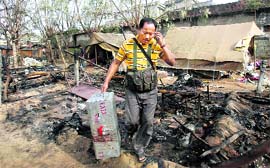 A policeman carries his colleagues' belongings at a camp that was attacked by Maoists at Silda village, 200 km west of Kolkata. — Reuters
New Delhi, February 16
Maintaining that only a thorough probe would bring forth the "lapses" that led to a police camp with adequate strength being overrun by Maoists in West Bengal, Union Home Minister P Chidambaram today said there were "indications of failure in some aspects".
Chidambaram, in a statement, said: "There has been a massive loss of lives. Besides, some weapons were also looted. The attack by the CPI-Maoist on a camp of the Eastern Frontier Rifles of West Bengal is another outrageous attempt by the banned organisation to overawe the established authority in the state. I condemn the attack."
Notably, yesterday's attack in West Midnapore district of the state came barely a week after Chidambaram held a meeting in Kolkata with officials from Orissa, Bihar, Jharkhand and West Bengal to launch an inter-state operation against the Left-wing extremists.
The Home Minister emphasised that every attack by the Naxals exposed the true nature and character of the outfit. "Their goal is to seize power. Their weapon is violence. No organisation or group in a democratic republic has the right to take to violence to overpower the established legal authority.
Unfortunately, this simple truth has escaped a number of well-meaning organisations that find 'legitimacy' in the armed liberation struggle carried on by the CPI-Maoist," he said.
Also, Chidambaram made it clear to the sympathisers of the Maoists to condemn violence. "I would like to hear the voices of condemnation of those who have, erroneously, extended intellectual and material support to the CPI-Maoist.
It is only if the whole country rejects the preposterous theses of the CPI-Maoist and condemns the so-called 'armed liberation struggle' that we can put an end to the menace of Naxalism and bring development and progress to the people in the conflict zones."
No talks with Maoists: Govt
KOLKATA: The West Bengal government on Tuesday ruled out any possibility of talks with the ultras, expressing its resolve to continue the joint operation to flush them out. "There is now no question of any talks with them (Maoists)," state Home Secretary Ardhendu Sen told reporters.
Admitting a kind of failure on part of intelligence and security forces, Sen said, "May be there was lapse on their part." The Home Secretary said security had been stepped up at Midnapore Central Jail where some Maoists were lodged.
State chief secretary Asok Mohan Chakraborty said three people had been arrested in connection with the attack.
Centre to SC: Strikes despite sincere efforts
New Delhi: Drawing flak for its policy on Maoists, the Centre on Tuesday told the Supreme Court that despite its sincere efforts to solve the problems confronting tribals, the rebels are not shunning violence and carrying on attacks as they did on Monday in West Bengal. "The Home Minister (P Chidambaram) has made a public statement that government is ready to talk to them (Maoists) provided they eschew violence. And the answer we have got yesterday from West Bengal," Attorney-General GE Vahanvati told a bench comprising justices B Sudershan Reddy and SS Nijjar. — PTI
WB cops unprofessional
NEW DELHI: "Unprofessionalism" in the West Bengal Police was responsible for the slaying of 24 of its men, Home Ministry officials said on Tuesday. "There was no proper guard, the camp was not adequately barricaded, jawans were neither keeping arms with them nor had they kept them at a place easily available and even the toilets were used by general public. All these were against basic police norms," the official said. — PTI