M A I N N E W S
India offers $250-m soft loan to Nepal
Ashok Tuteja
Tribune News Service
New Delhi, February 16
India went out of the way to make Nepal President Ram Baran Yadav's visit to New Delhi a truly successful event by offering a 250-million dollar soft loan through EXIM Bank and signing four major accords with the Himalayan nation.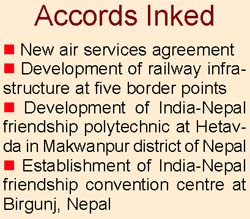 India also offered to supply 50,000 tonne of wheat, 20,000 tonne of rice and 10,000 tonne of yellow peas to its neighbour. An additional 2,000 tonne of wheat would be provided to Nepal, if required, official sources said after the wide-ranging talks between Prime Minister Manmohan Singh and the visiting Nepalese President.
The four accords signed by the two countries are: new air services agreement, MOU on development of railway infrastructure at five border points, MOU on development of India-Nepal friendship polytechnic at Hetavda in Makwanpur district of Nepal; and MOU on establishment of India-Nepal friendship convention centre at Birgunj in Nepal.
During the delegation-level talks, the Indian Prime Minister hoped that the peace process and drafting of the constitution would be completed in Nepal as per the schedule. Sixtytwo-year-old India-educated Yadav expressed his gratitude to the Indian leadership for assisting his country in its economic development.
The Nepalese President, who arrived here yesterday, began his official engagement this morning with a ceremonial welcome at the Rashtrapati Bhawan, where he was received by his host President Pratibha Patil. This is the first foreign visit of Nepal's first president, who was elected in 2008 to replace King Gyanendra as head of state.
During the course of the day, he held meetings with Vice President Hamid Ansari, UPA chairperson Sonia Gandhi, Finance Minister Pranab Mukherjee, Home Minister P Chidambaram, External Affairs Minister SM Krishna and Leader of Opposition Sushma Swaraj.
Yadav will travel to Haridwar on Wednesday to take part in the Mahakumbh Mela.
The presidential visit comes on the eve of a new constitution the Nepal government has pledged to promulgate in May. Nepal's fragile peace process that began after a decade of insurgency is expected to be consolidated by the new statute. However, hiccups continue, with the Maoists now saying they will agree to the rehabilitation of their guerrilla army, the People's Liberation Army (PLA), only after the new statute came into effect.