M A I N N E W S
Pune Terror Trail
Police detains four suspects
Shiv Kumar
Tribune News Service
Pune, February 16
Four persons have so far been detained in connection with Saturday night's bombing of the German Bakery in the posh Koregaon Park area here, police commissioner Satyapal Singh said.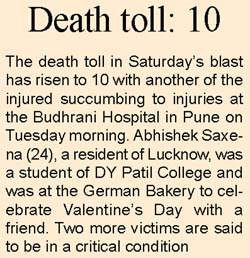 Singh told reporters that two of those held were from the Kudalwadi and Janwadi neighbourhoods while the others were picked up from Aurangabad. He, however, refused to say whether any of the four men were seen in the CCTV footage from the hotel next door. Police sources confirmed that at least one of the arrested was linked to Indian Mujahideen terrorist Riyaz Bhatkal.
"We have got some vital information from the CCTV footage," Singh said. He further said that a number of eyewitnesses had come forward to give information to the police. According to the Commissioner, at least two persons were responsible for planting the bomb. "We expect a major breakthrough in the case soon," Singh said.
The Commissioner confirmed that a combination of RDX and ammonium nitrate was used in the explosive device. "The forensic report has come in. The presence of RDX, ammonium nitrate and petroleum hydrocarbon oil has been established," Singh said.
Meanwhile, police officials here said that a number of additional suspects had been questioned in connection with the case. Records of telephone calls made from the area were being scrutinised, they said.
A woman software engineer who had made a number of phone calls to Pakistan Occupied Kashmir was also questioned over the weekend, police officials confirmed. So far, investigators of the Anti-Terror Squad and the National Investigation Agency have questioned her.
Unknown Pak group claims responsibility
Islamabad, February 16
Laskhar-e-Toiba Al Alami - a hitherto unheard terror outfit - today claimed it carried out the Pune blast because of India's "refusal" to discuss the Kashmir issue with Pakistan.
The claim was made by a man who called Nirupama Subramanian, the Islamabad-based correspondent of The Hindu newspaper. The caller identified himself as Abu Jindal and described himself as the spokesman of the LeT Al Alami (International).
The caller also said that his group had split from the Laskhar-e-Toiba because it "took orders" from Pakistan's Inter-Services Intelligence agency. The man said India's "alliance" with the US was another reason for the attack.
Asked if there were any other reasons, he said: "These are the only two reasons. Joh bhi America ka ittehad hoga, hum uskey khilaf jang ladengey, chahey who India ho ya Pakistan (We will wage war against any ally of America, whether it is India or Pakistan)," the caller reportedly said.
Asked how the group had carried out the Pune blast, the caller said his organisation had its "sources" in India and had activated them to carry out the strike.
Subramanian said the caller - who sounded like an educated youth in his late teens or early 20s - had told her he was calling from Miramshah, the main town in North Waziristan, and had declined to divulge the name of his group's leader. She said the caller's telephone number had an area code used for the Waziristan tribal region and Bannu, an adjoining district in the North West Frontier Province. When she tried calling the number, a recorded voice message said it was temporarily not in use. — PTI