Sad saga of failures
Reviewed by Rajbir Deswal
If I could Tell you
by Soumya Bhattacharya.
Tranquebar.
Pages 200. Rs 350.


THIS book is a telling tale of failures galore. Failed childhood. Failed manhood. Failed aspirations. Failed promises. Failed matrimony. Failed parenthood. Failed calculations. The hero's lament "F***ing New India. It made, and then unmade me" appropriates it aptly, for he suffers all this and much more, with the killer blow of the 2008 Share Market crash, when he finally "decides".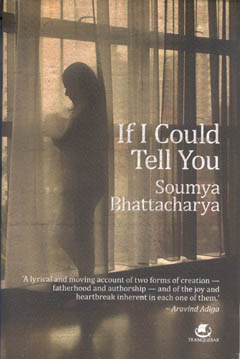 But before that he writes the last letter of the series, which he had been writing to his six-year-old daughter, who is left in a friend's care, in the latter's boarding. He seems to legate all the loneliness and orphaned status to his daughter, what he himself got at the hands of providence. And that's all that he wants to tell his Oishi—divine one.
The cities too fail the narrator-hero in many ways. London doesn't recognise him as a writer; Calcutta firstly denies him his bringing up (for he was orphaned at the age of three); secondly, when he stays there with his wife and girl child. Bombay ruined him completely when he has to live in a flat rendered "large in the absence of his dead wife and daughter packed off to the boarding school" for he develops extra-marital relations and suffer huge financial losses, compelling him ultimately to "decide"should hold the suspense here as a reviewer.
Soumya Bhattacharya as a narrator-writer believes in producing a work of fiction that is "confessional in the guise of a novel rather than a novel in the guise of confessional". And he succeeds too, in his uniquely adopted style, to a great extent. He has no characters by name in his novel except Oishi, the narrator's daughter, for he believes that he had to be facilitative to the readers, in not being grouted in the grind of remembering names. Also, the climax is so engrossing that when the hero has taken the "decision", no rules of grammar (even those of life and living) seem to apply, for an enhanced effect, and the reader is left to ignore all that and reads on. And on.
Best part of the novel is a faithful and captivating description of Oishi, from her birth till her attaining a ladylike maturity, at a tender age when she has to "get used to" other things in life, that are not meant for a child of that age. The narrator himself having had his parents killed in a plane crash was brought up under the care of his "father's friend"—that is how he describes all characters not giving them a name. The deprivation and denials of desirable childcare make him always dread the fact, if he too would have a family, or what would happen to Oishi, if he died.
He himself as a child was asked by his teacher once to draw sketches of his family, but he fails to measure up with those of his classmates, for he had never been in a family atmosphere. His disfigured index finger aptly explains his inadequacies, and a loss of sense of direction in life. His continued rejection of writings, at the hands of the editors leaves him a broken man, when he throws all the manuscripts having torn them "methodically, vertically and horizontally" in smallest pieces out of the window and out of disgust, as if having decided never to take to writing a novel again.
A father's observation of his infant daughter in the novel is unmistakable, in the sense that every minute detail is captured and projected, with utmost sensitivity and indulgence, even when he could feel the inside of her palm, when she held those crayons. Oishi being made to feel the touch of water on a beach in England, her expression with a parted mouth when she is concentrating while drawing, her "capacity to forgive", her slicing the still air in disgust (after the fashion of her mother), her sleeping gimmicks and postures, her eyelashes resembling inverted commas while being inquisitive about things an infant usually is, and her telling him innocently, "How can you have a Baba Baba, only children do!"
The author alludes extensively to famous and established writers from Tolstoy to Vikram Seth, as if to overcome his not being able to make into one. And also, to seek a way out of his directionless existence. He writes at the end, "Afterwards, I read that bit in Anna Karenina when Anna goes to dive in front of a train. Literature was the only religion I ever had, and there was no God to turn to but writers. Is this how one is supposed to feel after one had decided? Tolstoy would know ... . Perhaps thatwhen I had begun deciding."
That the modern times in developing India have their fallout on her peoples' life as well, is the hallmark of the novel. And the hero is compelled to exclaim, "Shall I be able to do this? Unless I try, I shall never know." Read the novel to know of what deportment has Soumya Bhattacharya made his narrator, that he did have to take a "decision"—the agony and angst of which and the story behind made him verbalise, "If I could tell you!"