An emotional roller coaster
Reviewed by Manmeet Sodhi
Nothing can be as Crazy …
by Ajay Mohan Jain.
Rupa.
Pages 242. Rs 95.


CASHING in on the trend of 'career novels', Ajay Mohan Jain has successfully churned out quite an engaging novel. An alumnus of IIT, Kanpur, the author has once again proved that IITians, in addition to being cerebral and earning millions across the world, can write a book also!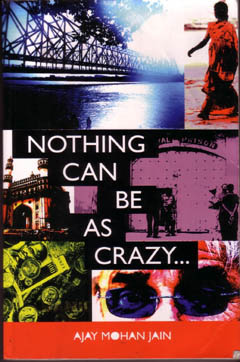 Nothing Can be as Crazy ... is a modest attempt to portray the interesting facets of urban middle class where the career of the protagonist takes up just as much space as his love affairs.
It is a story of Suresh, a bank probationary officer. This intelligent sensitive guy goes down the memory lane and takes the reader through an outstanding roller coaster of human emotions. He shares his thoughts, his fears, the funniest incidents, his darkest days, his secrets, and fantasies—normally everybody has these things in his or her life.
Reflecting insight into the banking world and pointed jabs at the Indian service class, the book deals with the attempts to cope with and/or beat the dubious system around. It takes a while to realise; if you try and screw with the system, it comes back to double screw you. Nevertheless, the novel makes a potpourri with all the right ingredients: romance, friendship, organisational politics, fraud, etc.
Like most first-novels, it is heavily autobiographical. Above all his characterisation, especially the young Indian males of his age, fit the character of the present-day youth. The romantic angel is provided by Suresh's fling with Monalika and Aparna. These girls are quite open to sexuality. Suresh with conservative background comes in conflict with tradition and modernity. The pertinent question arises whether Suresh would be able to break the inhibitions and triumphs against the odds in the end.
The novel stands out because the narrative is lucid and simple with undercurrents of hilarity and sarcasm. The characters are close to genuine. While reading one realises in how many ways we're similar to them. Incidents oscillate between the real and the absurd. Despite the fine writing, there is something formulaic about it. Twists and turns of the book are very predictable and the love affairs are not plausible. There is a sense of manipulation by the author. I think the sexual encounters were unnecessary. Probably, it is one of the thing people look for nowadays, as the current wisdom says that without sex a story won't sell!