Epic engagement
Humra Quraishi
Sahitya Akademi awardee Chaturvedi Badrinath talks of his prize-winning work and more
CHATURVEDI BADRINATH, who has bagged the Sahitya Akademi award (English language category) for The Mahabharata: An Inquiry In The Human Condition, is a former civil servant. He was in the Tamil Nadu cadre of the Indian Administrative Service from 1957 to 1989. He resigned from the IAS to take up full-time writing. At present residing on the outskirts of Pondicherry, he is in the midst of writing his autobiography.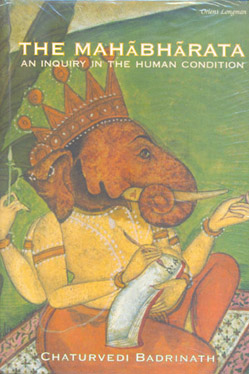 Excerpts from an interview:
What were your first reactions to winning this year's Sahitya Akademi award? Also, do you feel such awards actually matter for writers of your calibre?
Well, I felt honoured. I also felt thrilled at this acknowledgement by the most prestigious of our literary institutions of my work, a work that has, I believe, great relevance to modern times, individually and collectively.
Such awards do matter to a writer, and also they don't. Both these can be argued endlessly and require no elaboration. There are in the literary world examples of both. For example, Jean Paul Sartre refused to accept the Nobel Prize because he said that he did not want his readers to be influenced in their judgment of his writings by that overwhelming fact, and that the Nobel Prize did not matter to him. (This is what he said; but many of those who knew him closely believed that actually he refused the Nobel Prize because he was piqued that it was first given to Albert Camus for the latter's literary work!)
You have been a civil servant. You quit the job to take up writing. Tell us about those turns and changing patterns in your life.
I was writing even when I was in civil service; and what I was writing, often on invitation, was being regularly published... If, after many years of service, I said farewell to the Indian Administrative Service, that was because I wanted to devote all my energies and time to read, think and write. As far as that is concerned, there were really no 'turns and changing patterns' in my life: even from my student days I aspired to be a teacher and writer. When in my IAS days I was invited, which I frequently was, to speak at a college or a university, I would begin my talk by saying 'it is good to be back home, not that I ever left.'
You are in the midst of writing your autobiography. How much is bared? Also, have you laid greater emphasis on the personal as against the not-so-personal?
You have asked an important question. Actually, I am not writing my autobiography. Chaturvedi is narrating the life of Badrinath, Places, Times and Relationships. That account opens with a dialogue between Badrinath and Chaturvedi, the latter asking him: 'How can I write your autobiography? 'I' is the proper subject of an autobiography. In any case, why do you want me to write the story of your life?
Badrinath answers that by saying: 'What I have in mind is that very brief parable in the Mundaka Upanishad: two birds sitting on the same tree, one occupied with eating the fruits on that tree, the other only observing, watching. This other bird is the inner witness within us, our other self, away from 'experiencing'; and because it is beyond 'experiencing', it is beyond the categories of judging, like 'good' and 'evil' and the other opposites within which all experiencing takes place. You are my inner witness: you have distance from my experiencing self: you write the account of my life.'
Chaturvedi agrees, but imposes a condition: 'There should be an agreement between us as to what from the story of your life I shall leave out, of which I will be the sole judge. I shall leave out, for instance, many details of your relationships; for they involve others. And you will not object to it.'
Badrinath says: 'I agree, provided—and that is an absolute condition—you shall leave out nothing which, if brought to light, would change in the eyes of others the true character of my life.
Leave out the details of my relationships, yes. But you will certainly speak of the questions which human relationships, more especially the man-woman relationships, bring up in one way or another, which are universal, cultural differences apart, and which have occupied me through every relationship. In that sense, my life, of course deeply personal, has also been thoroughly impersonal. It is from that personally impersonal ground that my life may say something of value to others.'
Furthermore, you shall leave out none of the colours, fragrances and sounds of the places, times, and relationships through which I have lived so far.'
You are in your seventies. Looking back, which phase of your life has left the deepest impact?
Firstly, I'm afraid you have wrongly stated my age. I'm actually 8000 years old. By that seemingly mad claim what I mean is that I've been and seen all that man can be and has been. Secondly, and perhaps more important, how does one evaluate one phase of life relative to another phase? To do that is of little interest to me anyway.
As a former civil servant do you agree with the oft-repeated view that there's been a steady decline in bureaucracy, with its hand-in-glove role in the police-politician nexus. Also, if you were a serving bureaucrat today, what would you have done or undone to keep the police-politician nexus at bay; and who is to blame for the crumbling system?
I cannot answer that question honestly; for I was not a part of the bureaucracy in earlier times and, therefore, cannot objectively judge its course over the years. And if there has been a steady decline in the bureaucracy, can we attribute it wholly to the police-politician nexus, granting that it exists?
You have been writing extensively on religion and on the very essence of the Mahabharata, the philosophy of dharma etc. Tell us more.
You just have to study my works, whatever their worth, on these subjects. In any case, what more will you like to know? This is not to claim that nothing more can be said.
Today, religion is being used or, say, misused by politicians. Comment.
No comments. This decidedly complex question will require a much longer discussion than is possible here. It should include the question whether it is only the tribe of politicians who are using or say misusing religion? We have to go into the history of how religion has been used or misused, and is being misused even today, by the so-called 'men of religion' themselves.
What would be your message for the youth of today?
Frankly speaking, I would rather spend a long evening with some of them than issue a 'message'. My impression is that they are tired and bored with hearing 'messages' that are ceaselessly hurled at them and more amused than seriously impressed.
Writers are said to be somewhat different, moody, hypersensitive, etc. Describe yourself.
But I have known men, and some women, too, who are moody and hypersensitive and are not writers. `85Describe myself? You can say that Badrinath is a man who has his head in the clouds but his feet firmly on the ground.